Al Sharpton Warns Black Pastors: Don't Be Trumped by Trump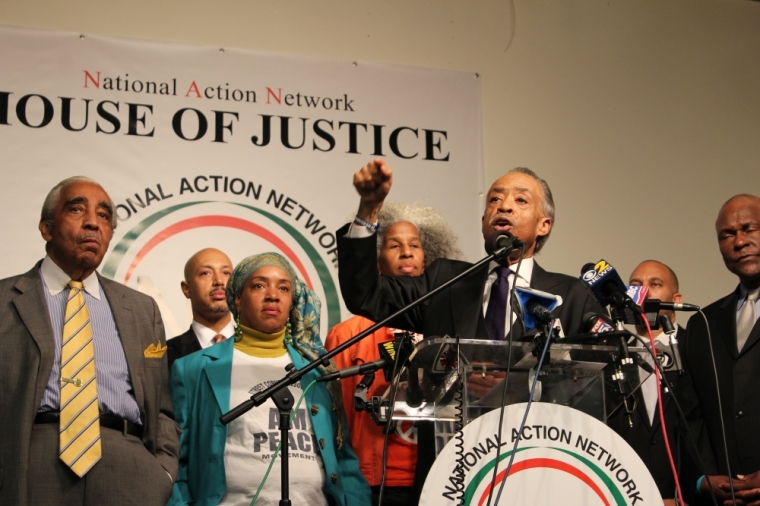 NEW YORK — Al Sharpton called Republican 2016 presidential frontrunner Donald Trump's pending meeting with a group of black pastors on Monday a "smart thing" but warned the clergymen not to be "trumped by Trump."
"It's a smart thing he's doing to meet with black ministers 'cause the majority of black voters still go to church and that's why we are conveniently Democrats. But the question is, now that you're in the room with them can you fill the room with answering real questions," said Sharpton.
The civil rights activist and Baptist minister revealed at a press conference at the National Action Network's Harlem headquarters in New York City on Monday that he has spoken to a number of the ministers scheduled to meet with Trump in the now controversial meeting and he urged them "don't let him off the hook."
"We've got many calls about some of the black pastors meeting with the Republican candidate Donald Trump and I have been asked 'did I encourage some not to go or discouraged them from endorsing him,'" said Sharpton in discussing the meeting.
"I've talked to several of them and they can have whatever meetings they want. What I've encouraged is that when you meet with Mr. Trump don't let him off the hook," Sharpton said.
"Ask him about his immigration policy which directly affect many of the Evangelical pastors who have congregations that are from the Caribbean and from Africa. He has a policy that would directly impact many of the members of their congregation. Ask him about his position on police misconduct. These are members of their church. Ask him about his position with gun violence that we are beating about today. He is a big supporter of the NRA. Ask him about income inequality. Ask him the tough questions," charged Sharpton.
The outspoken activist challenged Trump as he promoted a congressional resolution to create a national gun violence awareness month to be introduced by Democratic New York Congressmen Hakeem Jeffries and Charles Rangel in Congress on Tuesday.
He raised the specter of Trump's troubled past with racial profiling in New York City by highlighting his reaction to the controversial 1989 Central Park jogger case.
"Ask him how he came into his political acknowledgment in New York by castigating five young men in the Central Park rape case that we fought and were able to prove after 13 years that they were innocent," charged Sharpton.
"So since he wants to have a meeting they should have a real meeting or admit that they are just props in a Trump play or Trump presser or Trump photo-op. And I think that if they come out with those answers we'll know it was a serious meeting. If it come(s) out that 'we just sat in the glow of a billionaire' then they would be offending their congregants and offending their cloth," Sharpton said.