Trump Nominates Brett Kavanaugh to US Supreme Court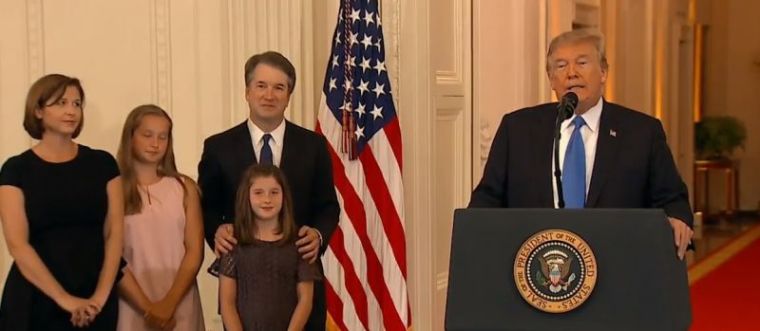 President Donald Trump has nominated Judge Brett Kavanuagh to the United States Supreme Court to fill the vacancy created by the retirement of Justice Anthony Kennedy.
In an announcement made Monday evening, Trump stated that Kavanaugh had a "proven commitment to equal justice under the law."
"Throughout legal circles he is considered a judge's judge," stated Trump, labeling him a "brilliant jurist."
Kavanaugh, 53, was nominated to the District of Columbia Circuit by President George W. Bush and previously worked under Ken Starr, who investigated President Bill Clinton.
A native of the D.C. area and member of Blessed Sacrament Catholic Church, Kavanaugh previously clerked for Justice Anthony Kennedy and counts as a friend the current Chief Justice John Roberts, according to the Baltimore Sun.
At least one opinion column in the influential conservative publication The Wall Street Journal titled "The Case for Brett Kavanaugh" argued that Kavanaugh should be the nominee.
"What should President Trump look for in a Supreme Court nominee? Exactly what he did with his selection of Justice Neil Gorsuch and his slate of lower-court nominees," read the piece.
"He should ask one question: Who is best at being a judge, as demonstrated by a consistent record of applying textualist and originalist reasoning to significant legal questions? Given the reported options Mr. Trump is now considering, the answer is obvious: Judge Brett Kavanaugh."
On June 27, Justice Kennedy announced that he was going to retire effective July 31 from the Supreme Court after serving on the bench for 30 years.
Nominated by President Ronald Reagan in 1988, Kennedy was often viewed as the "swing vote" of the Supreme Court, serving as tie-breaker for many controversial cases.
Kennedy wrote the majority opinions for decisions that advanced LGBT causes, including the 2015 decision Obergefell v. Hodges, which legalized same-sex marriage nationwide.
Earlier this year, he sided with conservatives on cases regarding the Trump administration's travel ban and Masterpiece Cakeshop v. Colorado Civil Rights Commission, in which he ruled in favor of a Colorado baker who refused to make a same-sex wedding cake due to his Christian beliefs.
News of the retirement garnered excitement for conservatives like Family Research Council President Tony Perkins stating that he hoped Trump would appoint "a justice who simply decides the cases before them, as the Constitution intends."
"The American people are looking for yet another Supreme Court nominee in the mold of Justice Scalia as President Trump promised and delivered in Justice Gorsuch," stated Perkins.
Meanwhile, liberals like Center for American Progress President and CEO Neera Tanden expressed concern that with Kennedy's retirement Americans are "dangerously at the mercy of President Trump's bigotry and corruption."
"The retirement of Justice Kennedy threatens to eliminate the last check on a President who has stomped on Americans' rights with impunity," stated Tanden.
Trump stated in a White House fact sheet released on the day of his decision that he was going to "select a Justice who will faithfully interpret the Constitution as written."
"Judges are not supposed to re-write the law, re-invent the Constitution, or substitute their own opinions for the will of the people expressed through their laws," stated Trump.
"The American System tasks Congress with writing the laws, the executive with enforcing the laws, and the judiciary with issuing neutral judgments based upon those laws and the Constitution we have sworn to protect."