Trump Orders Military to Shoot Down North Korean Missiles Aimed at Hawaii, Guam, US Mainland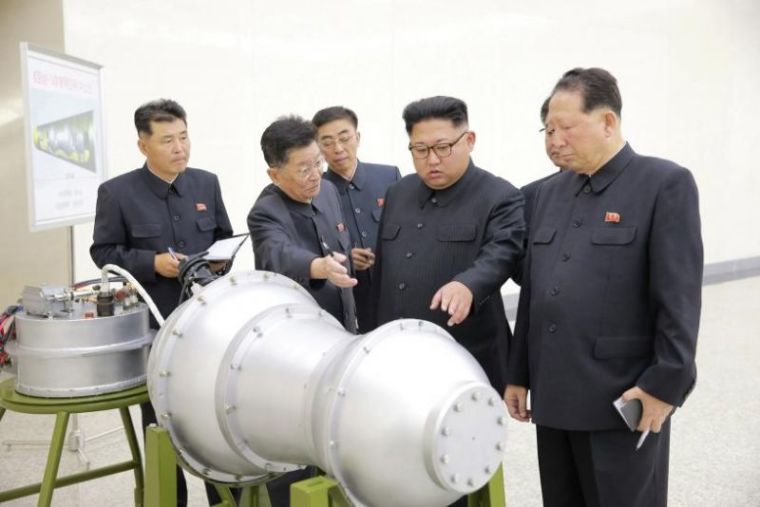 U.S. President Donald Trump has reportedly ordered military forces to be ready to shoot down any missiles launched by North Korea aimed at Hawaii, Guam, or the U.S. mainland.
Newsmax reported on Thursday that sources close to Trump's national security team revealed that the order comes after Kim Jong Un's verbal threats against Guam, and the refusal to end the ballistic missile tests.
"The threat provoked the president," the source said.
The commander-in-chief refused to rule out military action against North Korea at a press conference on Thursday, but said that it is not yet "inevitable."
"It would be great if something else could be worked out," Trump told reporters, adding that if the the U.S. does strike, "it will be a very sad day for North Korea."
Kim's government revealed on Sept. 3 that it had conducted its sixth nuclear test, in defiance against international sanctions.
The announcement prompted a strong reaction from U.S. Ambassador to the United Nations Nikki Haley, who told the U.N. Security Council that North Korea is "begging for war."
Haley added that while the U.S. does not want a conflict, "our country's patience is not unlimited."
She insisted that "only the strongest sanctions will enable us to resolve this problem through diplomacy."
Trump has criticized some of America's key allies, such as South Korea, for what he described as "appeasement" of North Korea.
"South Korea is finding, as I have told them, that their talk of appeasement with North Korea will not work, they (North Korea) only understand one thing!" the president said on Twitter last week.
Trump also said that North Korea's "words and actions continue to be very hostile and dangerous to the United States," stating that the regime "has become a great threat and embarrassment to China, which is trying to help but with little success."
Another national security source told Newsmax that Trump's "shoot down" order could also extend to North Korean missiles launched at Japan or South Korea.
"This is a clear exercise of self-defense, and there's no question we should do it," former U.S. ambassador to the U.N. John Bolton said.
Bolton noted that South Korea and Japan "are in jeopardy," calling on the U.S. to take steps to protect its allies.
Some of North Korea's threats against Guam include a video in August published by state-operated KCNA news, which depicted Trump standing in a graveyard of crosses in what appeared to be the tiny U.S. territory.
Kim previously warned the he is considering launching intermediate ballistic missiles near Guam due to the heavy sanctions imposed on his country.
Pastors in Guam, such as Fr. Danilo C. Bien, who leads Santa Barbara Catholic Church in the Archdiocese of Agana, told The Christian Post that there is cause for worry, due to the "temperament of the leaders who are at the forefront."
"I hope and pray that wiser and calmer minds will prevail. I hope and pray that our leaders will realize that their decisions affect the welfare of millions of people, if not the whole world," Bien told CP back then.
Gen. Joseph Dunford, chairman of the U.S. Joint Chiefs of Staff, has separately warned that a military conflict between America and North Korea wold be "horrific."
"What is unimaginable is allowing [Kim Jong Un] to develop ballistic missiles with a nuclear warhead that can threaten the United States and continue to threaten the region," Dunford added.