Trump Says 'All Options on the Table' After North Korea Fires Missile Over Japan in 'Outrageous' Act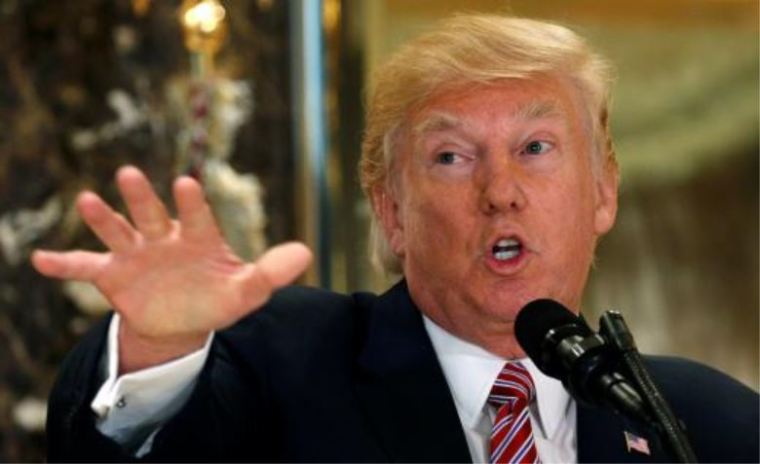 U.S. President Donald Trump has said "all options are on the table" in terms of a response against the government of Kim Jong Un after North Korea launched a missile over Japan early Tuesday in an "outrageous" act.
"The world has received North Korea's latest message loud and clear: this regime has signaled its contempt for its neighbors, for all members of the United Nations, and for minimum standards of acceptable international behavior," Trump said in a statement released by the White House.
"Threatening and destabilizing actions only increase the North Korean regime's isolation in the region and among all nations of the world. All options are on the table."
The government of Japan urged residents in the north of the country to take precaution as the unidentified missile flew over Erimomisaki, on the northern island of Hokkaido, before falling into the Pacific Ocean, CNN reported.
While there was no immediate report of damage to ships or aircraft, the missile, which was in flight for 15 minutes, was the first time North Korea has successfully fired a weapon of its kind over Japan.
Japanese Prime Minister Shinzo Abe called the launch an "unprecedented and grave threat" to his nation.
"The outrageous act of firing a missile over our country is an unprecedented, serious and grave threat and greatly damages regional peace and security," Abe told reporters in Tokyo, according to The Telegraph.
Abe added that Japan would "strongly call for increased pressure on North Korea in cooperation with the international community."
Abe further revealed that he spoke with Trump for 40 minutes after the launch.
"Japan and the U.S. completely agreed that an emergency meeting at the U.N. Security Council should be held immediately and increase the pressure toward North Korea," the Japanese Prime Minister said.
Trump affirmed that America "stands with Japan 100 percent," according to Abe.
British Secretary of State for Foreign Affairs Boris Johnson similarly tweeted: "Outraged at reckless provocation by #NorthKorea. Strongly condemn latest illegal missile launch by #DPRK"
North Korea has faced heavy sanctions in recent times over its nuclear missiles program, which has led to an escalating war of words between Kim and Trump.
Trump suggested last week that there could be hopes for a softening of tensions, arguing that Kim is "starting to respect America." Only days later North Korea's state news agency KCNA news released an alarming video showing a photoshopped picture of Trump standing over a graveyard in Guam, which Kim has threatened.
China, which has attempted to act as a mediator, urged for restraint following the latest developments, warning that the situation had reached "a tipping point approaching a crisis."
"Think hard about it, who do you think should take the blame, if China is urging all parties to calm down while one party holds constant military exercises ... and the other is constantly launching missiles?" ministry spokeswoman Hua Chunying said, pointing the finger both at Kim and his Western opponents.
South Korea, on the other hand, carried out a bombing drill on Tuesday to test its "capability to destroy the North Korean leadership" in cases of emergency, CNN reported.
"We are fully ready to counter any threat from North Korea and will make unwavering efforts to protect the lives of our people and the security of our nation," South Korean Foreign Ministry spokesman Cho June-hyuck said.