North Korea Video Depicts Trump Standing in Guam Graveyard of Crosses in Grim Warning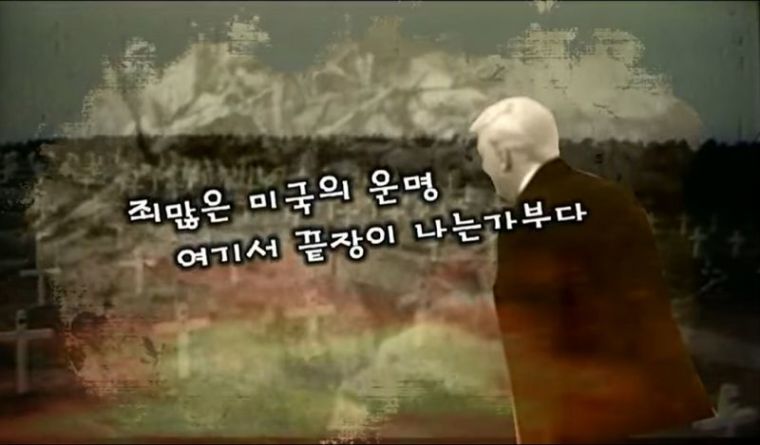 A propaganda video from North Korea shows U.S. President Donald Trump standing in a graveyard of crosses in what appears to be Guam, the American territory that Kim Jong Un recently threatened with a missile strike.
KCNA news, North Korea's state news agency, provided a statement following the video, apparently accusing Trump of "spouting rubbish" and mocking his tweets, calling them "weird articles of his ego-driven thoughts."
Fox News said on Tuesday that the photoshopped picture of Trump looking at the Guam graveyard "may be the most rattling in the video." The video also shows Vice President Mike Pence engulfed in flames.
Kim warned of an attack on Guam in the wake of the U.S. increasing its actions against his regime, serving as punishment for the continued nuclear tests.
Trump and Kim have accused each other back and forth of escalating tensions, with the U.S. president warning of "fire and fury" if North Korea carries out any of its threats.
KCNA said on Tuesday that Kim's regime is ready to stage "ruthless" retaliation in response to the annual joint military drills between South Korea and America.
"The U.S. will be wholly held accountable for the catastrophic consequences to be entailed by such reckless aggressive war maneuvers, as it chose a military confrontation [with North Korea]," a North Korean military spokesman said.
Still, Trump expressed hopes at a speech on Tuesday in Phoenix, Arizona, that Kim is "starting to respect" America.
"Maybe, probably not, something positive will come out of it," Trump predicted.
Secretary of State Rex Tillerson said in a separate speech that the Pacific nation had not carried out "provocative acts" since new sanctions were imposed.
"I am pleased to see that the regime in Pyongyang has certainly demonstrated some level of restraint that we have not seen in the past," Tillerson told reporters, according to Bloomberg.
"Perhaps we are seeing our pathway to sometime in the near future having some dialogue."
As for the threat on Guam, The Christian Post spoke with several pastors last week, who said that while there is concern, local residents are not falling into a panic, and are praying for peace.
"I hope and pray that wiser and calmer minds will prevail. I hope and pray that our leaders will realize that their decisions affect the welfare of millions of people, if not the whole world," Fr. Danilo C. Bien, who leads Santa Barbara Catholic Church in the Archdiocese of Agana, told CP at the time.
Pastor Pale' Mike Crisostomo of the Immaculate Heart of Mary Catholic Church noted that the people have "great faith" in God, along with the U.S. government and its military leaders.
"I have not witness[ed] a growing fear or panic amongst the local community. Many people would like to see the two countries involved to seek dialogue and diplomatic means rather than throw threats to each other involving innocent lives, like the people of Guam," Crisostomo said.
North Korea's video featuring Trump in the graveyard can be viewed below: