Trump Reduces Refugee Resettlement Ceiling to Historic Low; Evangelical Leaders React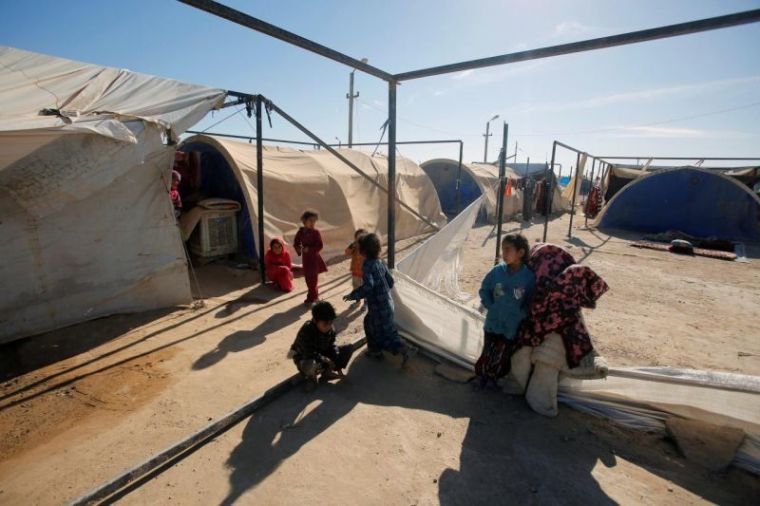 Despite pleas from evangelical leaders, the Trump administration will reduce the United States refugee resettlement ceiling to 30,000 for fiscal year 2019.
On Monday, Secretary of State Mike Pompeo announced that no more than 30,000 refugees will be resettled to the U.S. in fiscal year 2019 (Oct. 1, 2018 - Sept. 30, 2019). The 30,000-refugee cap, which is the lowest cap set by any administration since the passing of the Refugee Act in 1980, is 15,000 refugees less than the cap set for fiscal year 2018.
Even with the 45,000 refugee cap for fiscal year 2018, the U.S. has only resettled just over 20,000 refugees with less than two weeks left in the fiscal year.
The decision comes at a time when there are an estimated 68 million people forcibly displaced from their homes around the world, 25 million of which are refugees.
Pompeo told reporters Monday that there is evidence that the extensive multi-agency vetting process used to screen asylum applicants for resettlement is "defective." Last month, an Iraqi man who entered the country as a refugee by claiming to be a victim was arrested and accused of killing for the Islamic State.
Pompeo also blamed a backlog of about 800,000 pending asylum cases and said the decision reflected that "daunting operational reality." Pompeo vowed, however, that the U.S. would process more than 280,000 asylum seekers.
"They will join the over 800,000 asylum seekers who are already inside the United States and who are awaiting adjudication of their claims," Pompeo said. "These expansive figures continue the United States' long standing record of the most generous nation in the world when it comes to protection-based immigration and assistance."
Reuters stated in a report citing 20 current and former U.S. officials that the U.S. had reduced the number of officials conducting refugee interviews by about two-thirds and reassigned 100 of 150 refugee interviewers to handle asylum screenings for people already in the U.S.
Although the Trump administration has maintained close ties with conservative evangelical leaders, calls for the administration to set the refugee cap for 2019 at 75,000 from a more politically diverse group of evangelical leaders that included Russell Moore and Samuel Rodriguez were unsuccessful.
"Largest displacement in world history and we are at lowest levels of refugee acceptance. I'm so saddened by this," Daniel Darling, a Tennessee pastor and vice president for communications at the Southern Baptist Convention's Ethics and Religious Liberty Commission, wrote on Twitter. "We have a booming economy and many resources. We can't take all the world's vulnerable but we can take more than this."
Scott Arbeiter, president of the evangelical refugee resettlement organization World Relief, one of nine agencies authorized to resettle refugees in the U.S., argued in a statement that a 30,000-refugee cap "jeopardizes the safety of future refugees, including persecuted Christians, who will no longer be able to find refuge in the U.S."
"This decision contradicts the administration's declared commitment to helping persecuted Christian and religious minorities in dangerous and oppressive countries," Arbeiter said. "Evangelicals should be concerned by this assault against our call to support 'the least of these.'"
According to World Relief, the humanitarian arm of the National Association of Evangelicals, the average ceiling for the U.S. Refugee Resettlement Program had been 90,000 since its founding over 40 years ago. That was until 2017 when the Trump administration reduced the cap from 110,000 (set by President Barack Obama for fiscal year 2017) to 45,000.
Average annual refugee cap by presidential administration:

Carter: 224K (FY80-81)
Reagan: 89K (FY82-89)
Bush 41: 132K (FY90-93)
Clinton: 93K (FY94-2001)
Bush 43: 73K (FY02-09)
Obama: 80K (FY10-17)
Trump: 38K (FY18-19) https://t.co/6cOcm1ww3j

— Matthew Soerens (@MatthewSoerens) September 18, 2018
"A policy admitting fewer refugees into the United States is tantamount to slamming a door in the faces of people fleeing unimaginable violence and hardship," Suzii Paynter, executive coordinator of the Cooperative Baptist Fellowship, which has over 1,900 partner churches, said in a statement. "The administration's move to dismantle the U.S. Refugee and Resettlement Program runs contrary to the history of this great nation as a beacon for all of those seeking safety and freedom. We're strong enough to maintain security and show compassion. Christians must raise a united voice to oppose this callous decision."
The decision was also opposed by leaders of other faiths.
"Within the Jewish community, many of our own families are alive today because of the relatively open immigration policies of the late 19th and early 20th centuries," Rabbi Jill Jacobs, executive director of T'ruah: The Rabbinic Call for Human Rights, said in a statement. "And too many Jews died after being trapped in Europe when the borders closed in 1924. Turning away people in need is a dereliction of our moral and legal obligations."
In his remarks, Pompeo assured that the administration is "working to assist refugees and other displaced people as close to their home countries as possible." He argues this will increase "the number of displaced people who have received aid and protection."
"The United States is steadfast in prioritizing a course of action that enables the safe and voluntary return of refugees to their home countries if and when conditions permit – a solution that most refugees prefer," Pompeo said. "This strategy reflects our deep commitment to achieving optimal humanitarian outcomes. The best way to help most people is to promote burden sharing with partners and allies, to work to end conflicts that drive displacement in the first place, and to target the application of foreign aid in a smarter way."