Trump Rips Into ESPN as Pastor John Pavlovitz Says He Agrees With Jemele Hill's White Supremacist Claims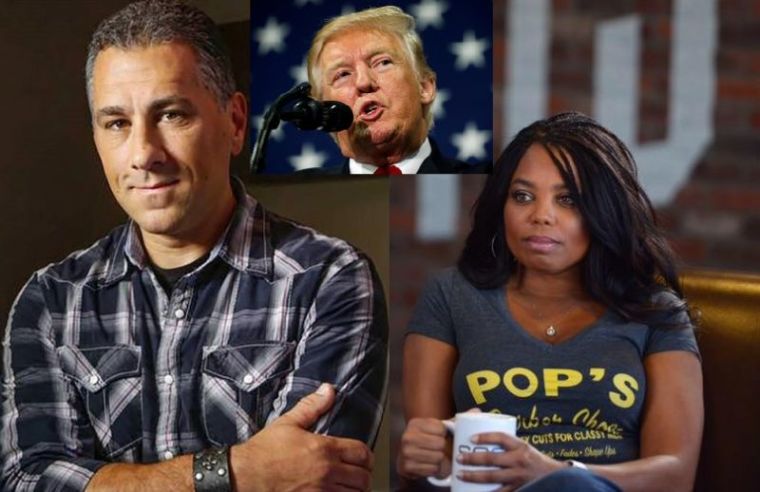 President Donald Trump ripped into ESPN for "untruth" Friday as liberal Pastor John Pavlovitz said the uproar over comments made by Jemele Hill, co-host of ESPN's "SportsCenter," calling the president a white supremacist is proof her accusations are correct.
"ESPN is paying a really big price for its politics (and bad programming). People are dumping it in RECORD numbers. Apologize for untruth!" Trump tweeted Friday morning in the wake of controversial comments made by Hill Monday branding him a white supremacist, despite the fact that his daughter, son-in-law, and three of his grandchildren are Jewish.
In a series of tweets on Monday, Hill said: "Donald Trump is a white supremacist who has largely surrounded himself w/other white supremacists. He is unqualified and unfit to be president. He is not a leader. And if he were not white, he never would have been elected."
Hill's comments caused an uproar on social media and forced ESPN to release a statement distancing itself from the comments.
White House Press Secretary Sarah Huckabee Sanders also called Hill's comments a "fireable offense."
In a post on Thursday, Pavlovitz, pastor of North Raleigh Community Church Downtown in Wake Forest, North Carolina — who advocates for same-sex marriage, transgender issues and is opposed to state bathroom bills barring men who identify as female from entering women's bathrooms — said white Americans criticizing Hill for her comments were being unfair and hypocritical.
"This is the heart of the hypocrisy on display here, and the reason Hill isn't wrong, even if you disagree with her conclusions or her methods. ...
"You don't get to spend a lifetime exemplifying the absolute insulation from accountability that is white privilege — and get to play the victim card when a black woman asks why that is. You don't get to call a violent horde of torch-wielding nazis in Charlottesville, 'fine people,' and blame the deadly violence on 'both sides' — and then act as if charges of supremacy are without merit," said Pavlovitz, who's promoting his new book, A Bigger Table.
"Jemele Hill is right to speak, and she shouldn't have to apologize for seeing what she sees," Pavlovitz added. "If you feel she unfairly lumped you into a lazy stereotype that doesn't apply to you — maybe you'll understand how frustrating that is, and you'll try to be more willing to see people as individuals and not caricatures you can accessorize as you wish. Maybe as a black woman, Jemele knows what that feels like better than you and I."
Pavlovitz then asserted that Trump's supporters shouldn't be offended by accusations that he and those working in his administration are white supremacists because the president received an unsolicited endorsement from David Duke, a former leader of the KKK and anti-Semite. During the 2016 presidential election, however, Hillary Clinton's campaign received more than $20,000 from the KKK, along with several public endorsements including Will Quigg, California Grand Dragon for the Loyal White Knights, who said she was their chosen presidential candidate, Vocativ reported.
Speaking about Trump, Pavlovitz added, "You can't be the presidential candidate officially endorsed by the KKK, and then bristle when people of color question your commitment to equality — especially when nearly every Cabinet appointment bolsters such questions," he argues.
"It's disingenuous for supporters of this president to feign offense at Hill's tone or her bluntness. ... That white people are more incensed by her comments than by Trump's body of work, is exactly why we have a problem here," he continued.
"White supremacy isn't a club you officially join; something that either is or isn't true. It isn't like eye color or blood type or nation of origin. Saying you believe someone's outward actions reveal a prejudice or an irrational fear is an opinion. Everyone is allowed to say what they see in us.
"People evaluate the fruit in other's lives and make evaluations. You can disagree with their conclusions but that doesn't mean they're lying or wrong. Racism, homophobia, bigotry, misogyny, anti-Semitism can't be proven or disproven. If someone says they see that in us we should pay attention," he said.