Trump speaks at pro-life summit, calls Biden one of the most 'radical' presidents
Cruz, Rubio, DeSantis also address SBA List event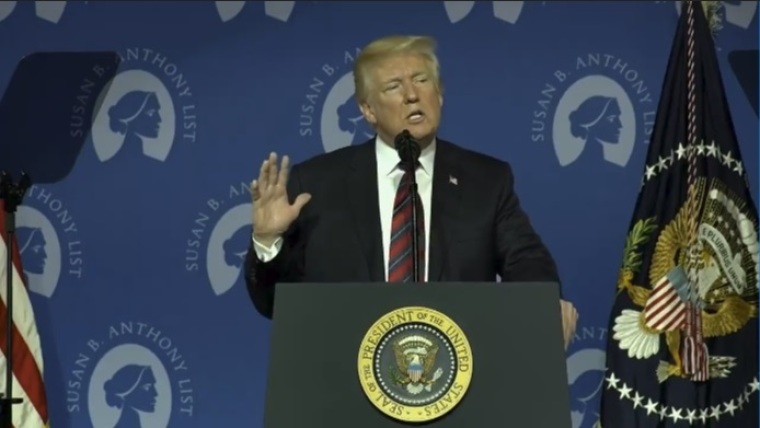 Addressing a crowd of pro-life activists, former President Donald Trump reportedly described his successor, President Joe Biden, as one of the most "radical" presidents in United States history. 
Trump was one of several rumored 2024 presidential hopefuls who addressed the Susan B. Anthony List's Pro-Life Leaders Summit in Palm Beach, Florida, this week.
At the event hosted by the prominent pro-life advocacy group, which was closed to the press, Trump criticized the current administration's policies on abortion and criticized his political opponents. 
The Federalist's Mollie Hemingway summed up the former president's speech in a Twitter thread Monday.
According to Hemingway, Trump said Biden "is one of the most extreme and radical presidents we've had and he's not even aware of it." 
Additionally, Hemingway said Trump devoted a portion of the speech to "condemning all of Biden's actions in support of abortion, noting Biden was kept in [the] basement for campaign, kept quiet about what he'd do." 
Hemingway further noted that Trump joked about how large Speaker of the House Nancy Pelosi's mask was during Biden's address to a joint session of Congress last week. She reported that Trump said it 'hurts vaccine acceptance when Democrats wear bigger and bigger masks after vaccination."
Trump also claimed that the media treated him differently verses how they are handling the Biden presidency. He called the difference in media treatment for the new president "egregious," according to Hemingway. 
"He just pointed out that VA Gov. Ralph Northam got in more trouble for blackface than he did for saying babies who are born should be allowed to die if mother chooses, and that he thought that was [the] opposite of [the] way it should be," she added.
As described by Hemingway, Trump's remarks addressed comments made by Northam during a radio interview in January 2019. Discussing a bill that would allow abortion up to the moment of birth, the Virginia governor expressed support for the measure. He even suggested that women should have the option to abandon their newborn children if they have "deformities." 
Explaining that third-trimester abortions are "done in cases where there may be severe deformities, where there may be a fetus that's not viable," Northam outlined a hypothetical scenario:
"If a mother is in labor, I can tell you exactly what would happen. The infant would be delivered, the infant would be kept comfortable. It would be resuscitated if that's what the mother and the family desired and then a discussion would ensue between the physician and the mother."
Just days after Northam made those remarks, a decades-old picture of the governor's medical school yearbook page surfaced. The page featured a picture of two individuals, one in blackface and the other in a Ku Klux Klan hood. One of the individuals was presumably Northam. While the yearbook page led to calls for Northam to resign, he remains in office more than two years later.
Other speakers at the Pro-Life Leaders Summit, as Fox News reported, included Florida Gov. Ron DeSantis; Sen. Ted Cruz, R-Texas; Sen. Marco Rubio, R-Fla.; Sen. Rick Scott, R-Fla.; and Sen. Tim Scott, R-S.C. All of those politicians are rumored to be considering presidential bids in 2024.
The Fox News report included excerpts of the speeches that DeSantis, Cruz and Rubio planned to give.
DeSantis' speech highlighted his appointment of Florida Supreme Court justices who "respect the rule of law and religious liberty." In addition, the governor touted his record signing legislation "that empowers families and sends a clear message that we will do everything we can to protect the unborn." 
"Building a culture of life requires us to champion policies that fight for our most vulnerable," DeSantis argued. "Today is about applauding the tireless work of advocates like the Susan B. Anthony List team who defend life with vigor."
Cruz, who previously sought the Republican nomination for president in 2016 after being elected to the Senate in 2012, slammed the pro-abortion policies of the Biden-Harris administration.
"Defending the right to life is one of the most important responsibilities an elected official has," Cruz was quoted as saying. "Not only do Joe Biden and Kamala Harris fail to embrace that responsibility, they pander to pro-abortion activists at every turn — even though a large majority of Americans believe abortion should only be legal under certain circumstances or completely illegal."
"Joe Biden and Kamala Harris are on the wrong side of history when it comes to abortion, and their views don't reflect what Americans want," Cruz continued.
Rubio, who also ran for the 2016 Republican presidential nomination, seconded Cruz, alleging that "the Biden administration is dominated by pro-abortion radicals who want to make it easier than ever to deny freedom to the unborn." The Florida senator vowed that he would "never stop protecting the rights of those yet to be born."