Trump Admin. Transgender Student Pronoun Policy Is 'Compelled Speech Violation,' Liberty Counsel Says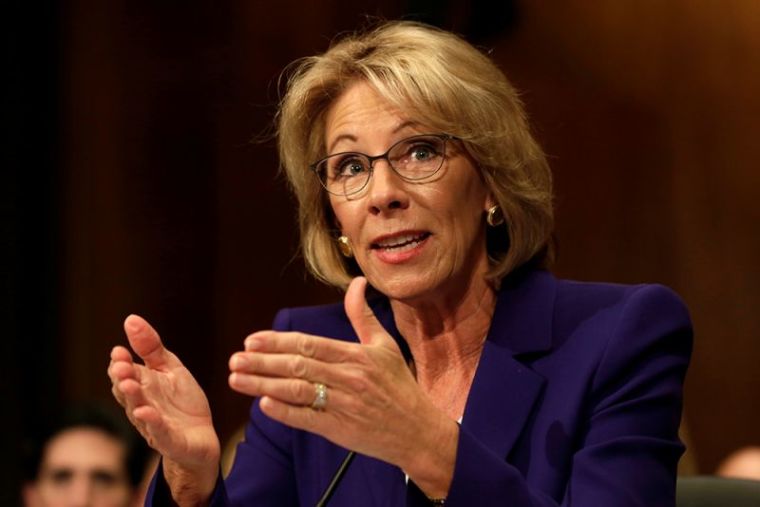 A leading conservative Christian legal group committed to defending religious liberty has spoken out against a memo issued by the Trump administration this month that lays out certain reasons why schools could be investigated for discrimination against transgender students.
The Liberty Counsel has voiced its opposition to an internal memo issued by the Department of Education's acting assistant secretary for civil rights, Candice Jackson, on June 6 that instructs investigators within the department's Office of Civil Rights to consider transgender students' complaints on a case-by-case basis.
Considering that earlier this year, Attorney Gen. Jeff Sessions and Education Secretary Betsy DeVos issued a memo rescinding an Obama-era Title IX guideline encouraging schools to allow transgender students to use bathrooms and locker rooms consistent with their gender-identity, questions remained about how the Trump administration would treat complaints of discrimination issued by children with gender dysphoria.
Although the memo seems to suggest that schools would not be investigated for preventing transgender children from using bathroom and locker rooms consistent with their perceived gender, the memo leaves open the possibility that investigators could assert "subject matter jurisdiction" and investigate cases that involve a refusal to "use a transgender student's preferred name or pronouns when the school uses preferred names for gender-conforming students or when the refusal is motivated by animus toward people who do not conform to sex stereotypes."
While opponents on the political left were quick to voice their opposition to the June 6 memo, advocates on the political right have been somewhat muted when it comes to their thoughts on the memo.
But on Tuesday, Liberty Counsel Chairman Mat Staver, who is one of the influential voices in the Christian Right and became known by many when he served as Kentucky clerk Kim Davis' lawyer when she was jailed in 2015 for refusing to issue same-sex marriage licenses with her name on them, offered his concerns about the memo in a statement shared with The Christian Post.
"Title IX does not require a school district or teacher to call students by false gender pronouns," Staver asserted. "Title IX is silent regarding the use of pronouns, and it cannot be a violation to refer to students by pronouns consistent with their actual sex."
Staver also argued that forcing teachers to refer to students by pronouns and names that don't correspond with their biological gender is a "compelled speech violation."
"[C]ompelling students to participate in a lie violates their right to free speech," Staver added. "I thought we had seen the last of this nonsense coming out of the Department of Education. I call upon Betsy DeVos to end this new policy."
The Christian Post reached out to the Washington, D.C.-based social conservative advocacy organization Family Research Council for comment on Jackson's memo. However, a response could not be issued before press time.
LGBT advocates and Democratic lawmakers have also criticized the memo on the grounds that it permits "discrimination" against transgender children because their use of a bathroom or locker room of the opposite sex won't be protected by the federal government.
"If a child cannot use the right bathroom at school, they simply cannot go to school, they cannot be a student," Mara Keisling, the executive director of the National Center for Transgender Equality, said, according to The Washington Post.
According to The Los Angeles Times, DeVos' press secretary, Elizabeth Hill, explained that the memo was designed to speed up the resolution of complaints.
"These internal enforcement instructions seek to clear out the backlog while giving every complaint the individualized and thorough consideration it deserves," Hill was quoted as writing in an email. "There is no longer an artificial requirement to collect several years of data when many complaints can be adequately addressed much more efficiently and quickly."