Trump: If you put me back in the White House, 'America will be a free nation once again'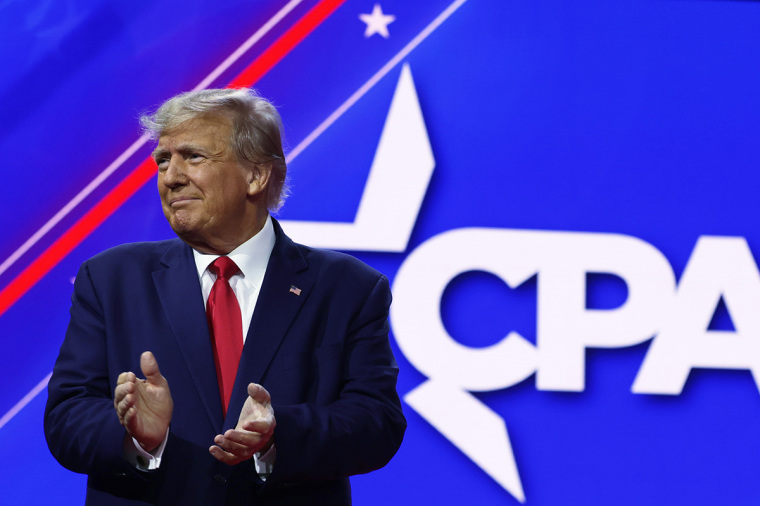 Former President Donald Trump promised that "America will be a free nation once again" if elected in 2024 after attendees of the Conservative Political Action Conference gave him a strong vote of confidence in a straw poll on Saturday. 
The annual gathering of conservative activists and politicians culminated with Trump's speech that came after CPAC released a straw poll finding that 62% of attendees wanted Trump to win the Republican presidential nomination in 2024
After thanking the crowd gathered at the Gaylord National Hotel and Convention Center in National Harbor, Maryland, for their support, the Republican presidential candidate reflected on his tenure in office and criticized the Biden administration. Trump looked ahead at what his second term in the White House might look like if he were to win the 2024 presidential election: "America will be a free nation once again. We're not a free nation right now. We don't have a free press, we don't have free anything."
Addressing LGBT ideology in his remarks, the former president proclaimed: "I will revoke every Biden policy promoting the chemical castration and sexual [mutilation] of our youth and ask Congress to send me a bill prohibiting child sexual mutilation in all 50 states." He also promised to enact policies that "keep men out of women's sports."
Trump also pledged to "totally obliterate the deep state" and "fire the unelected bureaucrats and shadow forces who have weaponized our justice system like it has never been weaponized before." 
At the top of his priority list, he added, would be "stopping the slide into costly and never-ending wars" and touted his ability to "easily" prevent World War III from breaking out. Reflecting on the positive relationships he developed with the leaders of adversarial nations, he also warned that "you're going to have World War III if something doesn't happen fast."
"Before I even arrive at the Oval Office, I will have the disastrous war between Russia and Ukraine settled." The CPAC straw poll revealed that 79% of attendees opposed giving additional money and military support to Ukraine as it battles Russia's invasion. 
"Under my leadership, we will defend our borders first," he said. "Three years ago, we had the safest border in the history of our country, and I will quickly do that again."
Trump continued his nearly two hourlong speech by outlining his immigration agenda, which includes the construction of 200 additional miles of a border wall and "a massive increase in border patrol and a colossal increase in the number of [Immigration and Customs Enforcement] deportation officers" and "the largest domestic deportation operation in American history."
When discussing his public safety agenda, the former president insisted that he would "direct the Department of Justice to go after Marxist prosecutors' offices to make them pay for their illegal race-based enforcement of the law" and "send in federal assets including the national guard" to "cities where there's been a complete breakdown of public safety" until "law and order is restored." He listed "tough consequences on juvenile criminals" as an important plank of his second administration.
Trump also expressed a desire to "end the scourge of homelessness taking over our cities and suburbs," specifically by taking the "homeless, drug addicted and severely deranged, [getting] them off our streets and [creating] tent cities where we will get them the help they so desperately need."
The former president spoke of his intention to revoke President Joe Biden's executive order "installing Marxist diversity, equity and inclusion czars in every federal agency" in addition to terminating "all staffers hired to implement this horrible agenda." He maintained that if elected, he would call on Congress to create "a restitution fund for Americans who have been unjustly discriminated against by these Biden policies, and we will ban all racial discrimination by the government."
Another part of his agenda is education, for which he proposed "universal school choice and the direct election of school principals by the parents" to advance parental rights. The former president added that he would also resurrect the 1776 Commission and "teach our values and promote our history and our traditions to our children."
"I will destroy the illegal censorship regime and bring back free speech in America," he continued.
Describing "economic security as national security," Trump discussed a plan to "revoke China's most favored nation trade status" in addition to creating "a four-year plan to phase out all Chinese imports of essential goods and gain total independence from China" as well as holding "China financially accountable for unleashing" the coronavirus.
Deriding the World Health Organization and suggesting that its acronym actually stands for "we hide outbreaks," Trump said he would withdraw from it once again. Other policy proposals included in his speech were seeking to regain energy independence, imposing term limits on members of Congress and providing "baby bonuses" in the hope of unleashing a new "baby boom."
He concluded his speech by predicting that "our country will shine, thrive and prosper like never before" if he wins the 2024 election. Trump was one of four Republican presidential candidates to speak at CPAC. Former U.S. Ambassador to the United Nations Nikki Haley, entrepreneur Vivek Ramaswamy and businessman Perry Johnson also addressed the crowd.
The RealClearPolitics average of polls asking Republican primary voters who they support for the Republican presidential nomination in 2024 shows Trump with 45.2% support, followed by Florida Gov. Ron DeSantis at 29.2% and former Vice President Mike Pence in a distant third at 6.8%. Haley has 5.3% support two weeks after entering the race. DeSantis and Pence have not announced White House bids but are thought to be considering joining the field.