'Trump, You Have Made History': 5 Important Quotes From US Embassy in Jerusalem Ceremony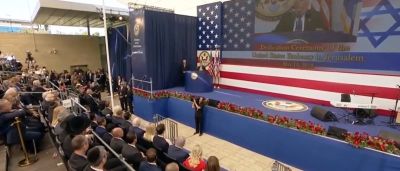 U.S. and Israeli officials dedicated the opening of the U.S. embassy in Jerusalem on Monday. The historic move was part of President Donald Trump's promise in recognizing the city as the capital of Israel.
U.S. Ambassador David Friedman welcomed those gathered at the ceremony "to the opening and dedication of the United States embassy in Jerusalem, Israel," receiving a long applause in response. The embassy was previously located in Tel Aviv.
The ceremony took place amid violent protests on the Israeli-Palestinian border where dozens were killed by Israeli gunfire. Palestinians lay claim to East Jerusalem.
Several prominent Israeli officials were present at the ceremony, including Prime Minister Benjamin Netanyahu, Israeli President Reuven Rivlin, and Israeli Defense Forces Lieutenant General Gadi Eizenkot.
Notable American leaders present included Senator Ted Cruz, Senator Lindsey Graham, White House Adviser Ivanka Trump, and Secretary of the Treasury Steven Mnuchin.
Here are five notable statements from the speakers at the event. They include praise for President Trump, a declaration that Jerusalem is for everyone, and a view on how the violent protests to the embassy are contributing to the conflict.