'Trump, You Have Made History': 5 Important Quotes From US Embassy in Jerusalem Ceremony
'Trump, You Have Made History': 5 Important Quotes From US Embassy in Jerusalem Ceremony
Jared Kushner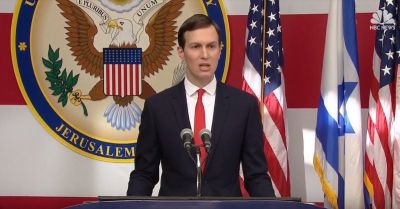 President Donald Trump's adviser and son-in-law, Jared Kushner, addressed the issue of violent protests made in response to the embassy move as well as the 70th anniversary of the creation of the modern state of Israel.
"As we have seen from the protests of the last month and even today, those provoking violence are part of the problem and not part of the solution," said Kushner.
"The United States is prepared to support a peace agreement in every way that we can. We believe that it is possible for both sides to gain more than they give, so that all people can live in peace, safe from danger, free from fear, and able to pursue their dreams."
Non-violent critics of the embassy move, including Presbyterian Church (USA) Stated Clerk the Rev. Herbert Nelson II, denounced the decision as a "grievous mistake."
"For Christians concerned with peace and justice, Jerusalem must be a city shared by three faiths and two peoples," said Nelson in a statement last year.
"As long as Israel occupies East Jerusalem and restricts Palestinian human rights, to designate Jerusalem as Israel's capital is to endorse the violation of international law."