'Trump, You Have Made History': 5 Important Quotes From US Embassy in Jerusalem Ceremony
'Trump, You Have Made History': 5 Important Quotes From US Embassy in Jerusalem Ceremony
John Hagee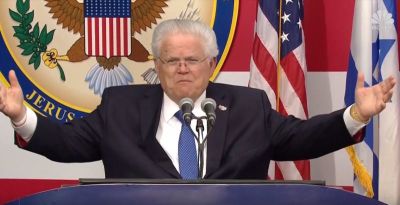 In the closing prayer for the ceremony, Pastor John Hagee of Cornerstone Church in San Antonio declared, "Jerusalem is where Messiah will come and establish a kingdom that will never end." 
He also said, despite the efforts of many, "Israel lives!"
"Let the word go forth from Jerusalem today that Israel lives. Shout it from the housetops that Israel lives. Let every Islamic terrorist hear this message: Israel lives," said Hagee.
"Let it be heard in the halls of the United Nations, Israel lives. Let it echo down the marble halls of the presidential palace in Iran, Israel lives. Let it be known to all men, that Israel lives."