Trump's Plan to End DACA Shot Down by Appellate Panel; Attention Turns to Supreme Court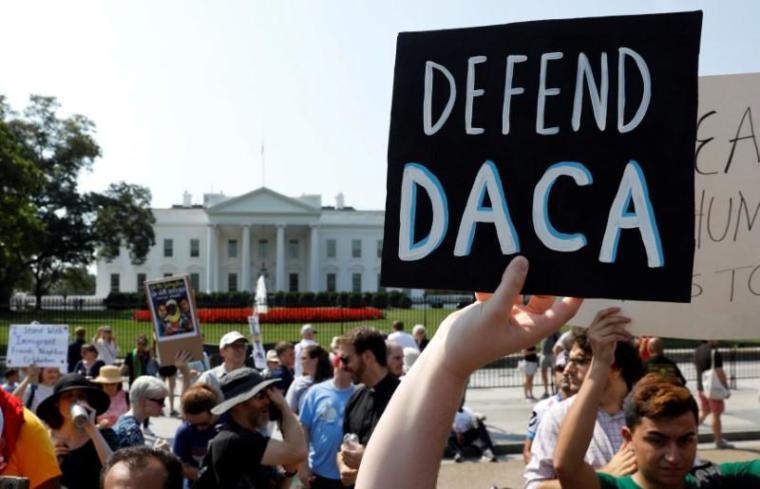 President Donald Trump's plans to end protections from deportation for hundreds of thousands of immigrants brought illegally to the United States as children suffered another blow on Thursday.
A panel from the U.S. Ninth Circuit Court of Appeals upheld a lower court ruling blocking the Trump administration's plan to eliminate the Deferred Action for Childhood Arrivals program.
The program, unilaterally established under the Obama administration in 2012, allows the DHS to exercise prosecutorial discretion to defer deportation of those who were brought to the U.S. illegally while they were 18 or younger and have lived in the U.S. since 2007.
The program has allowed about 700,000 immigrants to remain in the U.S. and has provided them with work authorizations, but does not provide them with "lawful status."
Earlier this year, a federal judge in California issued an injunction against Trump's plans to end DACA and ordered that the program be restarted.
"I would hold that Plaintiffs have plausibly alleged that the rescission of DACA was motivated by unconstitutional racial animus in violation of the Equal Protection component of the Fifth Amendment, and that the district court correctly denied the government's motion to dismiss this claim," the Ninth Circuit ruling, written by Bill Clinton-appointee Judge Kim McLane Wardlaw, reads.
Wardlaw added that the court's ruling "does not curb" executive power. Rather, she claims, it "enables its exercise in a manner that is free from legal misconceptions and is democratically accountable to the public."
Prior to Thursday's ruling, the Trump administration had already asked the U.S. Supreme Court to rule on whether Trump's plans to end DACA is constitutional.
Trump responded to the Ninth Circuit's ruling by saying that it is "good news."
"The good news is, by rejecting DACA in the 9th Circuit — finally, we've been waiting for that — we get it to the Supreme Court," Trump said on Friday. "We want to be in the Supreme Court on DACA."
A handful of evangelical leaders have voiced their support for the DACA program and have called for a more permanent legislative solution to protect DACA recipients.
Matthew Soerens, the director of church mobilization for the evangelical refugee resettlement organization World Relief, praised the ruling as "good news" but added that it is only temporary.
"The Supreme Court will likely, sooner or later, determine whether individuals with DACA will be able to continue to renew their work authorization or will have to be let go from their jobs, lose their income and be put at risk of deportation," Soerens, a prominent critic of Trump's immigration policies, explained. "Dreamers remain in a state of limbo."
"Our country desperately needs a legislative solution for Dreamers, which is something the president has said he wants as well," Soerens continued. "Our hope and prayer is that Congress will act quickly and on a bipartisan basis to ensure that these individuals can stay in the country lawfully, keep their jobs, continue to support their families, churches and communities and ultimately be able to apply for citizenship in the country they claim as their home."
The court's ruling came on the same day in which the Departments of Justice and Homeland Security issued a new rule stating that immigrants who illegally cross the U.S. southern border will not be eligible to receive asylum.
On Friday, Trump signed a presidential proclamation that reiterated that "aliens who enter the United States unlawfully through the southern border in contravention of this proclamation will be ineligible to be granted asylum."
Trump's policies were enacted as a caravan of about 6,000 immigrants from Central America continues to make its way toward the U.S. border. The rule would mean that the thousands in the caravan seeking asylum would need to enter through an official port of entry to be eligible for asylum, which could create a bottleneck at overcrowded ports, Fox News reports.
"This proclamation is cruel, unnecessary, and illegal," the Rev. John L. McCullough, president of the refugee resettlement agency Church World Service, said in a statement. "With the stroke of a pen, President Trump has denied vulnerable families their fundamental right to safety and condemned them to return to unfathomable danger."