Turkey Shoots Down Russian Warplane, Escalating Tensions in War Against ISIS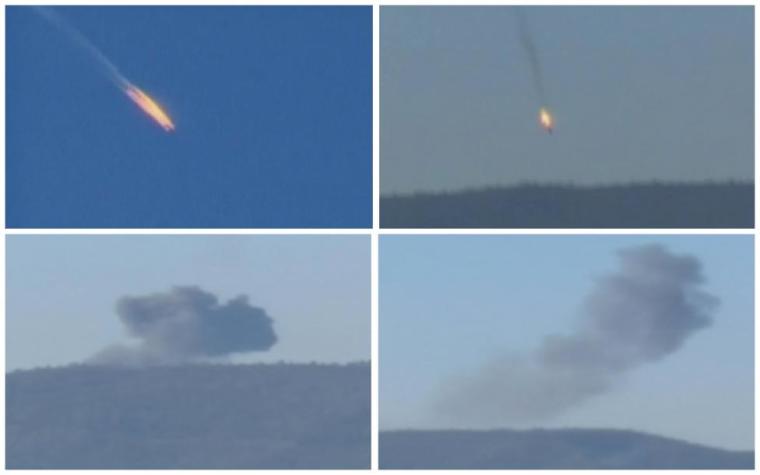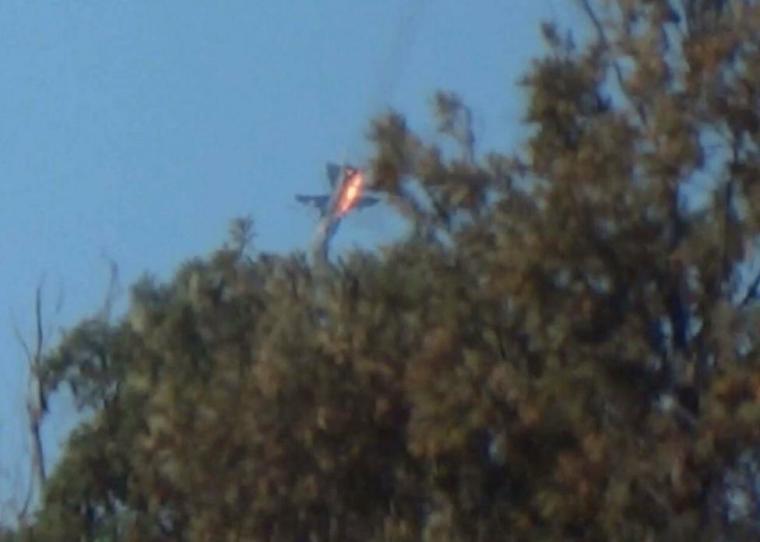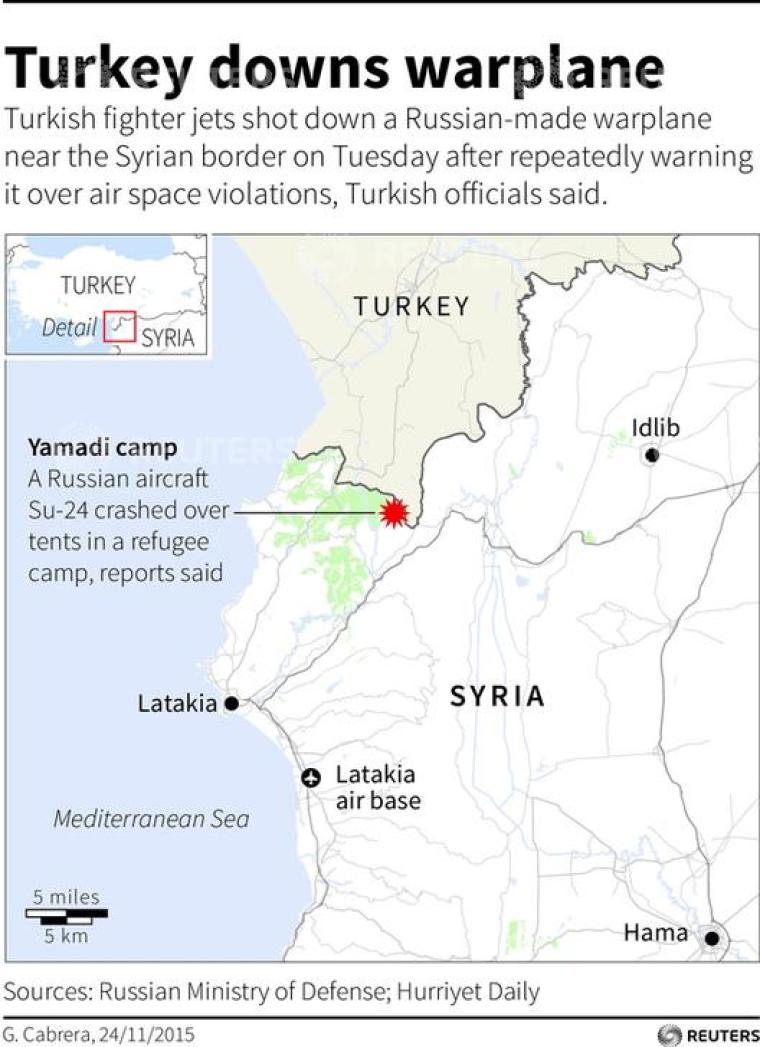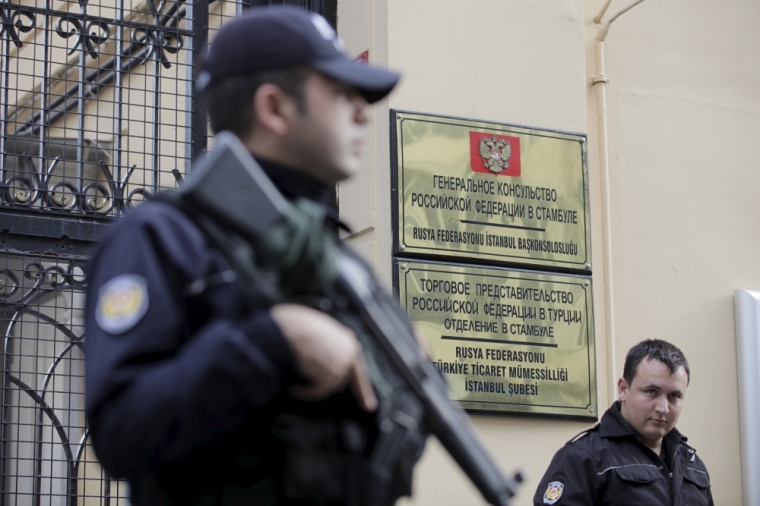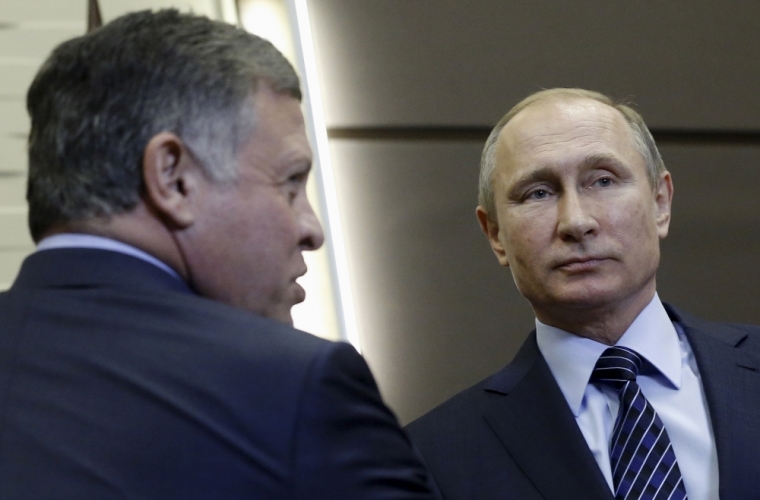 View Photos
Turkey's military has reportedly shot down a Russian Su-24 jet that it claimed was violating Turkish airspace, causing a major political row with Russia, which says its aircraft was over Syrian territory.
BBC News reported on Tuesday that NATO, of which Turkey is a member, has scheduled an extraordinary meeting to discuss the events.
The fate of the two Russian pilots who were ejected from the burning jet as it plunged into a Syrian hillside is not yet clear, though video footage has allegedly shown what appears to be the dead body of one of the pilots on the ground.
The Su-24, believed to be part of Russia's ongoing anti-terror campaign in Syria, was shot down by air-to-air missiles from Turkish F-16s.
The Syrian Observatory for Human Rights, which monitors war and violence across the country, said the warplane crashed in a mountainous area in the northern countryside of Latakia province, where pro-government forces have been battling militants on the ground.
Turkish officials insisted that they repeatedly warned the aircraft to stop violating its airspace, CNN reported, but the Russian pilots reportedly ignored the warnings.
Turkey's semiofficial Anadolu Agency quoted Turkish presidential sources who claimed that the Su-24 was "hit within the framework of engagement rules."
Russia's state-run Sputnik news agency argued, however, that "according to preliminary reports, the plane was gunned down from the ground."
The Russian Defense Ministry added that "objective monitoring" has "confirmed" that the plane was not in Turkish airspace.
"The Su-24 bomber jet was in Syrian airspace at the altitude 6,000 meters," the Defense Ministry said. "The pilots were reportedly able to parachute out of the jet before it crashed."
A senior Turkish official, who wasn't named, told Reuters that it has concrete evidence of the opposite.
"There were two planes approaching our border, we warned them as they were getting too close," the official said.
"We warned them to avoid entering Turkish air space before they did, and we warned them many times. Our findings show clearly that Turkish air space was violated multiple times. And they violated it knowingly," he added.
Another official said the downing of the plane wasn't an action specifically against Russia, but aimed at defending Turkey's sovereign territory.
Turkey's ambassador to the United States, Serdar Kilic, responded to the news in a Twitter message: "Understand this: Turkey is a country whose warnings should be taken seriously and listened to. Don't test Turkey's patience. Try to win its friendship."
While Turkey has also declared its opposition to the Islamic State terror group, which continues to hold major territory across Iraq and Syria, the NATO member remains strongly opposed to Syrian President Bashar al-Assad.
The government of Russian President Vladimir Putin has been one of Assad's few supporters, however, arguing that a strong and organized Syrian regime is needed to push back IS.