Two Priests Go Missing After Helping Reporters Cover Church Bombing in Burma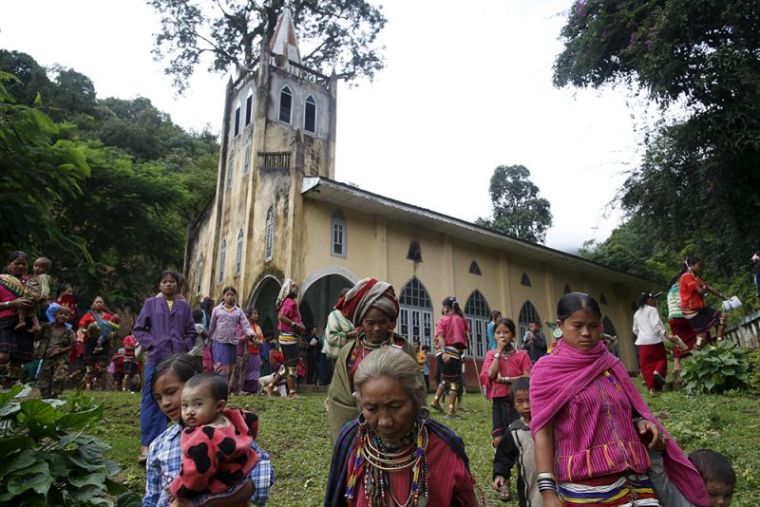 Two assistant priests in Myanmar, also known as Burma, remain missing since the Christmas Eve after they helped local journalists cover the bombing of their Catholic church building in the conflict-ridden Shan state, according to reports.
The priests, identified as Dom Dawng Nawng and La Jaw Gam Hseng, helped journalists from Yangon-based news organizations cover the bombing of their St. Francis Xavier Catholic Church in Mongkoe Township near the Chinese border, which was hit by airstrikes on Dec. 3, 2016, according to Morning Star News.
The parish priest, nuns and about 1,000 Catholics from the area had fled to China before the bombings due to heightened tensions between the military and local ethnic groups. No one was hurt in the church bombing.
The two clergymen were last seen on Dec. 24 near a Burma Army military base called Byuha Gon (Strategic Hill) in Mongkoe, after they assisted three reporters from the Democratic Voice of Burma, The Irrawaddy and Kumudra Journal.
"Gam Hseng helped us with everything," one of the journalists was quoted as saying. "He talked about fighting conditions and how the Burma Army's jet bombed the church and the town. He said the church was hit by bombs and bullets fired by the Burma Army. They 'disappeared' after I published pictures [of damaged churches and schools]. So I think it was because they helped us and talked to us."
Myanmar's border states have been the scene of some of the world's longest running civil wars. Ethnic minority groups have been fighting for greater autonomy in their respective states and resisting the military's efforts to assimilate them into the majority Burman culture ever since Burma achieved independence from British rule in 1948.
While Burma's politics has been dominated by the ethnic Burman majority, most of the country's estimated 4 million Christians are from ethnic minorities who live in states along the country's borders with China, Thailand and India.
Some of the ethnic minorities have formed their own armies to resist attacks by military personnel, which are often carried out without any provocation. Military attacks include landmine explosions, rape of women, indiscriminate killing of people and forced displacement, according to the World Evangelical Alliance's Religious Liberty Commission.
Myanmar was ranked 23rd on Open Doors' World Watch List of places that are most hostile to followers of Christ for their faith, with believers regularly prevented from practicing their religion.
Groups such as the Ma Ba Tha, an organization of radical Buddhist monks, have reportedly helped introduce "Protection of Race and Religion" laws, which are said to build "insurmountable hurdles for conversions and religiously mixed marriages."