U2's Bono Teams Up With Pastor Eugene Peterson to Release Documentary on the Psalms
Bono Says Christian Artists Need to Write More Songs About Failed Marriages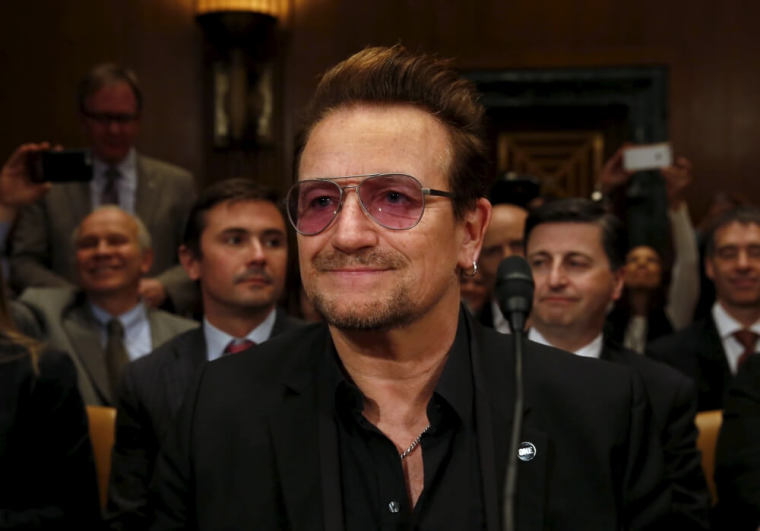 Popular rockstar Bono and retired Presbyterian Pastor Eugene Peterson have teamed up to release a new documentary about the two men's unlikely relationship and a conversation they had on the book of Psalms.
Bono, the frontman for the legendary rock band U2, and Peterson, the author of The Message: The Bible in Contemporary Language, released the 20-minute documentary titled "Bono and Eugene Peterson: The Psalms" on Tuesday. The documentary was released through the California-based Fuller Theological Seminary's new media venture "Fuller Studio."
The video starts off by showing a 2002 video of the Ireland-born Bono, who often quotes passages from The Message during concerts, thanking Peterson, on behalf of himself and other U2 band members, for the translation work that he has done.
The documentary then shows Peterson discussing how he first learned from his students that Bono had praised his work when they showed him a copy of Rolling Stone magazine that quoted Bono talking about The Message.
Peterson explains in the video that at the time, he didn't know who Bono was, as he had never paid attention to U2 or the hard rock scene. Peterson, however, quickly grew to like Bono when he realized that he was a simple man and a brother in faith.
Although Peterson had previously turned down a chance to meet with Bono, he eventually met Bono in 2009 when he was invited to come to a concert in Dallas. During the trip, Bono and Peterson sat down for a three-hour lunch.
"We had a lovely conversation. It was just very personal, relational. He didn't put me on any kind of a pedestal and I didn't him. So we were very natural with each other," Peterson says in the documentary. "I was just … I was just really taken by the simplicity of his life, of who he is, there was no pretension to him. At that point, I felt like he was a companion in the faith."
The documentary then explains how U2 ended its North American tour by playing the song "40," which has lyrics adapted from Psalm 40.
"I think it is one of his best songs. He sings it a lot. It is one of the Psalms that reaches into the hurt and disappointment and difficulty of being a human being," Peterson continues. "It acknowledges that in a language that is recognizable and reaches into the heart of the person, the stuff we all feel but many of us don't talk about."
In the video, a narrator recites part of Psalm 40, as translated in The Message.
The second part of the documentary is filmed at Peterson's home in Flathead Lake, Montana, where Peterson and Bono sat down to discuss the Psalms in depth in a conversation moderated by Fuller Theological Seminary professor David Taylor.
"We are at Eugene and Jan Peterson's home and Bono is flying here from Vancouver in order to meet, be together, connect as friends, but also to have a conversation about the Pslams in order to share this common love for the Psalms and bear witness to others about the beauty and power of the Psalms," Taylor explains in the video.
During the conversation, Peterson says he was 12 years old when he discovered the Psalms and was confused because he came from a culture where "every word in the Bible was the Word of God, literally." He adds that after about a few weeks of being confused, he finally learned what a metaphor was.
"I think the Psalms are important because for some people, like me at 12 years old, it showed me that imagination was a way to get inside the truth," Peterson says.
Bono then comments that he remembers thinking as a child that that the Psalms had great words but "it was a shame about the tunes." There was one exception, Psalm 23 (the Lord is my shepherd), which he believed had a great melody and great lyrics. Bono then sang a rendition of Psalm 23.
The conversation then moved to the topics of honesty and dishonesty.
"I find a lot, in Christian art, a lot of dishonesty," Bono says. "I think it is a shame because these are people who are vulnerable to God in a good way. I would love if this conversation would inspire people who are writing these beautiful voices and these beautiful gospel songs, write a song about their bad marriage, write a song about how they are pissed off at the government, because that is what God wants from you — the truth. That truthfulness, that truth will set you free and blow things apart."
"Why I am suspicious of Christians is because of this lack of realism and I would like to see more of that in art, in life and in music," Bono adds.
Bono and Peterson were asked how Christians should address the need for violence that lives in their own hearts.
"We need to find a way to cuss without cussing," Peterson suggests. "The Imprecatory Psalms surely do that. They just lay it out and I just think they are really important … if we have to have some way in context to tell people how mad we are."
Bono replies: "I love the idea of finding a way to cuss without cussing and you have to give vent to that."