Uganda Court Declares Draconian Anti-Gay Law 'Null and Void'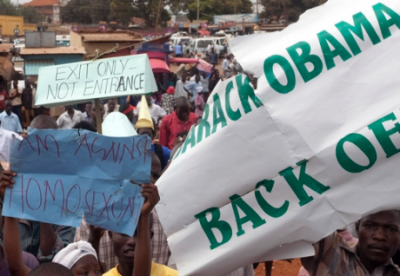 A court in Uganda on Friday declared an anti-gay bill "null and void." Pastor Rick Warren of California's Saddleback Church and several human rights groups had condemned the bill as draconian. Supporters of the law blamed the ruling on pressure from U.S. President Barack Obama.
A panel of five judges at Uganda's Constitutional Court invalidated the bill on Friday, saying the parliamentary at the time of its passing lacked a quorum, according to The Associated Press.
The measure passed the parliament in December after a death penalty clause was dropped, but it criminalized the promotion of homosexuality and required citizens to denounce to the police anyone suspected of being gay. It was signed into law earlier this year.
The speaker of parliament could not have allowed a vote on the measure as there were at least three objections, one of which came from the country's prime minister, over a lack of a quorum when the bill was passed Dec. 20, the court pointed out.
"The speaker was obliged to ensure that there was a quorum," the ruling said. "We come to the conclusion that she acted illegally."
U.N. Secretary-General Ban Ki-moon called the court's decision a "victory for the rule of law."
"He pays tribute to all those who contributed to this step forward, particularly the human rights activists in Uganda who spoke out at great personal risk," a UN statement said, referring to Ki-moon.
The state may appeal the ruling in the Supreme Court, or lawmakers can still bring in another anti-gay bill.
Those in favor of the anti-gay legislation alleged that Ugandan President Yoweri Museveni may be behind the court's ruling.
Museveni will lead a delegation to the United States, which was against the bill, next week.
"This ruling has got nothing to do with the will of the people," Martin Ssempa, a prominent Ugandan cleric, was quoted as saying. "Unfortunately, it has everything to do with pressure from Barack Obama and the homosexuals of Europe."
Pastor Warren earlier released a video he sent to Uganda's pastors amid rumors that he supported the law.
"While we can never deny or water down what God's Word clearly teaches about sexuality, at the same time the church must stand to protect the dignity of all individuals -- as Jesus did and commanded all of us to do," Warren said in the video.
"Jesus reaffirmed what Moses wrote that marriage is intended to be between one man and one woman committed to each other for life," Warren said, and then added, "Jesus also taught us that the greatest commandment is to love our neighbors as ourselves."