UK Catholics Express Shock Over Pope's Resignation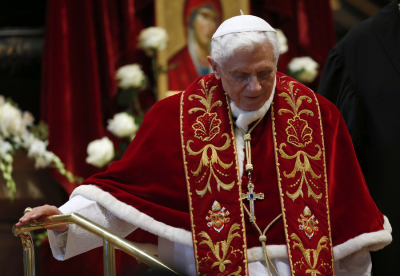 The head of the Catholic Church in England and Wales has admitted to being "shocked and surprised" by the announcement today that Pope Benedict XVI will retire at the end of the month.
Archbishop Vincent Nichols said it was a decision "of great courage and characteristic clarity of mind and action."
"The Holy Father recognizes the challenges facing the Church and that 'strength of mind and body are necessary' for his tasks of governing the Church and proclaiming the Gospel.

"I salute his courage and his decision," he said.
The Archbishop requested prayers for the Pope and for the Catholic Church as it begins the process to appoint a successor. 

Cardinal Keith O'Brien, Archbishop of St Andrews and Edinburgh, said he was shocked but also "saddened" by the news.
"I know that his decision will have been considered most carefully and that it has come after much prayer and reflection," he said.
"I will offer my prayers for Pope Benedict and call on the Catholic community of Scotland to join me in praying for him at this time of deterioration in his health as he recognizes his incapacity to adequately fulfill the ministry entrusted to him.
"I hope I will also be able to rely on the prayers of Catholics across the world for the Cardinal Electors as we prepare to travel to Rome in order to participate in the conclave, which will be convoked to elect a successor as Bishop of Rome and Supreme Pontiff."