UK Hospital Lifts Ban Against Father Fighting to Keep His 1-Y-O Son on Life Support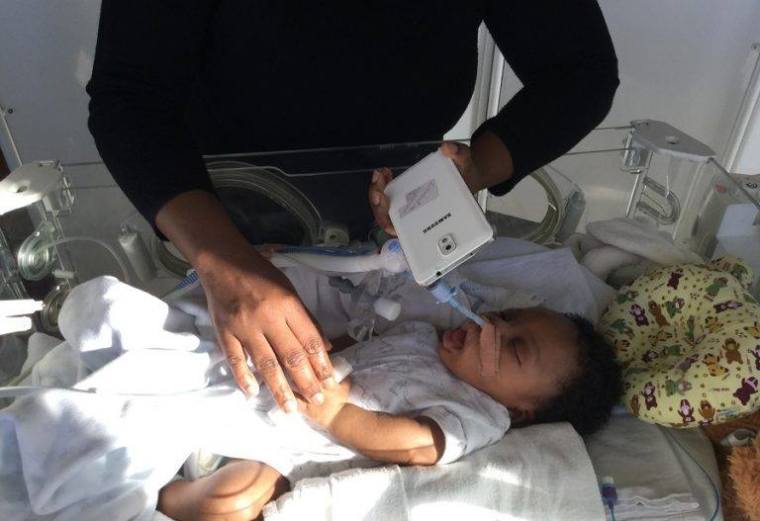 A father in the United Kingdom, who was barred by hospital staff from seeing his son, is now again allowed to see his 12-month-old severely brain damaged baby amid fears that his son would die without him being by his side.
Earlier this month, Lanre Haastrup was banned for a second time from King's College Hospital in London after he was accused of being verbally abusive.
His son, Isaiah, was born with crippling brain damage and can't breath on his own. The ban came after Haastrup and his wife, Takesha Thomas, decried doctors' decision to pull Isaiah off life-supporting measures even though they are holding out for hope for their son's future.
In what has been a months-long legal battle, a judge ruled last month that doctors have the right to pull the child off of life-supporting measures and begin palliative care. The court's decision did not sit well with the parents, who maintain that the judges were wrong in their ruling.
After staff caring for Isaiah had complained that Haastrup was behaving in an unacceptable manner, he was barred from the hospital in mid-February. Considering that Isaiah could die at any point, Haastrup appealed the hospital's ban through the legal system.
"I have a right to see my son," Haastrup was quoted as arguing in an application for judicial review, according to The Guardian. "If he dies without me seeing him that would be irreparable damage."
A hospital spokesperson told The Shropshire Star newspaper last Friday that the ban imposed on Haastrup has officially been lifted.
"This has been an extremely difficult time for Isaiah's family and all those involved in his care," the spokeswoman was quoted as saying. "The decision to transfer Isaiah to palliative care is in his best interests and based on expert evidence."
"Our priority now is to provide Isaiah with the care he needs, working closely with and supporting his family," the spokesperson added.
A statement from King's Hospital shared with The Guardian states that throughout Isaiah's stay, Haastrup's behavior "has frequently fallen short of acceptable standards."
"His persistent verbal aggression, intimidation and threatening behaviour towards staff caring for Isaiah resulted in the trust issuing him with a behavioural agreement in May 2017. Despite the agreement, his behaviour has continued to be unacceptable," the statement reads.
Haastrup was first banned by the hospital last November. The hospital claims that it issued Haastrup's most recent ban because he not only "scared and intimidated staff" but also "frightened other children and families."
"Behaviour that causes distress to those in our care and endangers our staff is unacceptable and will not be tolerated," the hospital's statement asserts. "Such standards apply to anyone attending the hospital and therefore Mr. Haastrup is currently banned from the ward."
In court last week, Haastrup reportedly argued that he didn't do anything more than have a conversation about his son where he voiced his concerns.
"But certain people don't like what I am saying," Haastrup was quoted as saying.
A three-judge appeals court panel ruled against the parents last week, stating that there was no reason to overturn the lower court's ruling that allows the hospital to remove the child from life support.
The lower court had ruled that the parents were "understandably and sadly heavily influenced by the flattering voice of hope."
"Examining Isaiah's best interests from a broad perspective ... I am satisfied that it is not in his best interests for life-sustaining medical treatment to be continued," Judge Alistair MacDonald ruled, according to The Guardian. "That, with profound sadness, is my judgment."
Haastrup plans to continue the legal fight to keep his son on life-supporting treatment by appealing the case to the European Court of Human Rights in France and to the U.K. Supreme Court.