UK tax researcher fired from think tank for tweeting that 'men cannot change into women'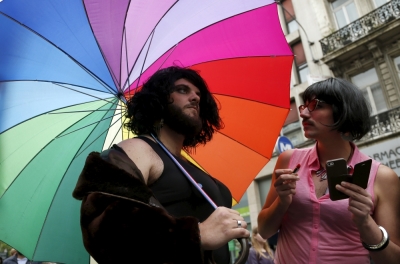 For saying that males who identify as trans are not women, an internationally renowned tax expert was fired and is contesting her termination in court after being accused of "offensive and exclusionary" language.
The Sunday Times reported that Maya Forstater, who was until recently a senior researcher at the London office of the Centre for Global Development, a think tank, is believed to be the first person in England to lose her job over such a statement.
"I support transgender people's human rights and I believe that trans people are vulnerable, but no one group should overrule others. I lost my job for speaking up about women's rights, in a careful way and in a tone of ordinary discussion and disagreement. I worked for a think tank and I thought you ought to be able to think and talk about things. I found out I was wrong about that," she said.
Index on Censorship, a campaigning publishing organization for freedom of expression, is supporting Forstater.
The organization's Jodie Ginsberg said that from what she had read, Forstater had done nothing wrong "other than express an opinion that many feminists share — that there should be a public and open debate about the distinction between sex and gender."
In England, the debate about transgender issues has in the last year been spirited particularly as the government considers revising what is called the Gender Recognition Act to allow persons to self-identify their gender regardless of biology and without having to provide medical documentation that they have undergone a surgical procedure.
Forstater's offense was that she stated on her personal Twitter account that it was true "that men cannot change into women." She also referred to convicted rapist Karen White — a biological male formerly known as Stephen Wood who was transferred to a women's prison where he then sexually assaulted female inmates — as a "man."
"When men wear make-up, heels, dresses they don't become women," Forstater said.
A CGD manager informed Forstater in an email that she "stated that a man's internal feeling that he is a woman has no basis in material reality. A lot of people would find that offensive and exclusionary."
CGD told the Sunday Times that employees are expected to obey its conduct policy, declining to discuss staffing matters.
Forstater has long campaigned against gender stereotypes. In 2012, she co-founded the Let Toys Be Toys drive to stop toy manufacturers from producing stereotypical boys and girls items.
Forstater said of her firing: "It has been quite painful and quite emotional. I am the breadwinner in my family."
"It is just wrong that drawing attention to real problems should be described as fear- mongering, and it is dangerous for democracy if people are afraid to speak. Our institutions must protect all vulnerable groups, including women and girls, and the only way to do this is to talk openly and clearly."
A crowdfunding page has been launched to raise funds for legal representation and as of Tuesday has raised nearly $75,000.
"I lost my job for speaking out on women's rights and gender self ID on social media. My case is a test case to show that people should not be discriminated against for having gender critical views," the tax researcher explains on the page.
"I know many people fear consequences at work if they publicly state an opinion on this issue, even in a personal capacity on their own social media, like I did. Others have been banned by social media platforms and or suspended from political parties and membership organizations. This should not happen in a democracy."
In November, feminist journalist Meghan Murphy was permanently banned from Twitter for saying, among other things, that "men aren't women." She also referred to Jonathan Yaniv — who occasionally goes by "Jessica" and filed 16 human rights complaints against waxing studios, claiming they discriminated against him based on his male genitalia — as "him."
Twitter booted her from the platform for "misgendering." Murphy has since filed a lawsuit of her own against the social media giant.