Union Contract that Discriminates Against Christians to be Altered, School District Says
'Special Consideration' for 'Applicants of the Non-Christian Faith' to be Removed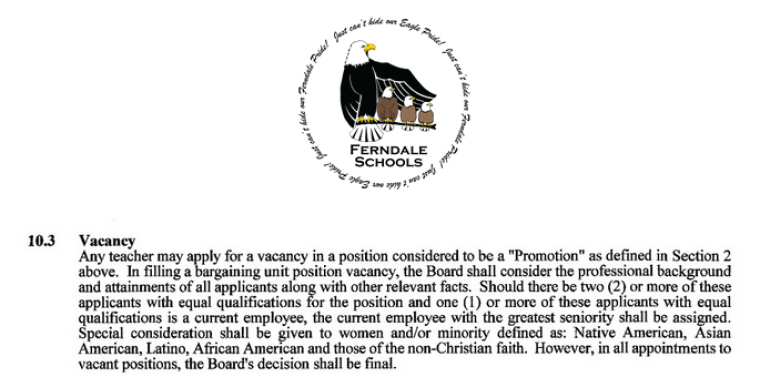 A representative from the Ferndale, Michigan Department of Public Schools said the school system is removing language which allegedly discriminates against Christians when it comes to promoting teachers.
The school district's contract with the teacher's union included this stipulation for when teachers apply to fill a vacant position: "Special consideration shall be given to women and/or minority defined as: Native American, Asian American, Latino, African American and those of the non-Christian faith."
"I have no idea how that ever got in there, and nobody here does," Shelley Rose, interim director of communications at Ferndale Public Schools, told The Christian Post in an interview on Wednesday. "We just heard back from legal counsel this morning," Rose told CP, adding that "there will be new contracts and that language will not be in the new contracts."
At a Thursday meeting with the teacher's union, school administrators will decide how much of the language to remove, but Rose believes that "non-Christian faith" will most certainly be stricken, and the whole section could be removed.
Rose noted that the contract was finalized on March 5, and insisted that no discrimination against Christians happened as a result of the language. "We didn't even know it existed," she told CP.
Rose thanked the Mackinac Center for Public Policy, a Midland-based nonprofit, for revealing the presence of the discriminatory language. "You hear about laws that are on the books in cities and townships that people don't even know are on the books," the Ferndale spokesperson said. "This one is on its way out." She estimated that the language was added to the contract in 1976 or 1979, explaining that no current employee remembers the addition.
Michigan Capitol Confidential, a news service of the Mackinac Center, reported on the language Wednesday.
"It's questionable on a number of levels," Audrey Spalding, director of Education Policy at the Mackinac Center, told CP on Wednesday. Spalding mentioned two state laws which the discriminatory language violated: a 1976 Civil Rights Act "that prohibits discrimination on the basis of religion," and a 2011 law which "prohibits unions and administrators from negotiating, collectively bargaining over teacher appointments."
The 2011 law aimed to "give districts more discretion over teacher placement, termination, and promotion," Spalding explained. She noted that the contract, which was renewed last month and extended until 2017, removed a section regarding representation fees in response to the "Right to Work" legislation signed in late 2012, so the school district had already updated the contract to account for recent laws. "I really don't know what they're thinking," she said.
Spalding also noted the irony that the contract promises to promote "those of the non-Christian faith," as if there was only one faith option besides Christianity. The education policy director told CP that she did not know of any religion in Michigan which goes by "the non-Christian faith." "It would have made more sense if it said 'a non-christian faith,'" she said.
"Teachers union contracts are filled with clauses that do little, if anything, to improve education in the state," Manuel E. Lopez, Michigan Capitol Confidential managing editor, told CP in an email statement on Wednesday. "This provision in Ferndale, which allows union officials and school administrators to give special preference to people based on religion, is among the most egregious contract provisions that we've uncovered," he wrote.
Richard Thompson, president and chief counsel of the Thomas More Law Center, declared that his organization would sue, pro bono, on behalf of any Christian teacher in Ferndale who was not promoted due to his or her faith. "If you're a Christian in the Ferndale school system, you will be given a discriminatory status, you will not be eligible for promotion if someone else falls within the other categories," Thompson said in a CP interview that preceded CP's interview with Rose.
"This is a clear violation not only of the United States Constitution – the free exercise of religion and the establishment clause – but also of the Michigan State Constitution," Thompson declared. Nevertheless, he admitted that his organization could not change the situation unless a Christian employee sued because he had been passed over for promotion.