'Unspeakable grief': 5 things to know about the Colorado school shooting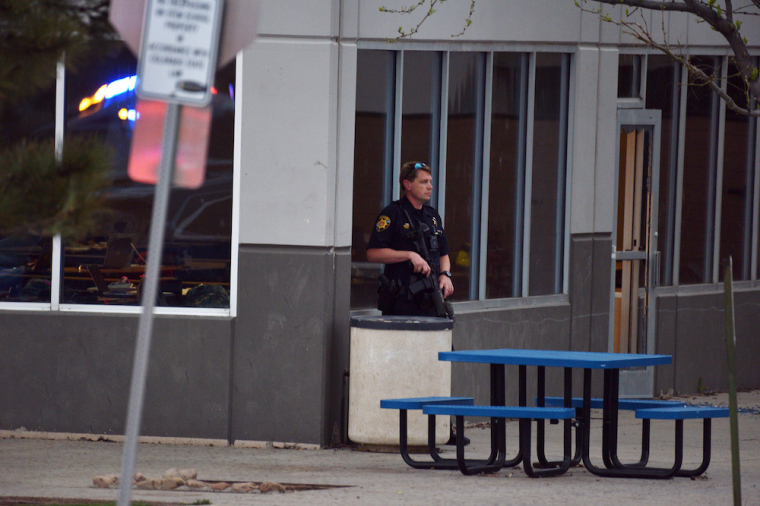 One student was killed and eight others were injured Tuesday when a shooting occurred at a Colorado school that serves grades kindergarten through 12th grade.
The mass shooting took place at STEM School Highlands Ranch, which is located in Douglas County and has more than 1,800 students.
Police arrested two suspects, 18-year-old Devon Erickson and an unnamed juvenile, both of whom were students at the school.
According to KKTV News, 18-year-old Kendrick Castillo, a student who was days away from graduating, was the lone fatality. Three of the injured remain hospitalized.
Officers responded within two minutes of the school's emergency call. They "immediately engaged the suspects" and apprehended them. No gunfire was exchanged, said Douglas County Sheriff Tony Spurlock.
Erickson is scheduled to make a court appearance on Wednesday afternoon. A court appearance has not been scheduled yet for the female suspect, reported the Associated Press.
In a statement posted to social media, the STEM School explained that it will be closed for the rest of the week in response to the tragedy.
"It is with unspeakable grief and shocking disbelief that we share this message with our school community. It is important during this difficult time that our community comes together and that we take care of one another," stated the school.
"Our thoughts are with everyone who has been impacted by today's tragedy, and we are heartened by the bravery of our students, staff, parents and first responders."
Here are five things to know about the shooting:
1. Heroic students tackled gunman
Nui Giasolli, a student who witnessed the shooting, told the "Today" show that several of her male classmates tackled Erickson.
"Kendrick lunged at him and he shot Kendrick, giving all of us enough time to get underneath our desks, to get ourselves safe and to run across the room to escape," Giasolli recalled.
She said three other classmates — Brendan Bialy, Jackson Gregory and Lucas Albertoni — then brought down the gunman.
"They were very heroic. I can't thank them enough," she said.
Bialy's father, Brad, confirmed to NBC News that Bialy had helped tackle and disarm the suspect.
2. The other suspect is a juvenile female
Sheriff Spurlock did not name the second suspect but said the suspect is a juvenile female.
Authorities initially thought both suspects were male.
"We originally thought that we had a juvenile male in custody but through our interviews yesterday late afternoon determined that we have a juvenile female that is in custody right now who is the other suspect," Spurlock said Wednesday at a press conference.
"You have to understand that this individual is a … small, young person and the identity wasn't definitive, obvious to us when they were taken into custody."