10 Killed in Santa Fe School Shooting; Suspect Named as 17-Y-O Dimitrios Pagourtzis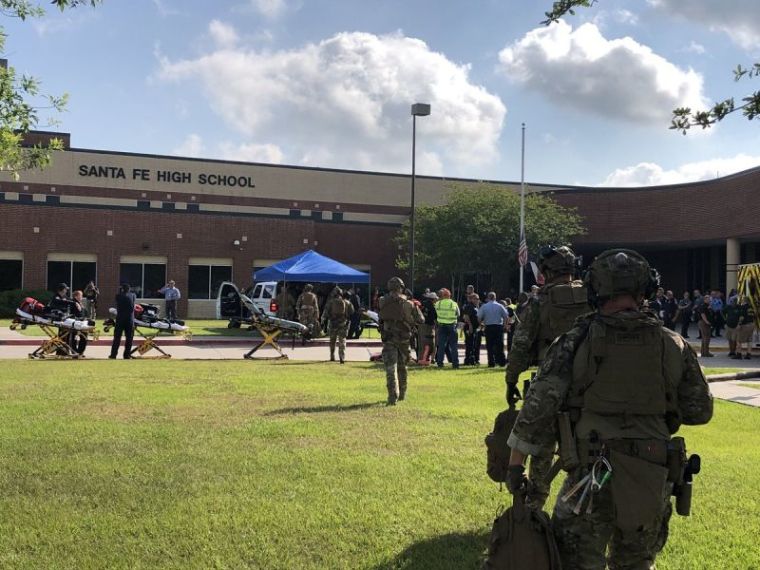 [UPDATE: May 18, 2018, 3:00 p.m.]
The suspect has been identified as 17-year-old Dimitrios Pagourtzis, a junior. According to the Houston Chronicle, his Facebook page had photos of clothing that said "born to kill" and had German nationalist iconography. 
Original story below
Up to 10 people were left dead Friday morning after a gunman, who is now in police custody, opened fire inside the Santa Fe High School in Santa Fe, Texas.
The Santa Fe Independent School District noted that the school was evacuated and an investigation launched after possible explosive devices were located at the school and off campus.
Ed Gonzalez, the Harris County sheriff, said the shooting took place a little before 8:00 a.m. and that a second person of interest has been detained and is being questioned. He estimated the number of fatalities to be between eight and 10 and noted that students and adult staff were among those killed. 
According to CNN, a law enforcement official said the suspect in custody is a 17-year-old male student. 
Angelica Martinez, a 14-year-old student, told CNN she and her schoolmates were being evacuated at one point "like it's a fire drill."
"We were all standing (outside), but not even five minutes later, we started hearing gunshots," she said. "And then everybody starts running, but like the teachers are telling us to stay put, but we're all just running away."
"I didn't see anybody shooting, but like [the gunshots] were kind of spaced," Angelica said, adding she heard about four shots.
Reacting to the latest shooting, President Donald Trump said in remarks made from the East Room of the White House Friday that is was heartbreaking.
"Unfortunately, I have to begin by expressing our sadness and heartbreak over the deadly shooting at Santa Fe High School in Texas," Trump said. "This has been going on too long in our country. Too many years. Too many decades now. We grieve for the terrible loss of life and send our support to everyone affected by this absolutely horrific attack."
First Lady Melania Trump also shared her condolences in a tweet, saying: "My heart goes out to Santa Fe and all of Texas today."
Secretary of Education Betsy DeVos offered prayers for the victims Friday and declared the school shooting trend must be stopped.
"My heart is heavy from watching the horrific events that unfolded at Santa Fe High School today. My prayers are with each student, parent, educator and first responder impacted. Our schools must be safe and nurturing environments for learning. No student should have to experience the trauma suffered by so many today and in similar events prior. We simply cannot allow this trend to continue," she said in a statement.
"Every day, the Federal Commission on School Safety is working to identify proven ways to prevent violence and keep our students safe at school. Our work remains urgent. Our nation must come together and address the underlying issues that lead to such tragic and senseless loss of life."
Students at Santa Fe High School reportedly participated in the national school walkout against gun violence on April 20. 
The latest shooting comes three months after a mass shooting left 17 people dead at Marjory Stoneman Douglas High School in Parkland, Florida.