Youth, Schools and Violence: What Can Churches Do?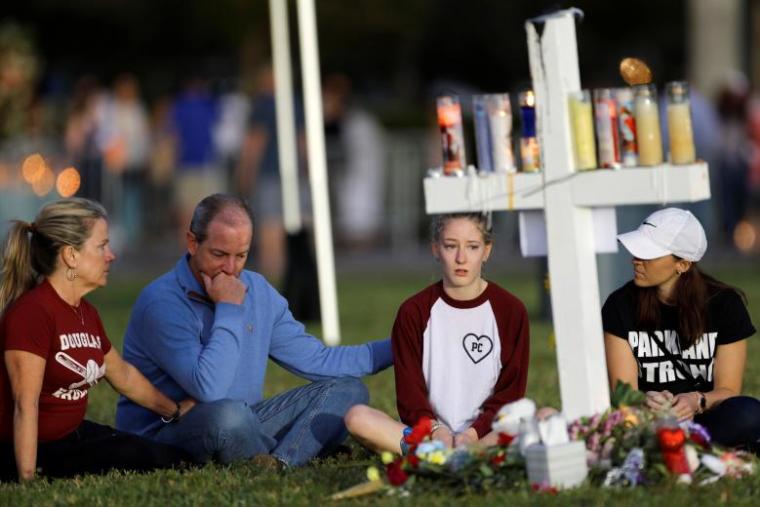 Read part 1, part 2, part 3, part 4, part 5, part 6 and part 7 of The Christian Post's series on youth and school violence.
Churches must make every effort to become "safe spaces" for teens and young adults to open up about issues, pastors say, to counter the raft of increased violence in the nation's schools and elsewhere.
"The Church has failed this generation. The Church has become known for judgment and not being a safe place to open up. So if you have questions, doubts, angst or fears, you take those to school or to your friends because you feel belittled or judged at church," Nick Hall, founder of PULSE, a student-led prayer and evangelism movement, told The Christian Post. "We go wrong when we don't lead with Jesus. Jesus welcomes our questions, fears and doubts."
"The Church should be the most welcoming place on earth. If you're hurting or broken or a mess you shouldn't have to fake it there. Too often churches are full of people faking it, while inside, things are falling apart."
The Washington Post is collecting data on violence in schools. As of March this year, more than 187,000 students in about 170 primary and secondary schools have experienced a shooting on campus during school hours since the 1999 Columbine High School shooting.
Youth Ministry
Hall says the Church should be on the frontlines in times of tragedy, ministering to a hurting generation and reminding them of a Jesus who empathizes with those suffering, rather than merely offering "thoughts and prayers."
"Teens today are hurting and questioning a lot of things," he told CP. "It starts with social media and bullying and overflows into someone who decides to take their life and the lives of others. The Church needs to be the one shining for the the love of God, showing that no matter what your issues are, no matter what your baggage is, that there's a God who loves you as you are. Jesus says, 'Come as you are, broken and weary and heavy laden.' It's this unconditional love that leads us to surrender, and it's kindness that leads us to repentance."
"That," he said, "is where the Church needs to be in times of tragedy."
Still, becoming a "safe space" for teens and young adults requires more than merely placating and thoughtful words. It requires work.
Craig Johnson, author and director of ministries at Lakewood Church in Houston, Texas, further reinforced the idea that, in order to meet the needs of today's youth, church administration and staff need to be asking questions and familiarizing themselves with the issues relevant to the younger generation. Simply put, churches need to be engaging in active discipleship, he said.
"I think there's a discipleship element to a degree that's been missed in the Church for a long time," he told CP. "Youth today are struggling and no one's seeing it or notices the signals or telltale signs, because we're so busy focusing on other ministries. A lot of youth will suffer quietly, and I think the Church has to become more aware."
The Church's job, Johnson contended, isn't simply to do ministry as a whole; it's to bring healing and hope to every individual entering its doors. Teens, he said, are an oft-overlooked demographic.
"I encourage leaders to ask their staff: Are you noticing the kids in the youth groups and how they're struggling? Have you walked alongside kids that are struggling to notice the telltale signs? I think that's where we miss it too often, we only go so far. But discipleship is really going the extra mile, going a little farther than we normally would. That would take investment and willingness to do that."
Mental Health
Churches also need to "get smart" about the way they address mental illness, according to Mia Wright, co-pastor and director of ministry at The Fountain of Praise, a megachurch in Houston, Texas.
There is a clear link between gun violence and mental health. Statistics show that at least 59 percent of the mass shootings that took place in the United States between 1900 and 2017 were carried out by people who had either been diagnosed with a mental disorder or demonstrated signs of serious mental illness prior to the attack.
"I think in many ways the Church has gone wrong in not helping people to walk through their mental health issues," she said. "When we're reading about these young kids coming to school with guns and tragically killing their friends and others, a lot of them have mental health issues. The Church has ignored it for so long and now that we're speaking on it; it's almost a muted voice."
Wright pointed out that in the past, the Church has lacked discernment in the way it handles mental illness.
"People would say, 'Oh you're not praying hard enough about it,' or 'Christians don't struggle with mental illness — get over it,'" she said. "We've not addressed it. The Church has to help step up its efforts on reaching out and connecting and embracing those who need help and not shunning them by saying, 'Just pray it away or have faith.' Embrace and meet them where they are."
Because of the lingering stigma still surrounding mental health, Wright acknowledged that many professing Christians won't attend church-sponsored sessions or symposiums addressing such issues. The key, she said, is to remove "trigger" words from event titles, instead presenting them in a way that appeals to a larger audience.
"If you say you're having a mental health wellness day, people — especially young people — don't want to come," she explained. "They'll say, 'Well, I'm not crazy. I'm not attending.' But if you approach it from a different manner, people are more willing to come. For example, 'Are you dealing with negative thoughts? Are you trying to silence voices in your head? Are you carrying too much baggage?' Then people know their mental health isn't just being covered, but how do we handle life? How do we handle health? All of those things need to be covered. When we do that in a complete symposium, people are more apt to connect to that and tap into those resources that you offer."
Single-Parent Families 
Churches across the nation also would do well to become more proactive in developing programs for single-parent families, Wright said.
"We need to encourage responsible parenting, to teach parents to come alongside their children and ask how they are beyond schoolwork," she said. "How are their friendships? How is their relationship with God? I believe it really does take a village to raise a child, and the Church is part of that family."
Fewer than half (46 percent) of U.S. kids younger than 18 years of age are living in a home with two married parents, according to Pew Research.
Andy McQuitty, pastor of Irving Bible Church and author of The Way to Brave: Shaping a David Faith in a Goliath World, told CP that with a growing number of single-parent homes, churches should serve as support systems for people in their communities by providing "surrogate" fathers and mothers to youths.
"The Church needs to support these single parents and provide mentors to their kids and applaud [single parents] as the real heroes instead of ostracizing them," he said. "Whether it's providing 'big brothers' for fatherless homes or ministries for kids in low-income, high-risk areas, we need to be supporting our single parents because they can't do everything that a two-parent family can do. The Church needs to step up and fill in those gaps."
The Church, he said, has been "complicit" in the breakdown of the nuclear family by allowing culture to disregard the importance of a solid, two-parent home.
"Many of these young shooters come from fatherless homes," he said. "As a nation, we're reaping the bitter fruit of the dismantling of the family, and the Church hasn't sounded the alarm. God has established the main institutions of government, Church and family. If you let any one of those institutions go wrong or run off the tracks you'll have huge societal problems."
(READ MORE ABOUT THE IMPACT OF FAMILY HERE)
The onslaught of school shootings, he said, is just one symptom of this societal breakdown.
"We have all kinds of crime, and not only in America but around the world, and I think most of it can be traced back to the dismantling of the family as God ordained it," McQuitty said.
Ultimately, until churches are willing to present themselves as counter-cultural and decide to truly listen to and address the needs of today's young people, they will never find an adequate way to address continued gun-related violence in the United States, Hall warned.
"We've put our trust in security, in safety, and in politics, and we've lost sight of the Gospel," he said. "The Good News is for the least of these and for those that need it most. The way we've presented Christianity has turned a generation away."
"You don't need to put a filter on for Jesus to accept you," he added. "In a social media age, we want to put on a front that isn't real. It's eight selfies and the one I post has four filters on it to take away blemishes. It's not real. We need to lead with one thing, and that's Jesus."