US Cardinal Proclaims Innocence After Removal Over Allegation He Sexually Assaulted Altar Boy
US Cardinal Proclaims Innocence After Removal Over Allegation He Sexually Assaulted Altar Boy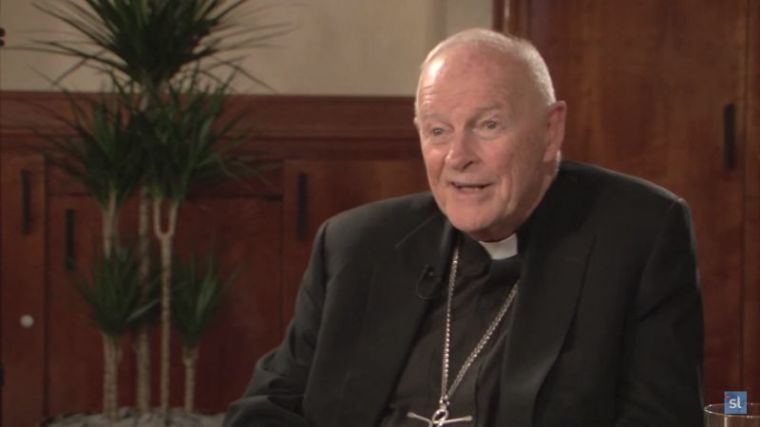 Theodore McCarrick, cardinal archbishop emeritus in Washington, D.C., has been told by the Vatican he can no longer practice his priestly ministry after claims that he sexually abused a teenager 50 years ago were found to be credible.
As attorney Patrick Noaker told Fox News on Wednesday, his unnamed client claims that he was abused twice when he was a teenage altar boy in New York, while McCarrick served there as a priest.
The alleged victim says that while he was helping McCarrick be measured for a robe for Christmas mass in 1971, the priest unzipped his pants and sexually assaulted him. A year later, he says that a similar assault took place in a bathroom.
McCarrick, who later become the Archbishop of Washington, has denied that he carried out the crimes, but says that he accepts the Vatican's decision to remove him from ministry.
He explained in a statement that he only became aware of the allegations some months ago, after he was informed by Cardinal Timothy Dolan, the archbishop of New York.
"While shocked by the report, and while maintaining my innocence, I considered it essential that the charges be reported to the police, thoroughly investigated by an independent agency, and given to the Review Board of the Archdiocese of New York. I fully cooperated in the process," McCarrick says.
"My sadness was deepened when I was informed that the allegations had been determined credible and substantiated. In obedience I accept the decision of The Holy See, that I no longer exercise any public ministry," he added.
The former archbishop admitted that the "painful development will shock my many friends, family members, and people I have been honored to serve in my 60 years as a priest."
He insisted that he has "absolutely no recollection of this reported abuse" and that he is innocent, but added that he is "sorry for the pain the person who brought the charges has gone through, as well as for the scandal such charges cause our people."
The Archdiocese of Washington also released a statement, noting that Dolan was delegated to investigate the allegations and report to the Vatican.
"In the end the review board found the allegations credible and substantiated," it explained.
"The Vatican Secretary of State, Cardinal Pietro Parolin, at the direction of our Holy Father, Pope Francis, has instructed Cardinal McCarrick that he is to refrain from any public ministry or activity until a definite decision is made."
The statement does not make it clear whether the archdiocese believes the charges against McCarrick, expressing that it is "saddened and shocked" at the development, and that it "awaits the final outcome of the canonical process and in the meantime asks for prayers for all involved."
"At the same time, we renew our commitment to care for the victims who have suffered abuse, to prevent abuse before it occurs, and to identify and report child abuse once it has happened," the archdiocese insisted.