Rachael Denhollander's Former Church Apologizes for Mishandling Ex-Gymnast's Concerns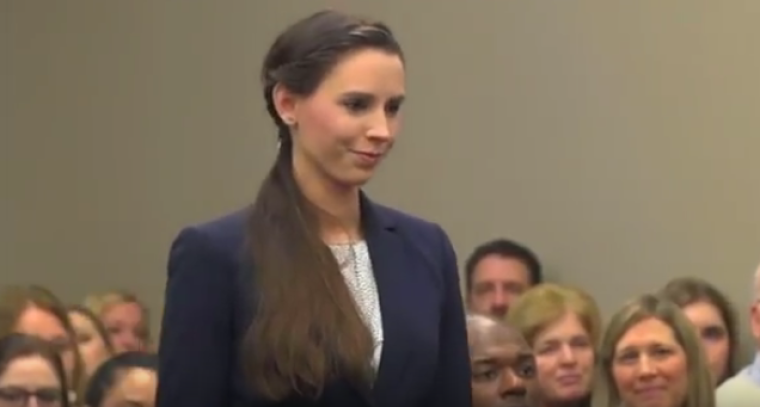 The former church of Rachael Denhollander has released a statement expressing remorse for not properly responding to the lawyer and former gymnast's concerns over the church's partnership with Sovereign Grace Ministries.
Denhollander gained notoriety in January when she testified against former USA Gymnastics physician Dr. Larry Nassar for his sexual crimes against gymnasts under his care, wherein she expressed her Christian belief in forgiveness.
Immanuel Baptist Church of Louisville, Kentucky, Denhollander's former church, sent a statement to The Washington Post which they also published on the church's website.
In it, Immanuel Baptist Church acknowledged that when Denhollander previously said, "My advocacy for sexual assault victims ... cost me my church," they were the church she referenced without naming.
"As the pastors of Immanuel Baptist Church, we knew that we were that church. After years of membership at Immanuel, Rachael and her husband, Jacob, had left our church voluntarily just weeks before the Nassar trial began," the IBC pastors said.
"Fortunately, because of Rachael's decision not to name our church publicly, we were able to enter into a season of deep self-examination without the scrutiny of the outside world."
The pastors went on to note that during the period of self-examination, they talked with members of the church, sought advice from other churches, and even met with the Denhollanders.
Immanuel Baptist Church went on to confess that "we were sinfully unloving" regarding Denhollander's concern about their affiliation with Sovereign Grace Ministries, an entity some have accused of undertaking a major sex abuse cover-up.
"We have since thoroughly repented to the Denhollanders and to the church we serve, seeking to confess every known sin. In return, the Denhollanders and our church family have been very gracious and forgiving," they added. 
"The Denhollanders have assured us that there is no longer any breach in our relationship and that all of our wrongs against them are forgiven. It is a deep joy to us that the Gospel can restore our relationships when we fail."
In January, Nassar was sentenced up to 175 years in prison after pleading guilty to the possession of 37,000 images of child pornography and to first-degree sexual assault against 10 young women. As many as 200 women had filed police reports against the former physician for decades of abuse.
At Nassar's sentencing, Denhollander, a Christian, gave remarks, extending forgiveness and even preaching the Gospel. In April, Denhollander was honored as one of Time magazine's Top 100.
Aly Raisman, a fellow U.S. gymnast and Olympian gold medalist, wrote the profile for Denhollander in the list that was released on Thursday.
"Rachael, like so many of us, was a victim of Larry Nassar, the former USA Gymnastics and Olympic team doctor, and she was the first to draw public attention to his sexual abuse. But through her strength and resolve, she is a survivor," explained Raisman.
"None of us could have anticipated or prepared for the onslaught of emotions we'd experience just by being in that courtroom. It was overwhelming. And yet Rachael was there for each court session of that sentencing, each impact statement and each fellow survivor."
In May, Denhollander posted a statement on Facebook titled "When it's in our own community — evangelicals," saying that "we are perpetually stuck when it comes to abuse, or mishandling abuse, in our own communities."
"We all say we care. But when it costs, it suddenly doesn't matter quite enough to bear the cost even of just speaking up," wrote Denhollander.
"The test of how much we care is how we respond when we have to reckon with 'our own.' Because make no mistake, it is *most* painful when it is in my own community. It costs the most when we speak up against those closest to us."