US Christians Impacting the Church and the World (Part 1)
Featuring Sarah Young, Nick Vujicic, Bryan Stevenson, Priscilla Shirer and Dominic Russo
US Christians Impacting the Church and the World (Part 1)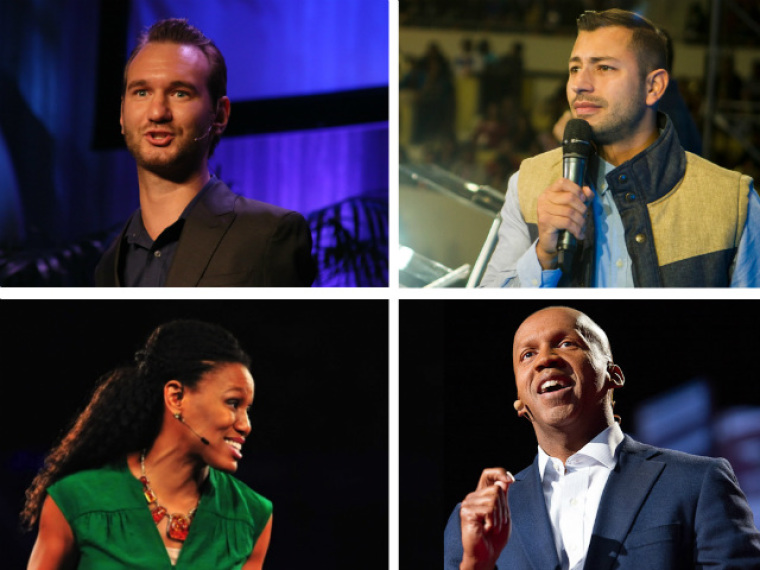 There are countless Christians of great influence, passion and creativity who serve as CEOs, ministry leaders, nonprofit founders, pastors, evangelists and in other capacities whose works and personal stories have touched and inspired the lives of many. This list is an effort to highlight but a few of these U.S.-based Christians and their work.
The introductory list below includes just five names while the full list, to be expanded on over the next several weeks, runs much longer. Readers are welcomed to submit names in the comment section below for those Christians, still living, who they believe are impacting the church, the greater culture and the world.
Sarah Young - Author, Jesus Calling: Enjoying Peace in His Presence
Sarah Young, whose collection of daily devotionals has been compared to Oswald Chambers' My Utmost for His Highest, has won both admirers and critics for the unusual approach she takes in her best-selling book, Jesus Calling. The married Christian missionary, currently living in Australia, claims that the messages in Jesus Calling are directly inspired by God through prayer. While millions have been inspired by Young's devotionals, written in the first person from Jesus' point of view, others have been hesitant to embrace Young's claims and her use of "listening prayer," a spiritual practice which she has described as waiting on God, pen and paper in hand, to hear from God.
Jesus Calling has sold more than 8 million copies and another one of Young's books, Jesus Today named the 2013 Christian Book of the Year by the Evangelical Press Christian Association. Examples of the kinds of responses Jesus Calling has received can be found at GoodReads.com.
Nicholas James "Nick" Vujicic - Global Evangelist, Life Without Limbs
Nick Vujicic, a motivational speaker and Serbian Christian evangelist from Australia, was born with a rare disorder called tetra-amelia syndrome, which means he has neither arms nor legs. The 30-year-old married father, through his Life Without Limbs ministry, travels the world sharing his story of faith in Christ and how he believes God uses him to inspire others to hope. He has shared his story in two books, Unstoppable: The Incredible Power of Faith in Action and Life Without Limits: Inspiration for a Ridiculously Good Life.
Vujicic, who lives in Los Angeles, Calif., recently wrapped up the South America leg of his World Outreach Tour. Learn more about Nick Vujicic: www.lifewithoutlimbs.org.
Bryan Stevenson - Founder and Executive Director, Equal Justice Initiative
Bryan Stevenson, in his mid-50s, founded the private, nonprofit Equal Justice Initiative with the aim of fighting poverty and challenging racial discrimination in the criminal justice system. The New York University Law professor through his organization, has successfully fought for the exoneration of innocent prisoners, challenged unfair and excessive sentences, and recently succeeded in winning a prohibition on sentences of life imprisonment without parole for children convicted of most crimes in the U.S.
Stevenson, an Alabama native, has spoken at the TED and Q Ideas forums and been interviewed numerous times about his work against injustice, including in 2012 by Smithsonian Magazine. In the feature, Stevenson related in reference to John 8:7 that a woman once called him a "stone catcher." He said, "There is no such thing as being a Christian and not being a stone catcher. But that is exhausting. You're not going to catch them all. And it hurts. ..." Learn more about the Equal Justice Initiative: http://eji.org/.
Priscilla Shirer - Speaker, Author and Bible Teacher, Going Beyond Ministries
Priscilla Shirer, married mother of three, daughter of Oak Cliff Bible Fellowship Pastor Dr. Tony Evans and Dallas Theological Seminary grad, shares on her ministry website that she "loves nothing more than to serve her sisters in Christ through the teaching of God's Word." Her Courageous-inspired 2011 book The Resolution for Women, a New York Times bestseller, sits alongside other popular works like God Is Able, Gideon: Your weakness. God's strength., and One in a Million: Journey to Your Promised Land.
Featured in the New York Times 2010 article "Housewives of God," Shirer, 38, is regular fixture at Christian conferences in the U.S. and abroad and was a recent guest at Pastor Carl Lentz's Hillsong NYC church. Learn more about Going Beyond Ministries: www.goingbeyond.com.
Dominic Russo - Global Evangelist and Missionary, Missions.Me and Angel House
Dominic Russo, interviewed earlier this year by The Christian Post for his large-scale evangelism and mission efforts in Honduras, founded the international outreach organization Missions.Me in 2009 to help volunteers serve those in need in cities around the world. In 2010, Russo and his wife, Lindsay, founded Angel House, a nonprofit that has provided 34 permanent rescue homes for 1,000 abandoned children and orphans in Asia.
Russo, who gained unprecedented access and corporation from the government of Honduras for his "One Nation One Day" missions campaign this past summer, has also organized a clean-water campaign to help build 100 wells in 100 days in India and Ghana through crowd-funding. Learn more about the 29-year-old evangelist's Missions.Me organization: https://missions.me/missions/.