US Should Give Kurds Weapons to Fight ISIS, Says Mideast Christian Leaders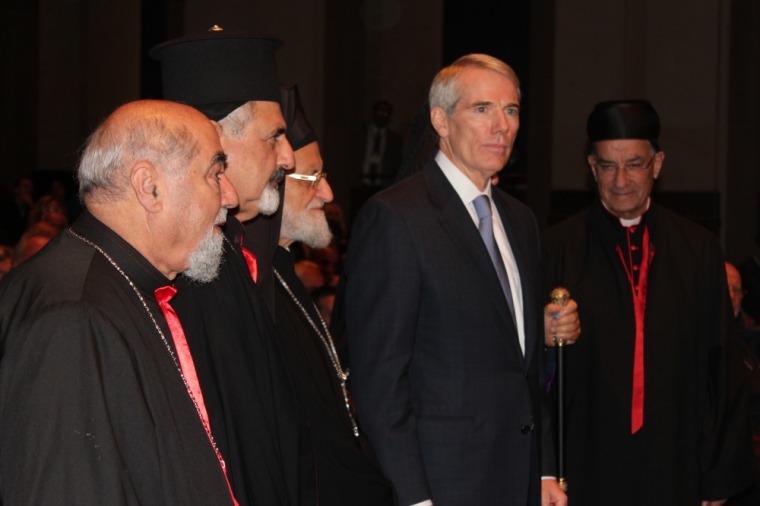 WASHINGTON – Patriarchs from the Middle East gathered on Capitol Hill Wednesday to speak with members of Congress urging for further U.S. military aid for the new Iraqi central government and Kurdish peshmerga forces that are helping provide refuge to thousands of displaced Iraqi religious minorities being persecuted by Islamic State jihadists.
As forces from neighboring Kurdistan have helped clear paths for minorities to escape the atrocities in the Nineveh province and along with Iraqi forces look to push back Islamic State out of their strongholds, the Patriarchs said there is a need for increased military and equipment support with a great need for better weaponry.
"It seems that the Iraqi central government and the Kurdish region, they need help," said His Beatitude, Ignatius Youssef III Younan, Syriac Catholic Patriarch of Antioch and All the East. "What you call military intervention with Air Force it will be much needed [but] those militias of the ISIS, they have plenty of weaponry and they already robbed a lot of money and they have been assisted and financed by those radicals of the gulf countries. They have the offense they need. So the Peshmerga of Kurdistan and also the Iraqi central army need military assistance."
Younan and the other Patriarchs spoke at the Capitol as part of the In Defense of Christians summit promoting awareness of the persecution facing Middle East Christians. The event marks the first time six Patriarchs from the Middle East have addressed Congress.
Also speaking with Congress was Patriarch Mar Bechara Boutros Cardinal Raï, Maronite Patriarch of Antioch and All the East. Cardinal Raï said that over the last few months 120,000 religious minorities have either fled their homes, been killed or are facing the tough living conditions under the rule of the Islamic State in the plain of Nineveh and Mosul.
"Pope Francis said that never in the history of Christianity were Christians as persecuted than in this period of history," Cardinal Raï said. "We all know how the Christians of Mosul and the plain of Nineveh were treated by the Islamic State terrorists."
Cardinal Raï agreed with Beatitude Younan saying that Kurdish forces are going to need some help. He said the actions taken by the international community to liberate the villages and cities should be threefold. The first order is to push Islamic State forces out of the region . The Second order is to facilitate the return of displaced persons to their homes in Mosul and the plain of Nineveh. The third is to create "safe zones" in coordination with Iraqi government and the government of Kurdistan that will prevent religious minorities from being displaced again.
Cardinal Raï also said that the international community should also work to cut ISIS off from its sources of funding.
Sen. Rob Portman, R-Ohio, was critical of the U.S. relative inaction in helping liberate people from ISIS oppression.
"This reminds us of the horrific acts that led to World War II: the Holocaust," Portman said. "Some of our allies have stepped forward more than we have. The French, in my view, have been more helpful to the Iraqi Christians than the United States of America has. We have to do more. We can't lead from behind."
Portman alluded to a Senate Resolution that he drafted and hopes reaches the floor for a vote before Congress leaves for a congressional elections recess on Sept. 23. The resolution calls on the State Department to coordinate with the Kurdish regional government, the Iraqi government and international allies to ensure safety for those seeking refuge from religious persecution.
"It demands that the Iraqi government take concrete steps to protect religious minorities within their borders and enforce laws protecting religious freedom," Portman said. "It urges the administration to timely process visas for minority groups seeking our help in fleeing religious persecution."
"The United States Senate needs to go on record for this."
Younan said religious minorities in Iraq are in dire need of humanitarian support.
"I think first for my people in northern Iraq, it's [a need] for humanitarian assistance because they are in dire need of human assistance," Younan said. "Many thousand of them live in parks or open places or they are really living together with three or four families. Then, we need that those areas they were living in, their land, their home, their cities to be liberated."