Usain Bolt, Lolo Jones Lead USA-Jamaica Rivalry in Track and Field at 2012 Olympics
Tyson Gay, Yohan Blake, Allyson Felix, Veronica Campbell-Brown and Sanya Richards-Ross Also Lead the Pack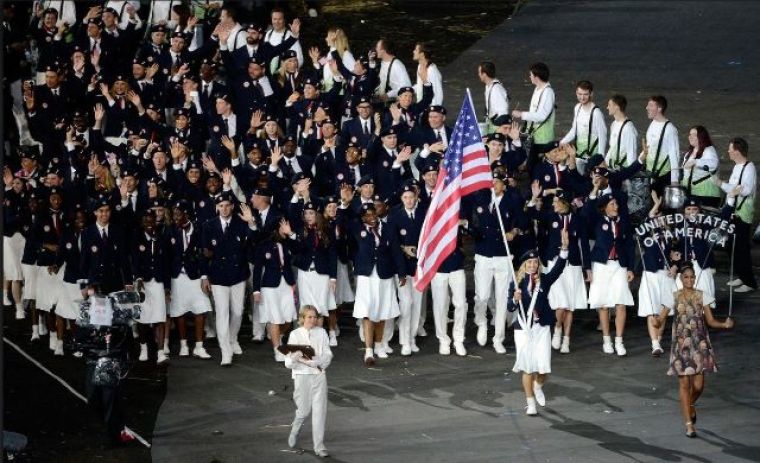 Spectators of the 2012 Olympics in London have been waiting all week to watch their favorite track and field athletes line up, break records and bring home the gold. Top athletes on many fans' watch lists include Usain Bolt of Jamaica and Tyson Gay and Lolo Jones of Team USA.
Although Team USA dominates the field with 11 athletes, Jamaica's leading track stars – Usain Bolt, Veronica Campbell-Brown, Asafa Powell and Jenny Simpson – are likely to give American athletes a run for their money.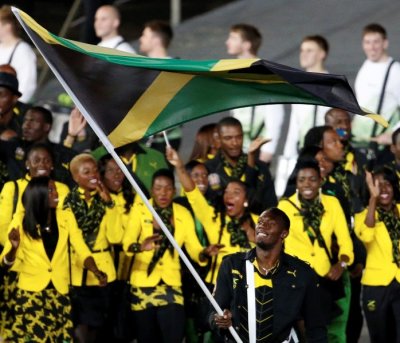 Born Usain St. Leo Bolt, the 25-year-old of Kingston, Jamaica resident won gold medals in the 100- and 200-meter races and 4x100-meter relay in the 2008 Beijing Summer Games and set world records in the 2009 World Championships. He states on his Twitter account that he is "the most naturally gifted athlete the world has ever seen" and he reportedly wants to become a "living legend."
In addition to competition from Team USA's own Tyson Gay, Bolt will be going up against Olympics newcomer and fellow Jamaican Yohan Blake, who holds the world record for the 100 meters, as he defeated Bolt in his trademark races at the Jamaica Trials. Bolt and his 22-year-old teammate share the same coach, so many spectators are wondering how the two will fare -- and if Blake will put in another effort similar to his run in the Jamaica Trials.
Kentucky native Tyson Gay will be stiff competition for Bolt and Blake. Although plagued by injuries in recent times, the athlete beat Bolt in the 100 meters two years ago in Stockholm. He, Bolt and Blake will be facing off in the 100-meter race and the 4x100m relay.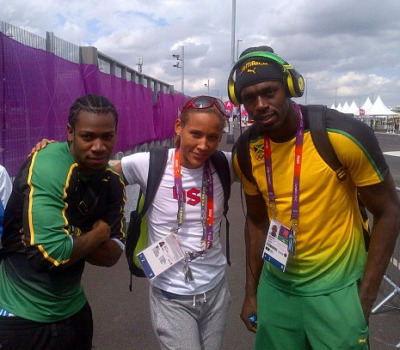 Lolo Jones, participating in the 100-meter hurdles, made sure to point out the friendly rivalry between Team USA and Team Jamaica when she shared a photo of herself with Bolt and Blake on Twitter: "Little do @usainbolt & @yohanblake know... I'm posting notes on their backs saying USA #1. The USA vs JAM rival."
Jones will likely be focusing on beating out fellow Team USA hurdlers Dawn Harper and Kelli Wells during the Summer Games; Harper beat Jones in the 2008 Beijing Summer Olympics when the outspoken athlete clipped a hurdle and took a nasty stumble. As for Willis, it's her first shot at Olympic gold, so she will likely be going hard during the competition, which runs next week from Monday to Tuesday.
Another match-up fans will likely be keeping a close eye on includes Team Jamaica's Veronica Campbell-Brown going up against Team USA's Allyson Felix, both running in the 100-meter and 200-meter races in addition to the 4/100 relay. Felix, hailing form California, won a silver medal in the 200-meter in Beijing and Athens. Campbell-Brown scored her first victory in the 200 meters last year at the World Championships, and also won a gold medal during the last Summer Games in Beijing and also in 2004.
Also figuring into the line-up is Sanya Richards-Ross, who won bronze in the 400 meters and gold in the 4x400 meters during the 2008 Summer Games in Beijing. Ross, born in Jamaica, will be representing Team USA at the Olympics for the third time. Fans are hoping Richards-Ross and Felix will help give the women's 4x100-meter relay team the advantage over Team Jamaica.
These are just some of the athletes viewers of the 2012 Olympics will be keeping an eye on as the track and field events get under way in London Friday, and judging by the comments that have been popping up online throughout the week, this particular sport may be at the very top of many fans' must-watch lists for the Summer Games.
"Track and field starts tomorrow, I've never been so excited in my life...," Naj shared Thursday on Twitter.
Jhedelle Fowles followed that statement up with, "Track & field is the best part of the Olympics!"
Some of the featured athletes competing in the 2012 Olympics track and field events include:
Team Jamaica (48 total in track and field): Usain Bolt, Veronica Campbell-Brown, Asafa Powell, Jenny Simpson, and Yohan Blake.
Team USA (63 total in track and filed): Ashton Eaton, Allyson Felix, Tyson Gay, Lolo Jones, Sanya Richards-Ross, Carmelita Jeter, Jesse Williams, Bernard Lagat, Shalane Flanagan, Abdi Abdirahman, Brittney Reese, Chaunte Lowe, and Dawn Harper.
Paula Radcliffe and Claire Hallissey of Great Britain, Oscar Pistorius of South Africa, Dayron Robles of Cuba and Germany's Betty Heidler are also top athletes to watch out for during the Olympics track and field events.
The 2012 Summer Games track and field events officially get underway Friday, with the schedule starting at 5 a.m. ET with the Men's Shot Put qualification round and ending at 4:25 p.m. ET with the Women's 10,000-meters final. The full track and field schedule runs all the way through Aug. 12, concluding with the Men's Marathon at 6 a.m. -- where Team USA's Ryan Hall is expected to dominate and earn the gold.
Hangout On Air with Usain Bolt before the Olympics