USCIRF to Launch Extensive List of People Imprisoned for Their Faith Worldwide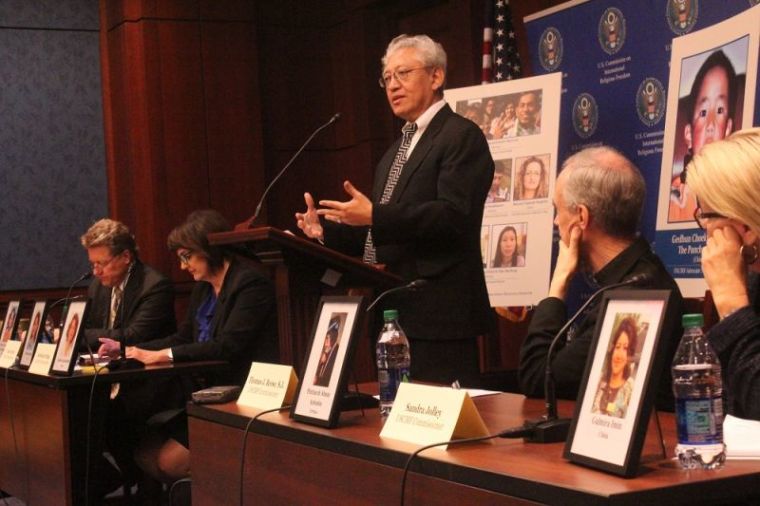 WASHINGTON —The United States Commission on International Religious Freedom has announced that it will launch a detailed list to provide the public with the names of thousands of people across the world who are imprisoned, being tortured or have disappeared because of their faith and religious freedom advocacy.
During the launch of the USCIRF Religious Prisoners of Conscience Project on Capitol Hill Thursday morning, USCIRF Chair Rev. Thomas Reese announced that the commission is in the process of fulfilling a new congressional requirement mandated by the Frank Wolf International Religious Freedom Act passed last December.
According to the law, USCIRF is required to make publicly available in "online and in official publications, lists of persons it determines are imprisoned or detained, have disappeared, been placed under house arrest, been tortured, or subjected to forced renunciations of faith for their religious activity or religious freedom advocacy."
According to the law, the victims must be in a country that the commission designates as a "country of particular concern" for religious freedom violations or persecuted by a non-state actor designated as an "entity of particular concern."
"USCIRF is developing a form for NGOs ... to fill out to give them a sense of the kind of information we will need in developing our prisoners list," Reese said. "We are in the process of developing a website and staffing up for this project and we will send out the form electronically when we are ready to receive information. So this is a heads up."
Reese, a Jesuit priest and senior analyst at National Catholic Reporter, told The Christian Post that the purpose of the list is to show that there are thousands of people who are prisoners because of their beliefs and their conscience.
"We want to raise them up to give notice to them and to target the countries that have hundreds, and in some countries thousands, of prisoners to hold them accountable for their actions," he said.
Reese couldn't give an estimated date for when the list is expected to be released and said that the task of compiling the list does not come without challenges.
"This is not going to be an easy project because we might get a name and we have to figure out what we know about this person, what facts we can actually verify, why they were arrested," he explained. "We don't want to put somebody up on our list and then find out three months later that they were arrested for drugs but their parents think they were arrested for religious freedom."
"Also, our focus is religious freedom so if they were arrested for political reasons because they are a dissident, we are upset about that but that is not within our mandate," he continued. "So this will be a difficult problem of why one is arrested. Is it because of their religious beliefs or the politics? Sometimes, it's both."
Reese added that the USCIRF office needs more funding in order to hire more employees to work on the project.
"Congress has given us this mandate and we need some more staff, which means some more money to do it, to be perfectly honest," he said. "We've got a full plate and now suddenly we have this project. We are hoping to get more funding to make this happen."
Although there are many Americans who want to help spread awareness and advocate for international prisoners of religious conscience, Greg Mitchell, co-chair and coordinator of the International Religious Freedom Roundtable, said that most people just don't know how to help.
"One of the great things about this mandate for USCIRF, this project and this list is that it establishes a mechanism [to allow people to help]," Mitchell said during the event.
As part of its Prisoners of Conscience Project, USCIRF commissioners have selected individual prisoners of conscience whom they are personally advocating for.
Among the prisoners of conscience selected by the commissioners are Patriarch Abune Antonios, imprisoned in Eritrea; liberal blogger Raif Badawi, imprisoned in Saudi Arabia; pastor Nguyen Cong Chinh and Tran Thi Hong, imprisoned in Vietnam; Gedhun Choekyi Nyima (the Panchen Lama), detained in China; Uighur Muslim Gulmira Imin, sentenced to life in prison in China; and Baha'is Fariba Kamalabadi and Mahvash Sabet, imprisoned in Iran.