'Believe in Satan': Vandals deface church with phallic images, 666 in Easter Sunday attack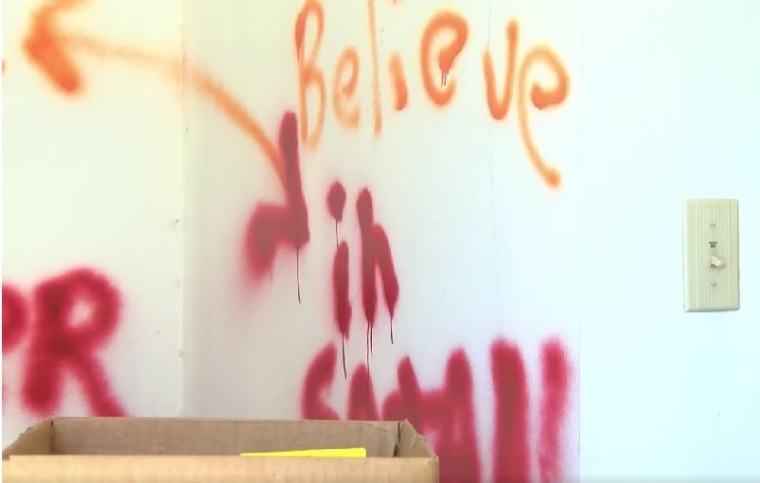 A church in rural Virginia was the target of vandalism on Easter Sunday when vandals smashed windows and spray-painted profanity and vulgar images on the exterior and interior of the house of worship.
Konnarock Baptist Church of Washington County saw the aftermath left behind in four of the building's five rooms. Only the sanctuary was left unscathed, according to NBC News affiliate WCYB in Bristol.
Pastor Clarence Blevins, who has been a member of the church for 30 years, told WCYB that he found it bewildering "how anybody could be so cold as to do something like this in the house of God."
"The little place here on the side of the road that's here to give people a place to come and worship the Lord and hear the Gospel preached in truth and spirit, and then somebody have that much hate of the truth, is just beyond my comprehension," said Blevins.
Some of the offensive messages spray-painted on the walls of the church were "Believe in Satan," "I'm not sorry," a pentagram and the number 666. 
Detective William Smarr of the Washington County Sheriff's Office, who is heading the investigation into the vandalism, described to The Christian Post what he saw at the church.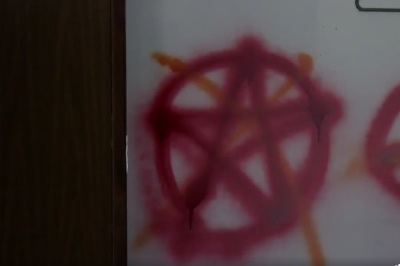 "As best we can tell, the vandalism occurred this past Easter Sunday after the morning services concluded. Two windows were damaged on the side of the church. On one window, all four panes were broken out. On the other window, one pane was broken," Smarr said.
"Both the inside and outside of the church were spray painted with vulgar imagery. Imagery includes a stick figure hanging from a noose, phallic images, the number of the Beast (666), a pentagram, the phrase 'I'm not sorry,' et cetera."
Smarr told CP that the investigation was ongoing and that, to his knowledge, "we have not had any recent incidents similar to this. Although I can recall in years past churches being broken into and having musical, sound and computer equipment stolen in our jurisdiction."
According to a recent report by the Family Research Council, attacks on churches in the United States "have been steadily on the rise for the past several years, and the first quarter of 2023 has continued the upward trend."
"The first three months of 2023 saw approximately three times the number of acts of hostility perpetrated against churches in the same timeframe last year," wrote Arielle Del Turco, director of the Center for Religious Liberty at the Family Research Council.
In February, unidentified vandals attacked the Jesus Is Alive World Center of Reading, Pennsylvania, causing around $70,000 in damages to the sanctuary and its equipment.
Damages done to the Jesus Is Alive church included broken stained-glass windows, damaged pews, a damaged television, broken piano keys and extensive staining of the carpet caused by an unknown white powdery substance.
"The damage we have seen is not less than $70,000," Jesus Is Alive Pastor Isaiah Adio told ABC News affiliate WPVI earlier this year. "We are not going to be frustrated; we will continue doing what we are doing for the Body of Christ and our community."