Vatican-China Deal Is 'Betrayal' to Millions of Christians, Critics Warn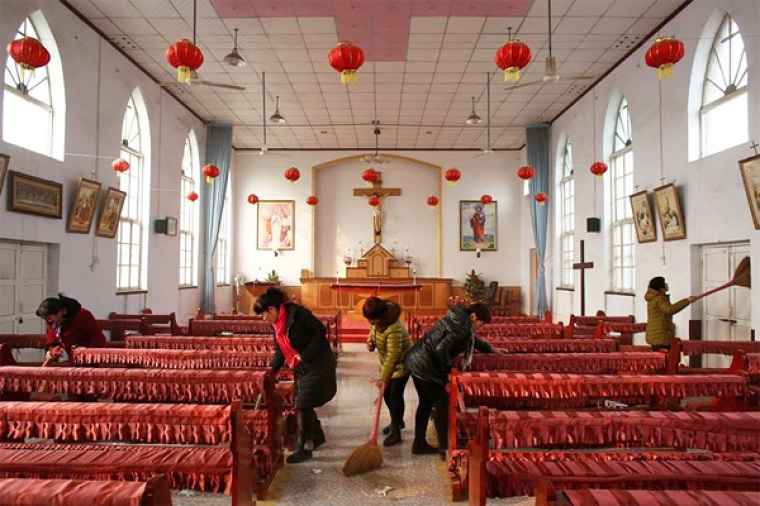 Christian human rights groups and some Catholic bishops are voicing their concerns with the Vatican's recent decision to allow the Chinese government to select bishop candidates at a time when the communist regime is cracking down on religious freedom.
After the Vatican announced on Saturday that a provisional agreement was reached with the Chinese government in Beijing to end seven decades of conflict over who should appoint Catholic bishops in the communist nation, several Christians, Catholics and other rights activists have argued that the Vatican has seemingly legitimized China at a time when it has a long record of oppression against religious groups.
While certain details of the deal remain unknown, reports of the agreement indicate that Chinese officials will submit a candidate for bishop to the Vatican and the pope will have final say over the matter.
The agreement comes at a time in which the secular Chinese government has taken extreme measures to limit the religious freedom of Christians and other religious groups in the nation, whether it's through demolishing hundreds of churches, urging Christians to sign papers to denounce their faith or even its campaign to tear down crosses and burn Bibles.
Christian Solidarity Worldwide, a United Nations-accredited persecution watchdog NGO, is among the human rights groups that have signaled its concerns about the deal.
"CSW is deeply concerned about the timing of this provisional agreement between the Chinese government and the Vatican," CSW's East Asia Team Leader Benedict Rogers said in a statement. "While we understand some of the motivations behind the Vatican's effort toward an agreement, there are significant concerns about the implications for freedom of religion or belief in China."
Rogers asserted that if the agreement is to have "real value," the agreement itself must have freedom of religion or belief as one of its central components.
"We reiterate our call on the Chinese authorities to release all Catholics in China held in any form of detention, and all others detained in connection with their peaceful religious activities," Rogers concluded.
China ranks as the 43rd worst country in the world when it comes to Christian Persecution, according to Open Doors USA's 2018 World Watch List.
CSW warns that since China's passing of the Regulations on Religious Affairs in February, authorities have demolished at least 20 churches and removed or destroyed at least 100 crosses. Additionally, there have been hundreds arrests just in the Henan province alone.
The organization notes that the severe crackdown on religious freedom is part of a larger campaign of "Sinicization," through which the government is replacing religious symbols with communist party flags, slogans or pictures of Chinese President Xi Jinping.
On July 17,  Liangwang Catholic Church was demolished by authorities without any warning.
The Chinese government's persecution has also affected Tibetan Buddhists and Falun Gong believers. Additionally, concerns have been raised that the Chinese government has imprisoned up to 1 million Uighur Muslims in labor camps.
Amnesty International China Researcher Patrick Poon told CNN that the agreement could create more serious religious freedom concerns in China.
"Such an agreement will effectively set a very bad precedent for other religions (in China) ... It will put Catholics under a lot of pressure," Poon said.
Although some Chinese Catholics favor the deal, other Catholics argue that the Chinese government shouldn't play a role in a bishop's appointment.
"How can Vatican justify this doctrinally?" U.S. Sen. Marco Rubio, a Republican Catholic representing Florida, asked in a tweet. "They are giving a government (an atheist one) influence in choosing bishops which 'are regarded as transmitters of the apostolic line.' How does secular (and atheist) interference in that decision not break that line?"
Dissenting Chinese Catholics argue that the agreement could essentially melt away China's underground Catholic community.
In order to be recognized as a legal Catholic church in China, churches must register with the government, "submit to routine censorship and monitoring" and agree to be supervised by a government-appointed bishop, China Aid reports.
China Aid, another Christian persecution watchdog group, states that before the agreement, clergy who were loyal to the Vatican and the teachings of the Catholic church would lead their own underground congregations. Bishops who served unofficial churches have been targeted for refusing to step down so that government-appointed bishops could take control of their churches.
"While we understand the eagerness of [the] Vatican in searching [for] more legitimacy in the eye of the Chinese Communist Party, this reported deal is nothing but a betrayal of both the millions of suffering persecuted Christians in China and the global Catholic Church," China Aid President Bob Fu said in a statement. "This could be a repeat of the 1940s Hitler's Germany, when the German state church consented to the persecution and slaughtered millions of Jews. Ironically, how can the Vatican respond with a good clear conscience for this appeasement deal while the CCP just launched a secret war vowing the wipe out of underground Catholics and Protestants?"
According to the National Catholic Reporter, estimates show that underground Catholics make up as much as 50 percent of China's Catholic population. Other Chinese Catholics are affiliated with the state-recognized Catholic Patriotic Association.
"They're giving the flock into the mouths of the wolves. It's an incredible betrayal," Cardinal Joseph Zen Ze-kiun, an 86-year-old retired bishop born in Shanghai, told Reuters.
Zen has called on Cardinal Pietro Parolin, who supervised the agreement, to resign.
"I don't think he has faith. He is just a good diplomat in a very secular, mundane meaning," Zen stated.
Father Bernardo Cervellera, editor of the Vatican news agency Asia News, told CNN that there is a bit of mixed reaction among Chinese Catholics.
"There is on one hand a little bit of joy, because something is happening, there is a provisional agreement, but there is a lot of sadness because many problems remain open, above all the fact that many bishops have been disappeared at the hands of the police," Cervellera said.
In a statement, the state-sanctioned Chinese Catholic Patriotic Association and Bishops' Conference of the Catholic Church in China signaled support for the agreement.
"China's Catholic Church shares the same faith as Catholic churches throughout the world," a statement from a Catholic Patriotic Association spokesperson reads. "We're willing to enhance understanding and carry out friendly exchanges with Catholic churches in other countries on the basis of independence, mutual respect, equality and friendship."
According to the Global Times, a tabloid owned by the Chinese Communist Party, The Catholic Church of China will "stick to the principle of religious independence and self-administration, uphold the Sinicization on religion, adapt to the socialist society and contribute to the realization of the Chinese Dream of national rejuvenation under the leadership of the Communist Party of China."
On Thursday, the U.S. House of Representatives will hold a hearing on "China's war on Christianity and other faiths." The hearing will be led by Rep. Chris Smith, R-N.J., chair of the House Foreign Affairs' Subcommittee on Africa, Global Health, Global Human Rights, and International Organizations. Fu will be among those who testify.