Victoria Osteen Takes Selfies, Hands Out Hugs, and Talks God's Heart for Children in Meeting With Students at NYC's Bronx Zoo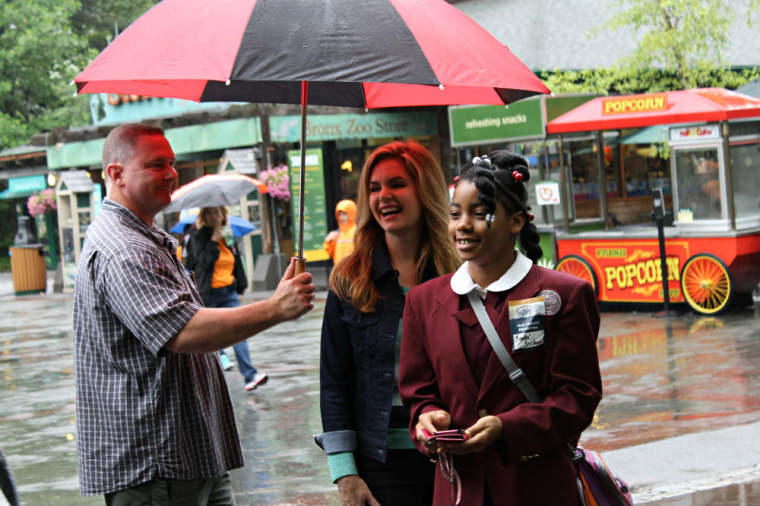 NEW YORK — Victoria Osteen, one-half of the dynamic duo in charge of America's fastest growing megachurch, was far from her Houston, Texas, base on Thursday when she, along with volunteers from Lakewood Church and its service-oriented Generation Hope Project, made an appearance at the Bronx Zoo. She was there, amid a brief period of rain, to visit with about 250 local school children, some of whom were in hysterics when they spotted the petite blond otherwise known as Mrs. Joel Osteen.
Amid squeals of "Victoria!" and whispered observations of "she's so pretty," Mrs. Osteen greeted the Generation Hope Project volunteers manning check-in tables, shook hands with Wildlife Conservation Society officials (in charge of New York City's five zoos), and spent a few minutes with local media, while Lakewood's in-house crew captured it all on film.
However, Osteen spent most of her time under a canopy not far from the main entrance embracing and sharing laughs with the kids, a mixed bunch of predominantly teens and pre-teens, some of whom were clad in their school uniforms.
After posing for selfies and group shots with students and handing out hugs, Osteen strolled off down one of the zoo's many paths, presumably to an exhibit. However, it was not too long before she re-appeared, bid her hosts adieu, and disappeared down another path.
By that time, the heavy rain had mostly subsided, and the canopy was bustling with bubbly teens, who made it quite obvious that it would take more than a few drops to dampen the mood.
CP was told by a zoo worker that children visiting the facilities that day as guests of Joel Osteen Ministries would be treated to a "Total Experience," getting to partake in rides and access attractions they might not otherwise be able to enjoy, presumably because of the price tag.
"But what is the big deal about taking a group of school children, underprivileged or otherwise, to the zoo? What is the significance in that?" casual observers might wonder.
"The significance of today is to show these children that they're loved and that life is good and coming together, we can make a difference. That's the significance of today," Osteen told CP, her response to the first of a handful questions.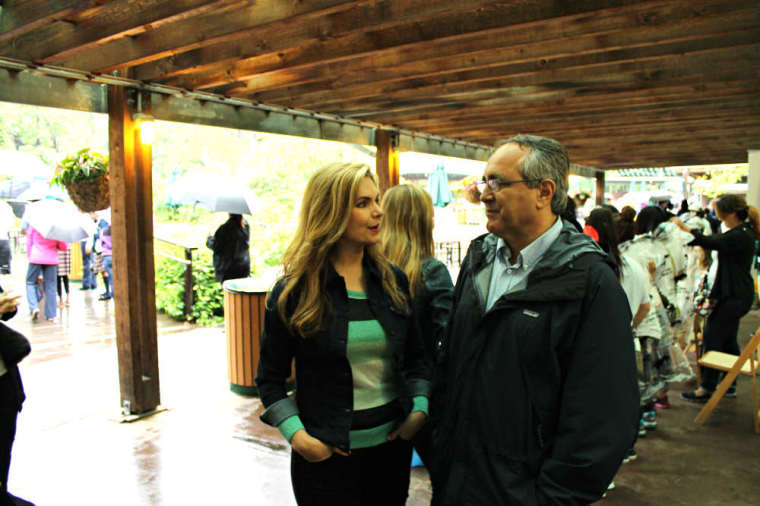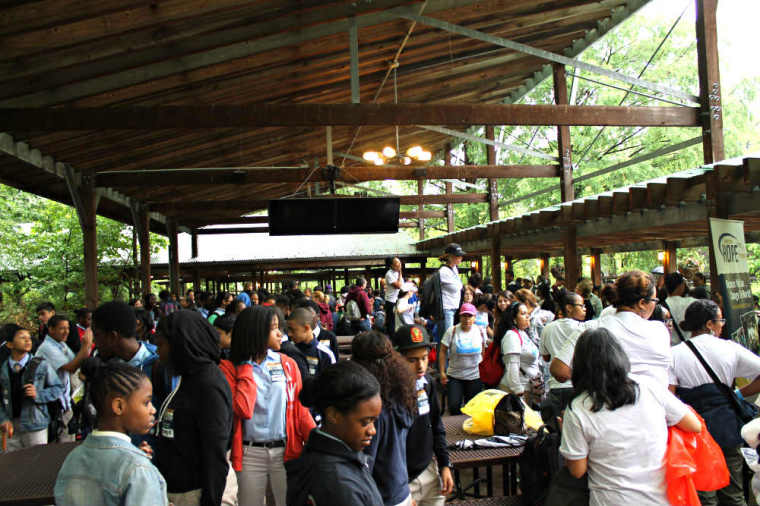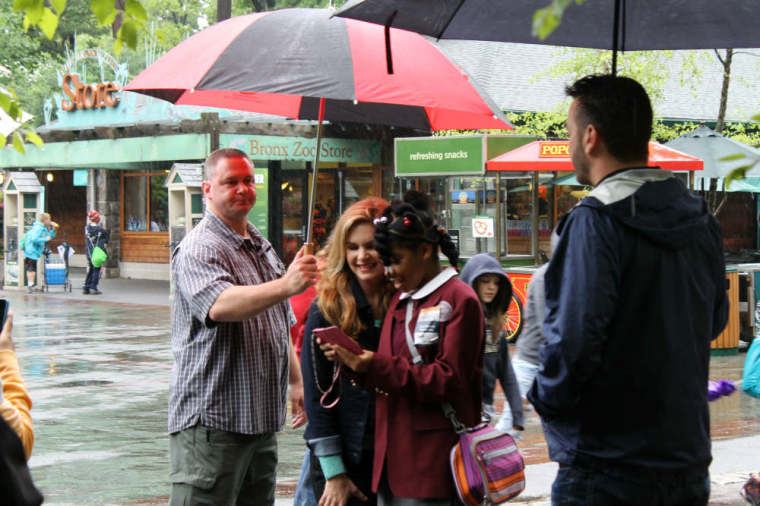 View Photos
A transcript of CP's brief Q&A with Victoria Osteen is below.
CP: As the parent of two teens, you know firsthand the difficulties parents might have competing with voices in popular culture for influence over their children. How do you and your husband personally ensure your kids are picking up the right values?
Osteen: Well, really, I think a lot of that starts in the home. We try to keep a good line of communication open with our children. It's not always about trying to just teach them every moment, but it's about listening to them and trying to understand them and gain that sense of communication so when they need to talk to someone, they know that we're there.
CP: Statistics show that there currently are many single-parent households and absent fathers in American families. What do you say to those parents who are managing their families and households all on their own?
Osteen: I would say life does bring its challenges, but they're gonna make it through. It may seem permanent, but really it's temporary. The challenges are gonna go, and your children are gonna grow, so try to enjoy this moment and try to look at what's good and be grateful for what you have because you will see better days.
CP: What is God's heart for children, and society's calling in terms of caring for kids?
Osteen: Children are our future, and God loves the children. In fact, Jesus said, "Bring the children to me and don't push them away," because of the value that they possess. So I think that we have a great opportunity to impart our wisdom and our knowledge and our experience to this younger generation. It may be different times, but experience transcends time and wisdom transcends time. So I think this is just a great opportunity to just listen to them, to love them, to not judge the culture that we're in right now and to just really try and be there to support them and to let them know that they can make a difference, they can be successful and they can have their dreams come true.
CP: "America's Night of Hope" is this Saturday at Yankee Stadium. What should attendees expect?
Osteen: We're gonna have a celebration. There'll be songs, there'll be testimonies, there'll be stories, there'll be teaching. I believe there'll be such an expectancy in there, because people are gonna come in and they're gonna draw what they need and I believe they're gonna go out of there and be glad they came. They're gonna feel strengthened and encouraged.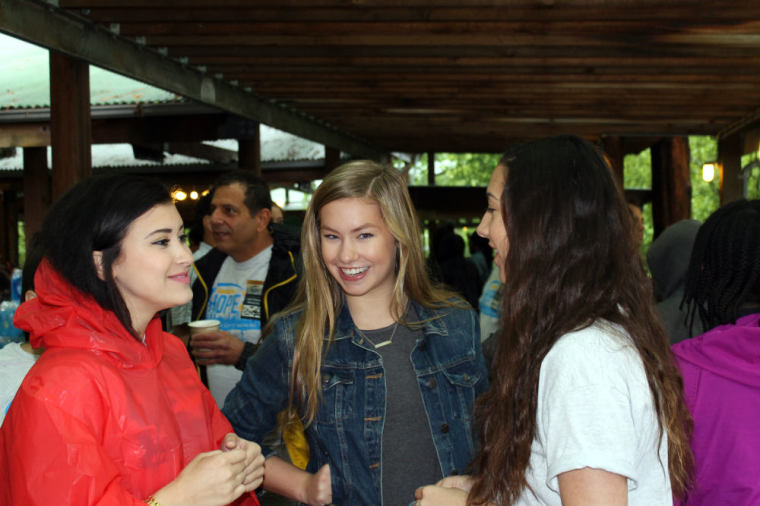 Mrs. Osteen did not spend very long at the zoo, as there were other events lined up for Generation Hope Project volunteers, such as a stop at a food bank in Hunts Points, a visit to a community kitchen and food pantry in Harlem, assistance in cleaning classrooms with the Latino Pastoral Action Center, and other service projects.
Her daughter, Alexandra, was also spotted among volunteers, chatting them up and beaming from ear to ear with a smile reminiscent of another Osteen.
The Generation Hope Project is an outreach of Joel Osteen Ministries that engages young adults from around the country and world in service to communities in need. Learn more about the organization online: www.generationhopeproject.com.