Video of Deported Dad Saying Goodbye to Wife and Kids Goes Viral; Russell Moore Demands Action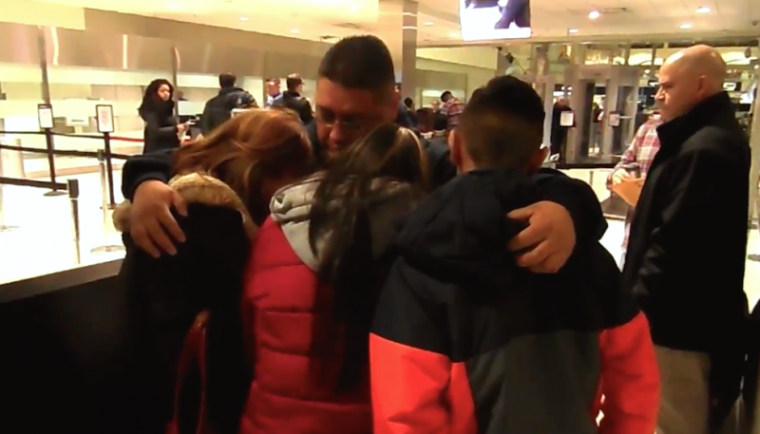 The political squabble over DACA and immigration continues to heat up in Washington D.C. with increased attention on a Mexican father now separated from his family after living in the United States for 30 years.
Jorge Garcia, 39, entered the United States when he was 10 years old, brought by an undocumented family member. His wife and two children are American citizens and he has reportedly been attempting for years to find a path to live in the United States legally. Since 2005 he and his wife have spent $125,000 in legal costs and fees, the Detroit Free Press reported this week.
Video of his departure in the Detroit airport as he hugged his heartbroken family as ICE agents stood nearby went viral on social media. Many decried that he was sent back to Mexico on Martin Luther King Jr. day. His original deportation date was scheduled for the day after Thanksgiving but was allowed to stay longer.
"This is outrageous," tweeted Russell Moore, president of the Ethics & Religious Liberty Commission, the policy arm of the Southern Baptist Convention, Monday.
"The Congress should fix this immediately. Too many families have been torn apart," he said.
Since 2009, Garcia had reportedly been facing deportation from immigration courts but had always been granted stays of removal. The Trump administration's crackdown, however, has resulted in Garcia being ordered last fall to return to Mexico. Supporters of Garcia say he pays his taxes annually and has no criminal record, not even a traffic ticket. And because of his age he did not meet the criteria for DACA.
"I feel kind of sad," Garcia told the Free Press on Sunday.
"I got to leave my family behind, knowing that they're probably going to have a hard time adjusting. Me not being there for them for who knows how long. It's just hard."
Garcia's wife, Cindy, told CNN Wednesday morning that '[i]t's sad. It's devastating, it's a nightmare."
"The kids cry. It's rough. We're just trying to live day by day, to try to be strong, to try to do everything we can to bring their dad back."
Meanwhile on Capitol Hill, protesters gathered in the Rotunda Wednesday, some of whom were taken away in handcuffs, to protest in favor of legislation protecting DREAMers, children of illegal immigrants who came to the United States before they were 18 years old on the date of their initial entry.
Congress has until Friday to put forward legislation that will continue to fund the government and avoid a shutdown. Many Democrats are refusing to agree to a bill unless protections for those immigrants are guaranteed. President Trump and many Republicans have said that adequate funding for a border wall and increased security measures must be present to proceed further.
The Christian Post reported earlier this week that such a deal looks unlikely. These issues in particular are fraught with politics that are heightened in an election year.
"When there are shutdowns, our side usually takes the hit," Rep. Charlie Dent told NBC Wednesday.
Dent is a Republican Congressman who is retiring this year and hails from an Allentown, Pennsylvania-based district that is considered competitive, having served in the House since 2005.
Yet Rep. Steve Stivers of Ohio, who chairs the House Republicans' campaign wing, rejected the idea of inaction.
"I feel confident that we will not shut the government down and that there will be a DACA fix before March," Stivers said. "I feel confident enough that both are going to happen that I don't even consider the other option."
Many evangelicals have urged President Trump in recent months to find a solution and not punish children of illegal immigrants for crimes they did not commit. Last fall dozens of prominent Christian leaders — including Assemblies of God General Superintendent George Wood, evangelist Greg Laurie, and National Association of Evangelicals President Leith Anderson — signed the "Evangelical Leader Statement of Principles on Dreamers," an ERCL effort spearheaded by Moore. The statement acknowledged that while immigration policy is complicated how we treat this category of immigrants is "not just a policy or political issue — it is a moral issue."
"The fact that so many immigrants are in a state of limbo is evidence both political parties have failed for decades to develop and implement sound immigration policy. A proper and just solution will bring our neighbors out of the shadows of civic life, cultivate the stability of families, and provide the opportunity to work legally," the statement read.