Video: Pope Francis Performs 'Exorcism' on Wheelchair-Bound Man?
Video footage captured on Italian TV on Sunday showed what some believe is an exorcism performed by Pope Francis at St Peter's Square after Mass, though the Vatican has explained that the pontiff was performing a healing prayer.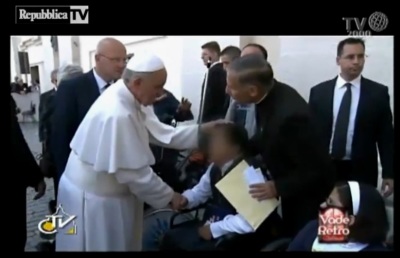 TV2000, the Catholic television channel, shows Pope Francis greeting and blessing a number of wheelchair-bound people after Sunday mass. In one instance, the footage shows him shaking the hand of a young man. But his expression changes quickly after a priest from the Legionaries of Christ order leans in close and says something in his ear.
The Roman Catholic Church leader then places his hands on the man's head for a number of seconds in prayer, after which the pilgrim convulses a couple of times, opens wide his mouth and drops his shoulders back.
The incident caused a number of media outlets to proclaim that the pope had performed an exorcism against evil spirits, though Fr. Federico Lombardi, the director of the Press Office of the Holy See, clarified in a statement on Tuesday that Pope Francis had "not intended" to perform an exorcism.
"Rather, as he frequently does with the sick and the suffering who come his way, he intended simply pray for a suffering person who had been brought before him," Lombardi stated.
Some, such as Father Gabriele Amorth, head of the International Association of Exorcists, told La Repubblica newspaper that as the bishop of Rome, the pope is also considered to be an exorcist.
"We live in an age in which God has been forgotten. And wherever God is not present, the Devil reigns," Father Amorth explained.
While many outside the Catholic tradition do not find exorcism to be a legitimate practice, Father Amorth insisted that Jesus had continually performed exorcisms.
"Those who don't believe should read the Gospels," he said. "Today, unfortunately, bishops appoint too few exorcists. We need many more. I hope that Rome will send out directives to bishops around the world calling on them to appoint more exorcists."
The Vatican statement explained that in the strict sense, exorcism means "casting out" evil spirits. It added that this power was conferred by Jesus to the apostles, and is understood to have been passed down to the bishops, who are seen as their successors.
"That said, the Church has had – for many hundreds of years, it ought to be added – a very precise ritual of exorcism: there are no evangelical-style tent revival theatrics, but careful, even methodical attention and faithful following of the prescribed prayers, gestures and use of sacramental such as holy water and the crucifix," the Vatican explained.
Video of Pope Francis allegedly performing an 'exorcism' on the wheelchair-bound man at the Vatican: