Video Showing Teens Brutally Beating 13-Y-O Boy on Fla. School Bus Sparks Outrage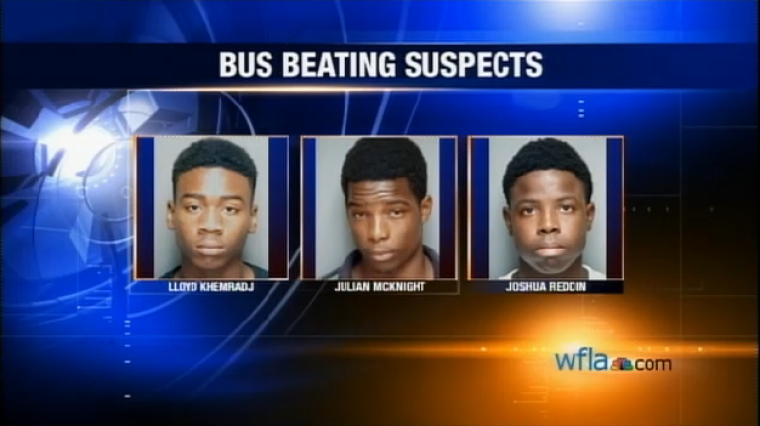 A video showing the brutal beating of a sixth grade boy by three 15-year-old students on a Florida school bus as the driver watched helplessly as they broke the victim's arm and left him with two black eyes has sparked a flood of outrage and debate.
Fifteen-year-olds Joshua Reddin, Julian McKnight, and Lloyd Khemradj were arrested shortly after the July 9 incident for aggravated assault, according to a WFLA report.
The video of the merciless pounding, however, was only recently posted to social media where people have debated why the Pinellas County bus driver John Moody 64, did not physically intervene to help the victim during the attack.
"You gotta get somebody here quick, quick, quick, quick," Moody is heard saying in the video. "They're about to beat this boy to death over here," he adds but never once does he move to intervene beyond calling for help.
"Please get somebody here quick. They're still doing it," he pleads in the video. "There's nothing I can do."
Moody, who has retired from his job since the incident, later told CNN affiliate WFLA that he was shocked and afraid.
"The three boys just jumped on him and started pounding on him. And I did all can," said Moody. "I was looking. It was like I was in shock. I was petrified."
According to WFLA, the victim told investigators that one of the suspects tried to sell him drugs in a school bathroom.
While the attack on the victim has sparked outrage in general, the conversation has also taken a racial overtone, particularly because the victim is speculated to be white and the suspected aggressors are black.
"How sad this kid had no choice but to ride his bus home from school or stay after school and report the danger he was facing," wrote Donna Conley in the comments section of the WFLA report.
"So many choices and now a day (sic) so little options for our young people in these positions. I am sure he did not know the danger he was facing," she added.
"First time I am hearing about this… the kid definitely looks like he has white arms…Of course this will not be considered a hate crime and has not gained any national attention because it is black on white or black on white/Hispanic crime. They are cowards who have to always fight in packs!" noted Gale Young Gutierrez in a race-based view of the event.
"I don't think it can be classified as a "hate crime", simply because there is another motive for the attack. Race is incidental," responded Brendon Carr.
"The story here is that one of those three black kids tried to sell drugs to the white victim at school, and the white kid reported it to the principal. They beat him up for getting them in trouble. 'Hate crime' is defined as a crime not simply involving a victim of another race, but a crime motivated by the race of the victim," he explained.
"Besides the aggravated battery and robbery, the other real crime here is there was a full-grown man present who didn't intervene to help someone in trouble," he added.