Video Shows Man Being Delivered From 'Homosexual Demon' That Refused to Release Him at T.B. Joshua's Church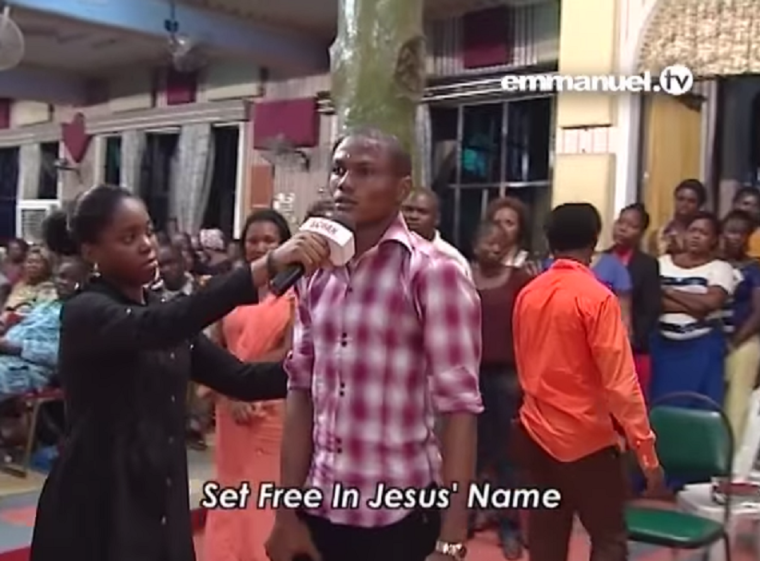 A young Nigerian businessman who reportedly got possessed by a "homosexual demon" after going swimming with a group of men in Nairobi, Kenya, is seen on video being delivered from the "evil spirit" in a powerful swoop at The Synagogue Church of All Nations led by popular African preacher, T.B. Joshua.
The video, which was posted to YouTube in May, shows the young man, identified as Tedus, being confronted by a preacher called Wise Man Christopher who apparently forced the demon to manifest itself.
"You cannot hide," Christopher said in what was understood to be a conversation with the demon living inside the man.
"He belongs to me. He is mine and you know it," the demon replied during the exorcism which took place in January 2014.
When Christopher asked who he was to Tedus, the demon replied that "he is my friend" and noted that there were many demons inside the young man's body before revealing: "I made him gay. I made him love men instead of loving women."
Christopher eventually commanded the demon to leave the man in the video and he fell to the floor. When he got up he could not recall what was said to the preacher.
He later revealed that the night after he went swimming with a group of men he met on the Kenya trip he had a strange dream where he was swimming in a pool filled with naked men. When he woke up the next morning he was a different man.
A summary of the 21-minute video notes that Tedus, who worked as a translator at a popular church in Cameroon, developed "an unusual affection for men" when he awoke from the dream.
He also "inexplicably" broke up with his fiancée and began feeding his lust for men by "downloading gay pornography on the Internet.
"Tedus considered being gay as 'normal,' not realizing a spirit was behind his sudden change in affection," noted the description on the video.
Realizing his change, his pastor sent him to Joshua's church in Nigeria for deliverance.
The report also noted that 15 months later, Tedus remains free of the demon and is now seeking to get married.
"Fifteen months after his deliverance, the story of Tedus has radically changed! All homosexual activitie — both physically and spiritually — have come to a complete end as the affection for men disappeared as quickly as it came," said the report from the church.
"To cap off the remarkable transformation, Tedus did not come to The SCOAN alone! Accompanied by a young lady he introduced as Jessy, the beaming young man told the congregation that this was the lady he planned to marry, adding that he had come to seek God's opinion before going ahead with nuptials," the report continued.
"His [Tedus'] advice was simple. 'If you are living such a life, you must understand that it's not normal. There is a spirit behind such acts. Deliverance is the answer!'" the church added in the report.
WATCH THE DELIVERANCE OF TEDUS BELOW: