Virginia GOP Considering Religious Liberty Measures in Response to Supreme Court's Gay Marriage Ruling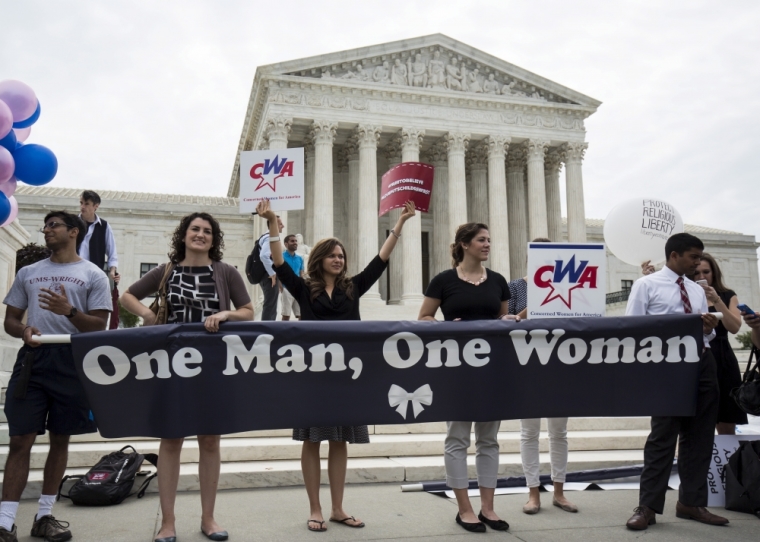 Republicans in Virginia's legislature are considering measures meant to protect religious groups and individuals from having to perform gay weddings due to the Supreme Court's recent decision legalizing same-sex marriage nationwide.
While the beginning of the next session of the General Assembly is still months away, GOP legislators are mulling various possible religious liberty measures.
"Republicans have not specified what proposals they plan to offer, but House Speaker William J. Howell, R-Stafford, has asked Del. C. Todd Gilbert, R-Shenandoah, deputy majority leader and a former prosecutor, to review what other states have done before they decide what action to take in Virginia," reported Jenna Portnoy of The Washington Post.
"One option might be a 'conscience clause' bill like those filed last year by Del. Robert G. Marshall, R-Prince William. One such proposal last year would have allowed anyone who is professionally licensed by the state, such as a teacher or a counselor, to refuse to serve same-sex couples if he or she has moral or religious objections."
On June 26, the Supreme Court ruled 5-4 in Obergefell v. Hodges that state-level gay marriage bans were in violation of the Fourteenth Amendment of the U.S. Constitution.
While proponents of gay marriage celebrated, conservatives offered varied responses to the majority opinion offered by Justice Anthony Kennedy.
Texas Attorney General Ken Paxton released an opinion denouncing the decision, also saying that state employees reserved the right to refuse to give marriage licenses to same-sex couples.
"County clerks and their employees retain religious freedoms that may allow accommodation of their religious objections to issuing same-sex marriage licenses. The strength of any such claim depends on the particular facts of each case," stated Paxton.
"Justices of the peace and judges similarly retain religious freedoms, and may claim that the government cannot force them to conduct same-sex wedding ceremonies over their religious objections, when other authorized individuals have no objection, because it is not the least restrictive means of the government ensuring the ceremonies occur."
Kansas Governor Sam Brownback issued an executive order on July 7 stating that the state government could not take action against any religious group or individual who refused to perform a same-sex wedding.
"The State Government shall not take any discriminatory action against any individual clergy or religious leader on the basis that such individual declines or will decline to perform, solemnize, or facilitate any marriage, based upon or consistent with the individual's sincerely held religious belief or moral conviction," read Executive Order 15-05.
"The State Government shall not take any discriminatory action against a religious organization that provides social services or charitable services, which acts or intends to act upon sincerely held religious belief or moral conviction …"
While both houses of Virginia's General Assembly are controlled by Republicans, presently a Democratic Governor known for strongly supporting the LGBT movement is in office.