Waffle House Hero James Shaw Jr. Went to Church After Stopping Gunman Who Remains at Large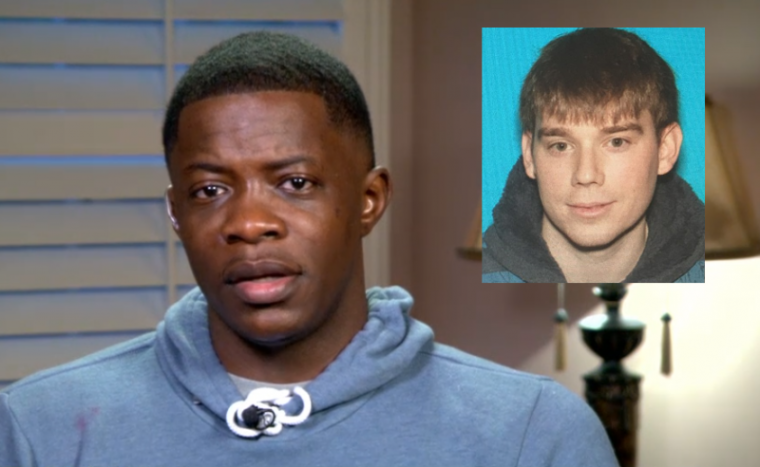 The Metro Nashville Police Department said early Monday that 29-year-old Travis Reinking of Morton, Illinois, who is suspected of killing four people inside a Tennessee Waffle House Sunday, is still at large and they have had no "credible sightings" of him.
"MNPD officers, to include SWAT, have continued the search for Travis Reinking in the Antioch area overnight. There have been no credible sightings. The search will continue. All schools in the area have been cleared by officers. He was last seen Sun morn behind his apt complex," the MNPD said in a tweet with an image of Reinking.
Wearing a green jacket and naked from the waist down, Reinking attacked the Waffle House restaurant in Antioch, just outside of Nashville, with an AR-15 rifle starting in the parking lot at about 3:25 a.m. Sunday, authorities said.
Among the fatalities is 29-year-old restaurant employee Taurean C. Sanderlin of Goodlettsville, Tennessee, who was shot while standing outside, according to The Washington Post. Three customers were also killed: Joe R. Perez, 20, of Nashville; Deebony Groves, 21, of Gallatin, Tennessee; and Akilah Dasilva, 23, of Antioch.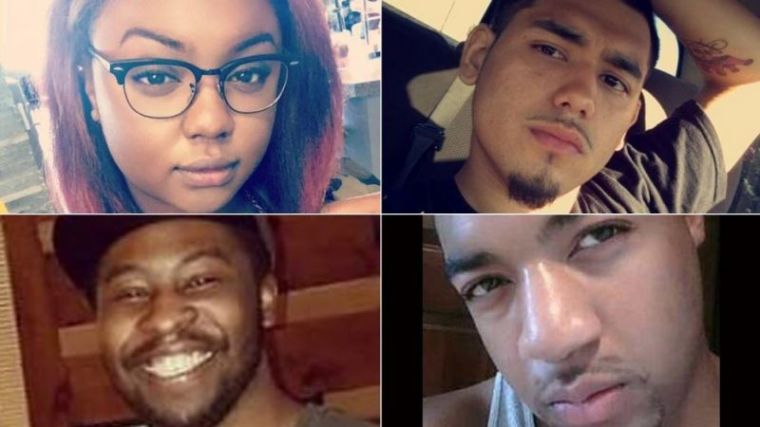 Shanita Waggoner, 21, of Nashville, and Sharita Henderson, 24, of Antioch remain at Vanderbilt University Medical Center in critical condition.
Reinking's attack on the restaurant was stopped by another Waffle House customer, 29-year-old James Shaw Jr.
Shaw, according to ABC 7, had run to the restaurant's restroom area as the shooting unfolded but when he saw Reinking looking at his rifle, he rushed him and managed to disarm him. Shaw, who is now being hailed as a hero, threw the weapon over the counter but Reinking managed to get away.
"So he shot actually through that door and one of the bullets grazed me and then I think that's when I became alert about the situation and was like, there's kind of no running from this. Kind of like a fish in a barrel type thing and I'm going to have to try to find some kind of flaw or a point in time where I can make this work for myself," Shaw told ABC's "Good Morning America" about the ordeal Monday.
After allegedly shooting his several victims, Reinking paused to reload his weapon to continue his rampage and it was at this point that Shaw decided to pounce.
"I think he was reaching in his pocket and he was about to reload the weapon and the barrel of the gun was down so that's when I took my opportunity and I kind of was just wrestling it from him and I ran through the door at full speed, hit him with the door and took the gun and threw it over the bar and then I took him and myself outside the restaurant and then I was just trying to run away from him and just, you know, get to freedom," Shaw said.
He explained to the Tennessean that he has cried at least four times since the attack. The first time was as he sat in an ambulance with a paramedic at 4 a.m. Sunday. He was being transported to the hospital for treatment of a gunshot wound and a burn to his hand and the paramedic, while checking his blood pressure, asked him a question about his family life.
"He asked if I had kids," Shaw said. "I thought I could have possibly never seen my daughter again. That hurt."
Shaw said he later went to church with Nashville Mayor David Briley, who, along with many others, has hailed him a hero.
"This morning I visited with Nashville's newest hero, James Shaw Jr. Thrown into a crisis, he acted with courage. He told me he saw an opportunity, and he took it. He saved lives – that is certain, and we are thankful to him for his bravery," Briley said on Twitter Sunday.
During a news conference Sunday, Shaw refused to accept the hero accolades.
"On my Instagram and Facebook, everybody's calling me a hero, but I want people to know that I did that completely out of a selfish act," he said. "I was completely doing it just to save myself. Me doing that ... I did save other people, but I don't want people to think that I was the Terminator or Superman or anybody like that. I figured if I was going to die, he was gonna have to work for it."
A GoFundMe campaign Shaw started on Sunday night to raise $15,000 to help the families of those who died in the shooting had already surpassed that goal as of Monday morning.