Priscilla Shirer Apologizes to Black Americans for Saying She Doesn't Describe Herself as Black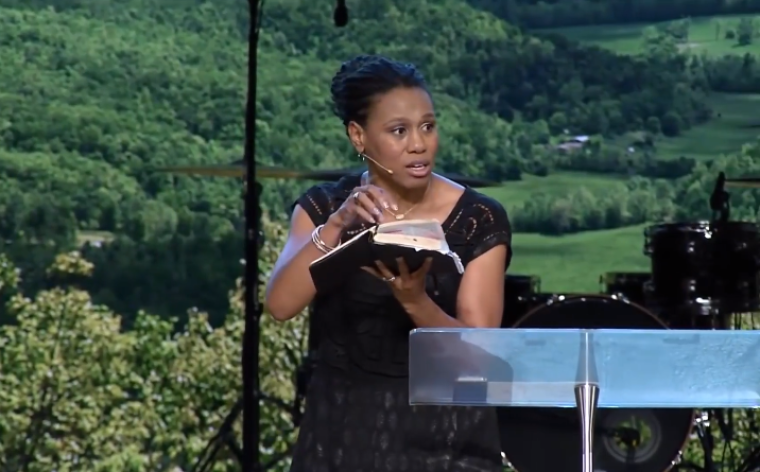 Weeks after a video clip in which she declares she doesn't describe herself as a black woman because it gives "too much power" to her blackness went viral, "War Room" actor and evangelist Priscilla Shirer apologized to black Americans offended by her words.
"It hurts my heart to know that I could have possibly offended some of my African American sisters & brothers. If I did, I hope you'll receive this sincere apology & clarification in the spirit in which I am posting it," Shirer said in a statement posted on Facebook Wednesday.
The actor's controversial statement went viral three weeks ago after Chuck Bernal, founder and lead pastor of LifePointe Church in Crowley, Texas, shared it on Facebook and endorsed it as "one of the best statements on a Christian perspective regarding RACE and POLITICS that I have ever heard."
"I do not describe myself as a black woman because that gives too much power to my blackness," Shirer, whose father is Dallas megachurch pastor Tony Evans, said.
"I don't want my race to be the describing adjective of who I am as a woman. I am not a black woman. I am a Christian woman who happens to be black," Shirer continued to cheers in the video which has been viewed more than 7 million times since it was posted on Sept. 26.
"It's the job of your adjective to describe the noun of who you are. If there's going to be an adjective describing me it's not going to be my race, it's going to be I'm a woman who believes in every single thing that my God has declared to be true. And I will stand firmly on the promises of His word because I will be girded in truth," she added.
While the Christian actor's comments were praised by many online, they have since drawn the scorn of many in the black community. "You'd think an influential African-American woman living in these United States, seeing the injustice black people face every day would jump at the chance to be proud of her blackness and the power that comes from it. But maybe not," Krystal Franklin, a senior producer at TV One which caters to a large African-American audience, wrote Wednesday.
Omar Moore, editor and creator of The Popcorn Reel film website who is also an attorney, called Shirer's comments made before a largely white audience "sad."
"So sad. I assure you, Rev Shirer, that the police see you as who you are: BLACK. And the police in your state of Texas see you exactly the way they saw Sandra Bland: BLACK," Moore wrote in a series of tweets Wednesday. "There is no law that says you can't be *both* a Black woman and a Christian. So why trample on what you are? Why dismiss what is staring right back at you in the mirror? Why minimize being Black? I assure you that white racists don't dismiss being white," he added.
In her apology, Shirer said her controversial comments were part of "unplanned sentiments" she shared about two years ago and insisted she is proud of her blackness.
"‪Within the framework of the entire message I was giving at the time, my only intention was to make the point that no aspect of life should ever define the believer MORE than our relationship w/ Christ. I should have been more clear when I shared those unplanned sentiments a couple years ago," she said.
"Lord knows that I'm unbelievably proud to be a black woman. Always have been and always will be. My identification with the African American community - the struggles and the triumphs - is something that I value greatly. Those that know me well, or have followed my ministry over the past 2 decades, know that I would never intentionally do or say anything to distance myself from my heritage. The comments in the video could be viewed negatively out of context & moving forward I will be much more measured & calculated in my words in order to convey my stance with unmistakable accuracy," she added.