Washington Post Editorials Won't Use Redskins Name: 'Waiting for NFL to Catch Up With Common Decency'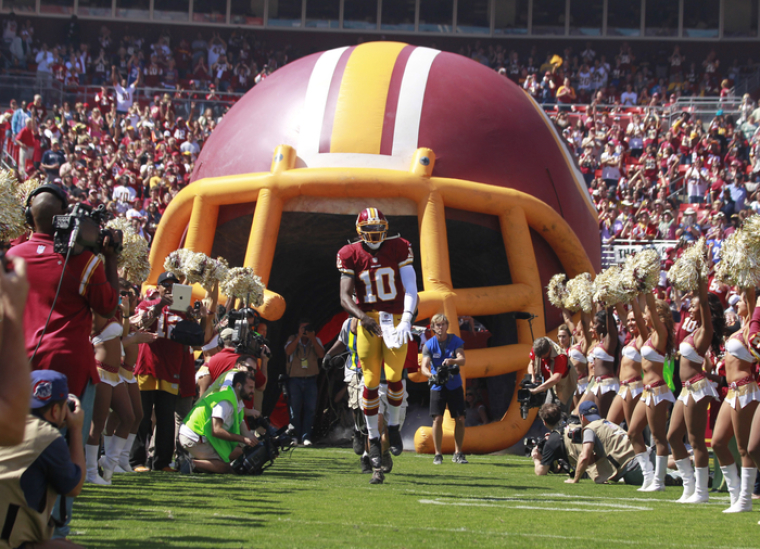 The Editorial Board of the Washington Post said on Friday it will no longer use "Redskins," when referring to Washington's NFL Football team.
The Post's Editorial Board, however, operates separately from the news-gathering side of the company, which said it would continue to refer to the Redskins by its proper name.
In a statement issued by the Board, The Post took its strongest stance on the issue of the Redskins' name by a media organization to date. "While we wait for the National Football League to catch up with thoughtful opinion and common decency, we have decided that, except when it is essential for clarity or effect, we will no longer use the slur ourselves."
Other publications to drop the Redskins name include The Kansas City Star, the San Francisco Chronicle, The Detroit News, The Orange County Register, The Seattle Times, Slate and the Washington City Paper. The University of Minnesota is working with the Minnesota Vikings to not use the Redskins name in any game day promotions. Mike Carey, an NFL referee of over 24 years, revealed that he asked not to work Redskins games because of the name.
Mounting opposition to the name has come to a fever pitch in 2014 with numerous media outlets, organizations, politicians and individual players refusing to use the name because they deem it to be a racial slur. The movement to change the team's name is in large part due to the efforts of the Oneida Indian Nation. In an interview with the Post itself, Executive Editor Mark Baron explained why the newsroom would continue to use the Redskins Moniker.
"Standard operating policy in the newsroom has been to use the names that established institutions choose for themselves," Baron said. "That remains our policy, as we continue to vigorously cover controversy over the team's name and avoid any advocacy role on this subject."
The Post's Editorial Board has voiced its displeasure with the team's name for more than 30 years, and published it's first public protest of the name in an editorial in 1992. But the Redskins' owner Daniel Snyder has vowed to never change the team's name, citing that most Native Americans do not find the name offensive and find it as a term of respect.
In a recent interview with ESPN, Snyder argued that the name isn't disparaging at all. "It's just historical truths, and I'd like them to understand, as I think most do, that the name really means honor, respect," Snyder told ESPN on Outside The Lines.
Snyder and the Redskins organization have launched a massive media campaign to give historical facts about the team's name and heritage. National Football League Commissioner Roger Godell has voice his support of Snyder and the Redskins name, saying that the name is not offensive to Native Americans .