'We Prayed and Look at That': Pat Robertson Credits Prayer for Redirecting Hurricane Florence Away From His Ministries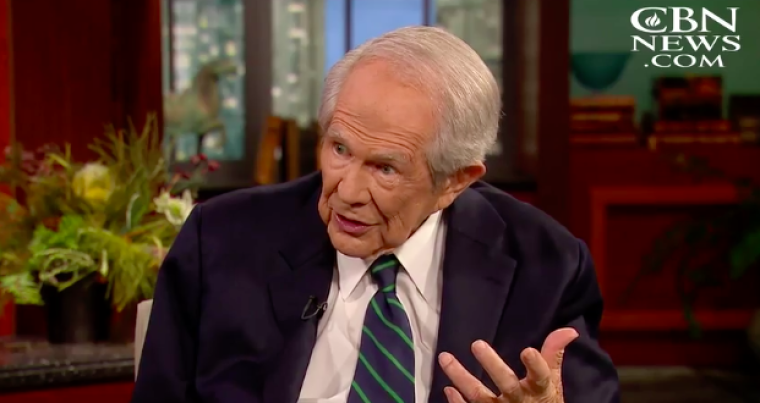 Pat Robertson, longtime host of "The 700 Club," is crediting prayers for Hurricane Florence changing course and avoiding his ministry headquarters.
Originally, Florence was expected to hit not only North Carolina and South Carolina, but also much of coastal Virginia, where many entities founded by Robertson are based.
These include Regent University, which Robertson founded in 1977, and the Christian Broadcasting Network, which he founded in 1960.
In an episode of "The 700 Club" last Thursday, Robertson noted that weather forecasters labeled the new direction of Florence "bizarre." He said the change of course was "because you and I prayed."
"We prayed and look at that," stated Robertson. "We asked the Lord to take it out of here and He did ... It's like a shield that God has put around us."
"Why? Because God's people prayed and that's what happened. This is a miracle ladies and gentlemen ... When we pray, God does miracles."
Last Monday, Robertson led his viewers in a prayer that the then category 4 Hurricane Florence would change course and avoid hitting the televangelist's ministries.
"I don't want it to hurt Regent, I don't wait it to hurt CBN, I don't want it to tear up the beautiful campus, I don't want it to tear these trees down, I don't want to see any damage, I don't want a bunch of glass flowing," stated Robertson during a CBN "Week of Prayer" service.
Robertson implored his supporters to pray that Florence would spare the area, adding that they "declare in the name of the Lord that you shall go no farther, you shall do no damage in this area."
"In the name of Jesus — Hurricane Florence, we speak to you and we command the storm to cease its forward motion and go harmlessly into the Atlantic. Go up north away from land and veer off, in the name of Jesus," continued Robertson.
"We declare a shield of protection all over Tidewater and we declare a shield of protection over those innocent people in the path of this hurricane. In Jesus' holy name, be out to sea!"
Although Robertson's ministries were spared, record-breaking rainfall and flooding has left approximately 735,000 homes without power in North Carolina and 170,000 homes have been affected in South Carolina.
On Sunday, the death toll for Florence rose to 17 when a 3-month old died after a tree crashed into a mobile home, according to Fox News.