Hurricane Florence Tracker: 300,000 Without Power, Floods Strand People on Roofs as East Coast Hit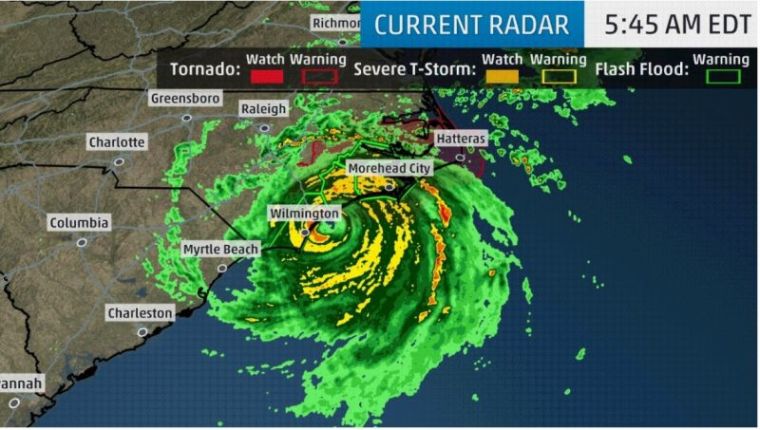 Hurricane Florence is making landfall in North Carolina, bringing life-threatening storm surges that have already left close to 300,000 people without power.
The National Hurricane Center reported on Friday morning that "catastrophic freshwater flooding" is expected over areas in both North and South Carolina over the weekend.
The now Category 1 hurricane is said to be moving toward the west-northwest, with a turn toward the west expected later on Friday, followed by slow west-southwestward motion on Saturday.
"On the forecast track, the center of Florence is expected to move inland across extreme southeastern North Carolina and extreme eastern South Carolina today and Saturday. Florence will then move generally northward across the western Carolinas and the central Appalachian Mountains early next week," the center explained.
The center furthered warned that tornadoes are possible in eastern North Carolina on Friday, with the hurricane expected to produce heavy and excessive rainfall, along with a storm surge that will bring large and destructive waves.
The Weather Channel reported that Florence has already knocked out power for nearly 300,000 homes and businesses statewide. At least 150 people stranded on roofs and in cars were waiting for rescue in New Bern early Friday morning, while 12,000 people were in 126 evacuation shelters.
The first flooding was reported on the N.C. 12 roadway near the North Carolina coast, with Governor Roy Cooper ordering a mandatory evacuation of all barrier islands.
In total, close to one million people were ordered to evacuate earlier this week in Virginia and the Carolinas.
"We in North Carolina have to shift from preparation to determination. We will survive this and endure," Cooper declared at a Thursday evening conference.
Several faith-based relief groups have announced that they are monitoring and ready to help those in need.
International Orthodox Christian Charities noted on Thursday that with over 10 million people under hurricane watches and warnings, an emergency response will be greatly needed.
"IOCC has staff, volunteers, and equipment staging for immediate action once it is safe to begin work. Team leaders and volunteers are preparing to conduct rapid needs assessments and muck outs, clearing water-damaged homes of sludge and debris," the group said on Thursday.
"In addition, IOCC's Frontliners, professionals trained to offer emotional and spiritual care amid disaster and trauma, are standing by for deployment."
Christian humanitarian organization World Help also announced that it has activated its crisis response program to aid in the storm.
"We are doing everything we can to be prepared to help as many people as possible," said Mark Hogsed, vice president of international programs at World Help, who is overseeing the disaster relief response.
"In the days ahead, getting clean water and other emergency supplies to the affected areas will be critical, especially as some people might be left without power for days or even weeks."
Hogsed urged people to say a prayer for those about to face Hurricane Florence.
"People are afraid, and we want them to know they're not alone and, no matter what happens, help is on the way," he added.

Virginia-based Operation Blessing International said that it was pre-staging two disaster relief teams ahead of the storm.
"An advance team will be pre-stage in Emporia, Virginia, beginning Wednesday afternoon. Emporia is strategically-located west of the coast and is also adjacent to Highway 95, which runs south towards what is anticipated to be the hardest hit areas from Florence. This team will ride out the storm in Emporia and deploy as quickly as possible afterwards," the charity said earlier this week.
"A second team will pre-stage at the CBN campus on Centerville Turnpike to aid in local recovery efforts and coordinate volunteers. The CBN property is at a higher elevation and is not expected to flood. The deployment team will ride out the storm and deploy as quickly as possible afterwards."