Hurricane Florence Tracker: Projected Path Map; Final Preparations Ahead of 'Storm of a Lifetime'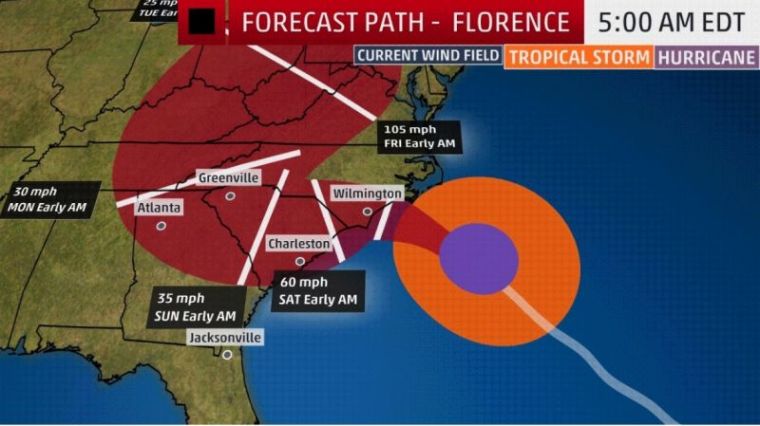 Hurricane Florence is set to hit the U.S. East Coast for days with catastrophic flooding and destructive winds, with final preparations underway ahead of the "storm of a lifetime."
The Weather Channel reported that on late Wednesday evening, Florence was located 235 miles east-southeast of Wilmington, North Carolina, and was moving northwestward. Although the storm weakened to a Category 2 hurricane, it's expected to crawl through the Carolinas and the Southeast region over several days, bringing catastrophic flooding, winds, and life-threatening storm surge.
Another source of worry is that Florence has expanded in size, hours before it's due to hit the mainland on Thursday.
"Hurricane-force winds now extend outward up to 80 miles the center and tropical-storm-force winds extend outward up to 195 miles from the center. This expansion in size only increases the hurricane's energy and potential for significant storm surge," TWC explained.
The National Weather Service in Wilmington, North Carolina, warned that for portions of the Carolina coast, Florence will be "the storm of a lifetime," with fears that flooding in southeast North Carolina and northeast South Carolina could be "unprecedented."
"A hurricane warning and storm surge warning are in effect from the South Santee River, South Carolina, to Duck, North Carolina, including the Albemarle and Pamlico sounds. Hurricane warnings also reach inland across eastern North Carolina. This includes Myrtle Beach, South Carolina, Wilmington, North Carolina, and most of the Outer Banks," TWC added.
"Hurricane watches are in effect from Edisto Beach, South Carolina, northward to the South Santee River, South Carolina. This includes Charleston, South Carolina."
The News & Observer reported that cities along the storm's path are making final preparations. In Raleigh, more than 26,000 residents were asked to seek higher ground on Wednesday.
"If we get the type of rain that is being predicted with this storm, those areas will flood," said Blair Hinkle, Raleigh's assistant engineering services director. "I know there are areas that have swift-water rescues and those who had to be rescued in their homes. If that has ever happened before in an area where you live, we encourage to seek higher ground."
City Manager Ruffin Hall vowed that water-rescue teams are on standby to assist people who are trapped or in other danger, but warned that the city's fire and police departments will be suspended when the sustained winds reach 50 mph.
"Let me just say that regardless of the situation, we will do everything to protect lives and property," Hall said. "That involves judgment that they know how to make, but when conditions get severe enough we will protect our equipment and employees as well."
More than 1 million people have been told to evacuate, with South Carolina Gov. Henry McMaster warning that those who fail to follow directions are on their own.
"Even the rescuers cannot stay there," McMaster added.
CNN noted that at least 800 flights along the East Coast have been canceled Thursday through Saturday due to safety reasons.
Several states, including the Carolinas, Georgia, Virginia and Maryland, have declared states of emergency.