Westboro Baptist Church Says Malaysia Airlines Plane Crash an Act of God; Quotes Jeremiah 6:15
Westboro Baptist Church Says Malaysia Airlines Plane Crash an Act of God; Quotes Jeremiah 6:15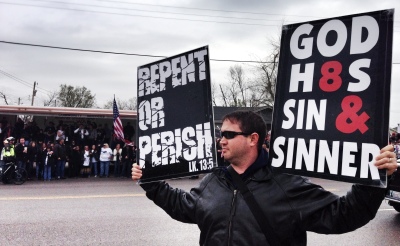 Westboro Baptist Church, which is known for picketing funerals and the slogan "God Hates Fags," says that the Malaysia Airlines plane crash on Thursday, which killed 298 people and all crew members aboard, was an act of God based on Jeremiah 6:15.
"GodSmack! Malaysian Plane Down," reads a tweet by the Kansas-based Westboro group. It features the words "God's Wrath is Revealed" in flames. It also provides a link to a post, titled "Malaysian Plane Down," on its blog.
"When God wants your attention, He knows how to get it. @WBCSays warned you that if you refuse to repent of your many whoredoms Dutch, Malaysians, Aussies, Indonesians, Germans, et al. YOU WILL PERISH!" the post says.
The post quotes Jeremiah 6:15: "Were they ashamed when they had committed abomination? Nay, they were not at all ashamed, neither could they blush: therefore they shall fall among them that fall: at the time that I visit them they shall be cast down, saith the LORD."
The flight MH 17 crashed near the town of Torez in the Donetsk region of eastern Ukraine after being hit by a missile. The plane, Boeing 777, was on its way from Amsterdam to Kuala Lumpur, and flying at about 33,000 feet when it was hit.
The region where the flight crashed has been troubled by fighting between Ukrainian forces and pro-Russia militants seeking to declare the area an independent republic.
There were 193 people from the Netherlands – including 1 dual Netherlands/USA citizen – on the flight, the airline said in a statement Saturday evening. Also aboard were 43 citizens of Malaysia; 27 from Australia; 12 from Indonesia; 10 from the United Kingdom; 4 each from Germany and Belgium; 3 from the Philippines; and one each from Canada and New Zealand.
Westboro Baptist Church Founder Fred Phelps died March 19, about a year after he was thrown out of the group.
About a week before the founder's death, his son, Nathan Phelps, wrote on his Facebook page: "I've learned that my father, Fred Phelps, Sr., pastor of the 'God Hates Fags' Westboro Baptist Church, was ex-communicated from the 'church' back in August of 2013. He is now on the edge of death … I'm not sure how I feel about this. Terribly ironic that his devotion to his god ends this way. Destroyed by the monster he made."
Nathan broke away from the religious group years ago.
Phelps started the Westboro group in 1955.