'We've Got Your Back Pastor,' Legal Group Promises Church Leaders Who Fear Incurring Wrath of IRS, Atheists on Pulpit Freedom Sunday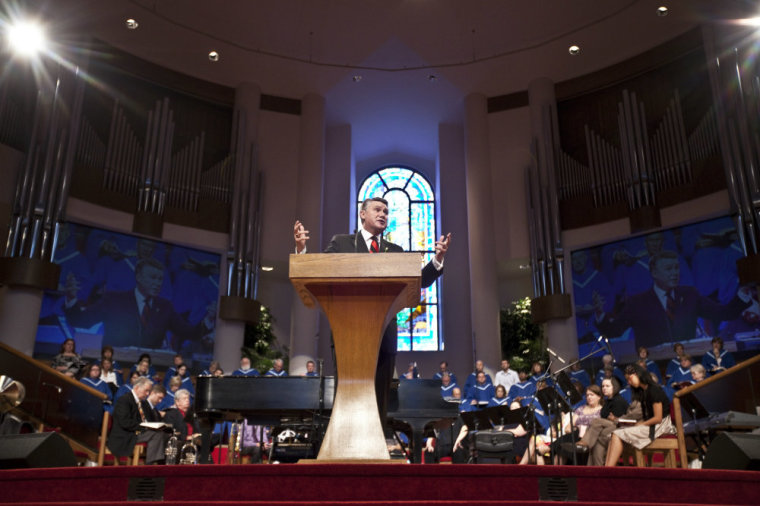 Nearly 1,500 U.S. pastors reportedly have agreed to flex their free speech muscles this weekend and preach politically-charged sermons on the occasion of Pulpit Freedom Sunday. Their act of civil disobedience, which involves putting their churches' tax exempt status on the line, is meant to draw attention to what they believe is an unjust law. And if they manage to spark the ire of the IRS and any atheist organization willing to argue it out in court, then an activist legal group is more than ready to take up their case, for free.
"The message we've been telling pastors for years now in regard to Pulpit Freedom Sunday is, 'We've got your back. Pastor, stand, preach from your pulpit what God lays on your heart to tell your people and you have the free exercise and the free speech right that's enshrined in the First Amendment of the Constitution to do that," Alliance Defending Freedom senior legal counsel Erik Stanley told The Christian Post.
Stanley is also director of the organization's Church Project and Pulpit Initiative and overseas Pulpit Freedom Sunday, now in its seventh year.
He emphasized that ADF will come to the defense of any pastor targeted by the IRS or an atheist group "to intimidate you or silence you."
"It's time to take the Johnson Amendment, specifically, out of the hands of these atheists groups because they've been using it for years as a club to beat churches into silence about these issues. And churches, through fear and intimidation, have basically vacated the debate on the selection of our national leaders."
Pulpit Freedom Sunday is a direct challenge to the aforementioned piece of legislation that, as Stanley put it, was "slipped into the tax code with no debate." That irksome Johnson Amendment was added in 1954 by Congress to the 501(c)(3) section of the U.S. tax code, which directly affects churches and other religious nonprofits granted certain tax breaks by the IRS.
The Johnson Amendment states that such tax-exempt organizations may not "participate in, or intervene in (including the publishing or distributing of statements), any political campaign on behalf of (or in opposition to) any candidate for public office."
But, as the argument goes, what's at stake isn't potential loss of their churches' tax-exempt status and its related benefits (such as not having to file IRS 990 forms about a church's mission, programs, and finances). What's really on the line are Christian leaders' voices as moral authorities on the welfare of the nation in which they live.
"Since that Johnson Amendment was passed in 1954, churches and pastors have really been intimidated into silence on preaching about the issues of the day, preaching about the election, preaching about candidates and what they stand for and how that aligns with biblical values," said Stanley.
He added, "I always say politicians for years have gotten a free pass on moral scrutiny from the church. How's that working for us? I don't think it's working out very well, and I don't think it was intended to be that way."
ADF is not alone.
According to a survey conducted by the Pew Research Center, a nonpartisan fact tank based in Washington, D.C., 49 percent of Americans believe "churches and other houses of worship should express their views on social and political issues."
Pew, gauging how such sentiment has changed since the 2010 midterm elections, found that most Americans (72 percent now; 67 percent then) believe religion is losing its influence. Overall, 57 percent view this perceived decline in religious influence on American life as a "bad thing."
"The share who say there has been 'too little' expression of religious faith and prayer from political leaders is up modestly over the same period (from 37 percent to 41 percent). And a growing minority of Americans (32 percent) think churches should endorse candidates for political office, though most continue to oppose such direct involvement by churches in electoral politics," the fact tank reported in September.
ADF hopes the Pulpit Freedom Sunday initiative eventually provokes an opening to challenge the Johnson Amendment in court, and ideally have it declared unconstitutional in violation of the First Amendment.
Sermons are protected as free speech and pastors need to know that and challenge the unjust law, is how the "legal alliance-building ministry" and its partners view the matter. In addition to the estimated 1,500 U.S. pastors that have committed to challenging the Johnson Amendment this Sunday, 3,500 pastors were standing in agreement with ADF "that the IRS should not control a pastor's sermon [and that] the Johnson Amendment must end."
Atheist and secularist groups, on the other hand, have long seen the matter quite differently.
The Freedom From Religion Foundation, who frequently reports alleged Johnson Amendment violations to the IRS, was successful this summer in a lawsuit demanding that the federal entity actively monitor churches and other houses of worship for electioneering.
"This is a victory, and we're pleased with this development in which the IRS has proved to our satisfaction that it now has in place a protocol to enforce its own anti-electioneering provisions," Annie Laurie Gaylor, co-president of the Freedom From Religion Foundation, said in a statement. The lawsuit was originally filed in 2012, and just ruled on July 18 by a federal court in Madison, Wisconsin, where FFRF is located.
Although the IRS has agreed to put an official in place to monitor churches for any anti-Johnson Amendment activities (as it was originally ordered to do in 2009), the federal organization's hands were currently tied due to being investigated by a Congressional committee for alleged improprieties against conservative groups. Until that case is concluded, all of the IRS's own investigations have been put on hold.
FFRF, on the other hand, will be watching as usual for pastors who "abuse their tax-exempt status and openly endorse or oppose candidates for office from the pulpit" this Sunday, or any other day.
"During Pulpit Freedom Sunday and the rest of the midterm election season, keep an eye out for illegal campaign activity by churches and other religious organizations," the FFRF informs members in an "action alert" published this week on its website that also instructs them on how to report perceived violations.