What Bible Verse Did Texas Gov. Rick Perry Underline for His Successor in Texas' Most Coveted Bible?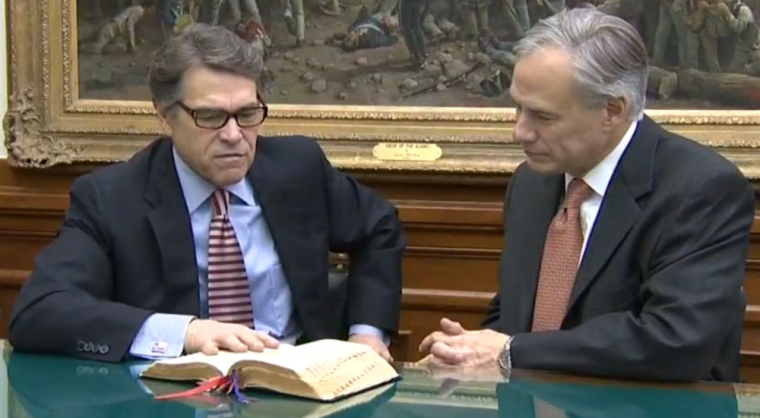 In keeping up with a long-standing Texas gubernatorial tradition on Monday, Texas Gov. Rick Perry passed down Texas' historic governors' Bible to his successor, and underlined text from Matthew 20:25-28 to help guide Gov.-elect Greg Abbott to success in his tenure as Texas' new executive.
In a tradition that began in 1925, when Gov. Pat Neff handed down the same leather-bound Bible to his successor Gov. James Ferguson and marked the words from Psalm 119, Texas governors have since shared the gospel from this nearly century-old Bible with their successors.
The tradition calls for the outgoing Texas governor to not only pass down Bible, but also pick an appropriate verse or passage in the Bible that they want to share with the incoming governor.
"I gave a lot of thought about what I wanted to mark for you," Perry told Abbott as he revealed his underlining of Matthew 20:25-28.
Matthew 20:25-28 reads: "Whosoever will be great among you, let him be your minister, and whosoever will be chief among you, let him be your servant, even as the son of man came not to be ministered unto, but to minister and to give his life a ransom for many."
"You are called to be a servant first," Perry explained to Abbott.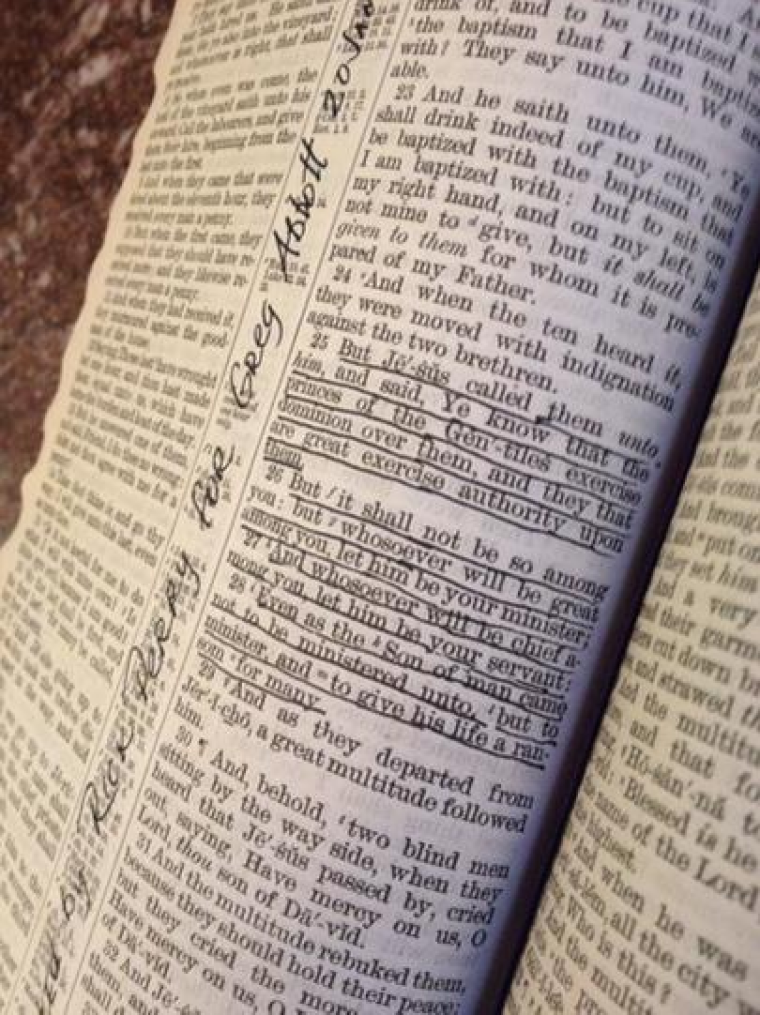 After Monday's meeting with Perry, Abbott tweeted a picture of the verse that was underlined for him. Abbott's picture shows that Perry wrote the words "Marked by Rick Perry for Greg Abbott 20 Jan 15" on the side of the Scripture.
Before sharing the verse he had picked out for Abbott, Perry first shared the passage left by former Gov. Ann Richards for her successor, former governor and former U.S. President, George W. Bush.
Perry turned to Amos 5:15 and read the words highlighted for Bush to consider during his gubernatorial tenure.
"Hate the evil and love the good and establish judgement in the gate," Perry read from the Bible.
After Perry was elected governor in 1999, Bush chose to leave Perry with a passage from Isaiah 40:28-31.
"Have you not known? Have you not heard? The Lord is the everlasting God, the Creator of the ends of the earth. He does not faint or grow weary; his understanding is unsearchable. He gives power to the faint, and to him who has no might he increases strength," the passage states. "Even youths shall faint and be weary, and young men shall fall exhausted; but they who wait for the Lord shall renew their strength; they shall mount up with wings like eagles; they shall run and not be weary; they shall walk and not faint."
In the 90 year tradition of the governors' Bible exchange, only two governors failed to highlight a passage for their successor. In 1949, Gov. Beauford Jester died in office. In 1933, Gov. Ross Sterling never left a passage for his successor, Miriam Ferguson.
On Tuesday, Abbott will be sworn in as the 48th Governor of Texas. Perry claims that he is "ready" for a 2016 presidential run but he has yet to formally announce his candidacy.