What Do Women Need for Valentine's Day? Planned Parenthood Says 'Safe and Legal Abortions'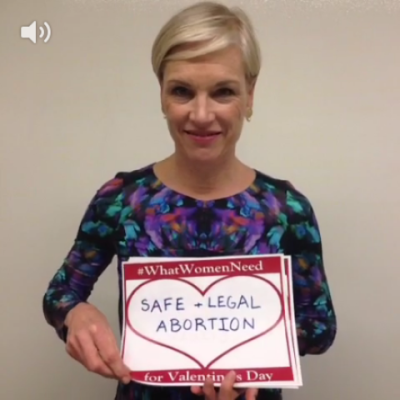 Planned Parenthood President and CEO Cecile Richards sent out message to her social media followers earlier this week suggesting services that women might need for Valentine's Day. On Richards' list, "What Women Need for Valentine's Day," is "safe and legal abortion."
"While it's sickening to promote the killing of preborn children on a day set aside to celebrate love, it shouldn't surprise us that on Valentine's Day, Planned Parenthood hearts abortion," said Lila Rose, president of pro-life group Live Action, in a statement shared with The Christian Post on Friday.
"Having infamously earned the title of America's largest abortion corporation, killing over 327,000 children a year, they will stoop to any low to push a vicious ideology and make a buck," Rose added.
Planned Parenthood of Maryland also sent out several messages on social media this week, including one on Friday suggesting that condoms are the best gift of all. One ad shows an opened engagement ring box that contains a condom ready for use, and another reads, "The best Valentine's Day gifts come wrapped," and shows a picture of a heart filled with an assortment of condoms.
Earlier this week, CP reported that Planned Parenthood is paying $2 million to the family of Tonya Reaves who died at age 24, after having a late-term abortion at a Planned Parenthood clinic in Chicago, Ill.
Last year, a Planned Parenthood clinic in Wilmington, Del., temporarily stopped performing surgical abortions amid investigations looking into allegations that unsanitary conditions were putting women's health and lives at risk. After five patients were rushed to a local hospital following their abortions, two pro-choice nurses who worked at the Planned Parenthood abortion facility decided to quit their jobs.
"Planned Parenthood needs to close its doors," said Jane Mitchell-Werbrich, a nurse who left the clinic because the "meat market style of assembly-line abortions" left blood draining on the operating tables as patients were rushed in and out of the facility.
"It was just unsafe," Werbrich told WPVI about the clinic. "I couldn't tell you how ridiculously unsafe it was. He (the doctor) didn't wear gloves; he didn't believe that he needed to wear them."
Similarly, during a Planned Parenthood gala last April, Dayle Steinberg, president and CEO of Planned Parenthood of Southeastern Pennsylvania, admitted to knowing about the unsafe and unsanitary conditions at Kermit Gosnell's abortion clinic, in which women contracted STDs, but decided not to report him to the Department of Health.
At the gala Steinberg said that "when Gosnell was in practice, women would sometimes come to Planned Parenthood for services after first visiting Gosnell's West Philadelphia clinic, and would complain to staff about the conditions there. 'We would always encourage them to report it to the Department of Health,'" reports The Philadelphia Inquirer.
Last month, one week after the anniversary of the controversial Supreme Court decision Roe v. Wade, the U.S. House of Representatives passed a sweeping pro-life bill.
Known as HR 7 or the "No Taxpayer Funding for Abortion Act," the House voted 227 to 188 in favor of the proposed legislation. HR 7 has multiple components to it that focus on removing government funding of abortion and benefits for abortion coverage.
Introduced by Rep. Chris Smith (R-N.J.), HR 7's aims bear resemblance to the Hyde Amendment, which gets renewed every session by Congress. Smith's goal with HR 7 is to make the Hyde Amendment provisions permanent and no longer in need of annual renewal.
In August, the Government Accountability Office also announced that it would be investigating Planned Parenthood's use of taxpayers' dollars amid recent cases against abortion providers who have fraudulently over-billed Medicaid and other family planning programs.
This decision was made after a group of more than 50 members of Congress, including Reps. Diane Black (R-Tenn.), Pete Olson (R-Texas) and Sen. David Vitter (R-La.), requested a report from the GAO on how taxpayer funding is specifically used by Planned Parenthood and other organizations that perform abortions.