What Happened to National Youth Ministries and Conferences?
Is youth ministry making an impact?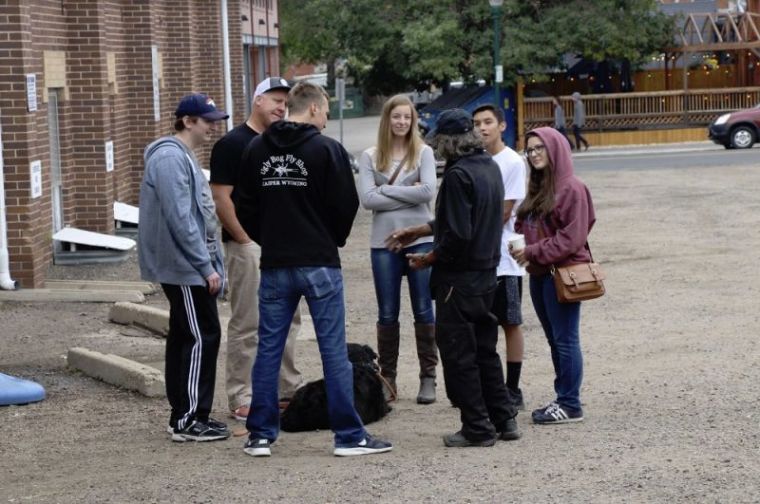 Of course, national ministries really only serve as supplements to the ongoing work being done by youth pastors and local church-level youth ministries in reaching the lost younger generation and providing them with hope.
If it weren't for the work of local youth ministries, the life of someone like Abel Guardado, a 22-year-old youth director at Bethel Church in Seattle, might have turned out differently.
Growing up in South Central Los Angeles before moving to Oregon, Guardado fell into a bit of a rough crowd as a teenager. He eventually was arrested for robbery and faced the possibility of spending three years in juvenile detention. However, Abel prayed to God that if He would get him out of jail, he would devote everything he had to God.
Guardado was spared in the sense that he received a lenient two-week sentence. After his release from detention, Guardado immediately got involved in a youth ministry at a Baptist church close to his home.
Being new to the ministry, Guardado made the effort to attend every youth group meeting, all-nighter and youth group camp week he could and even surrounded himself with a new group of friends. His faith grew to the point that he would at times evangelize at a grocery store parking lot while playing worship music. He would even help launch a Christian club at his school before ultimately deciding that he wanted to pursue a career in ministry.
"Slowly what started happening is my family started noticing a change," Guardado told CP, adding that he plans to begin seminary next year.
Unfortunately, not all students of youth ministry have felt that same impact.
A 2016 Barna survey found that nearly two-thirds of Christian parents say that their children attend youth ministry at least once per week. Yet Barna found earlier this year that today's teenagers in Generation Z are the most non-Christian generation in American history as only 4 percent of teens today hold a true biblical worldview.
Additionally, LifeWay Research found in 2007 that 70 percent of young adults aged 23–30 stopped attending church regularly between the ages of 18–22 for at least one year.
The results of those studies come as church attendance is declining in many denominations.
For several years now, youth ministry experts have been calling for churches to drop the models of youth ministry that rely heavily on attractions and entertainment and replace them with models that not only make students more biblically literate but also make them more likely to keep attending church and stay strong in their faith as they graduate high school and go off to college.
"Barna calls this Generation Z the first post-Christian generation in the history of the United States," Stier, author of Gospelize Your Youth Ministry: A Spicy "New" Philosophy of Ministry, said. "Well, we are using a strategy stuck in the '80s to solve an exponential problem. We have to go exponential. We have to go New Testament on youth ministry and start making and multiplying disciples."
Stier believes that we will see a "total transformation" of youth ministry within the next decade.
"As a Church, we are boring them with short lessons and big games. They have more fun on their phones than they do in most games. There is a growing number of youth leaders that see that and that are implementing these values and starting to get traction in their communities," Stier said. "I believe there is going to be a total transformation in youth ministries in the next decade and I think it's going to be super positive. Every major awakening in the United States has had young people on the leading edge of it. We are long overdue."
There are varying directions insofar as how churches are shifting away from the attractional and entertainment-based models of youth ministry.
Stier advocates for his gospel-advancing ministry concept, where youth ministries are encouraged to incorporate seven key values to mobilize children to "gospelize" to friends in their own sphere of influence.
"This doesn't mean you stop playing games in youth group. It doesn't mean you throw out the youth ministry [game] box and burn it. It means you create room in the box," Stier explained. "Kids want to be called to a cause, a mission, a vision. What we see is that teenagers once they get that in their soul, they will make a way to get there."
There is also the contemplative youth ministry approach furthered by Mark Yaconelli, director of the Lilly Endowment and YS-funded Youth Ministry and Spirituality Project housed at San Francisco Theological Seminary. The contemplative approach is an initiative to bring children mystical experiences that better connect them to their religious traditions in an attempt to solve the problem of youth ministry students being so isolated from the rhythms of the rest of the congregation.
Rooted Ministry, meanwhile, supports a Gospel-centered youth ministry model. This model provides students theological depth through expository, biblical teaching and relies on the element of desegregating youth from the rest of the congregation.
Rooted Chairman Cameron Cole, who is director of children, youth, and family at Cathedral Church of the Advent in Birmingham, Alabama, said that at his church, they try to empower children.
One way they do this is by having about five or six senior high students lead middle school Bible studies with an adult. Additionally, the church has about 14 to 15 youths who teach children's Sunday school with adults.
"We also have a group of kids who are student pastors who have to — from beginning to end — plan a retreat for the rising freshmen. They have to do evangelism training. They have to learn how to share a testimony. They have to lead that entire retreat," Cole said. "Of course, adults travel with them and are there to help them and consult them and kind of push them all forward. But the kids have to lead a retreat."
Although some of these newer concepts might have their differences, Yates assured that they are "definitely not '90s and early 2000s extreme Jesus youth ministry."
"So the shift is there and it's shifting in a couple different directions. The shift is happening but it hasn't filtered all the way down yet," Yates noted. "That is because of volunteerism, that is because of publishing houses. That is because it takes work. It is a lot of theological depth and training."
Youth ministry experts believe that the future is bright.
"The sky is not falling. There is all kinds of really amazing, good stuff taking place in youth ministries all over the nation and there is lots of positive change," Oestreicher said. "Youth workers are thinking more deeply, they are being more intentional. As a movement, I feel like there is really positive stuff that is happening."
Kenda Creasy Dean, professor of youth, church, and culture at Princeton Theological Seminary in New Jersey, told CP that the trend of churches moving away from the '80s and '90s model of youth ministry is "sporadic" but a signal of the biggest attempt at change in the Church in her lifetime.
"I am almost 60, it could well be that we are better positioned to try and do Church in the way that it is supposed to be done because we are being forced to break out of some of our old habits," Dean said. "That could help us reset so we can try doing this as a Church instead of an extracurricular activity or whatever. Almost everybody from every part of the theological spectrum agrees that what we have been doing isn't all that helpful so we are going to try some new stuff. There is a lot of innovation. That is a big word in every sector right now but that is really true in churches and churches are not built for innovation."